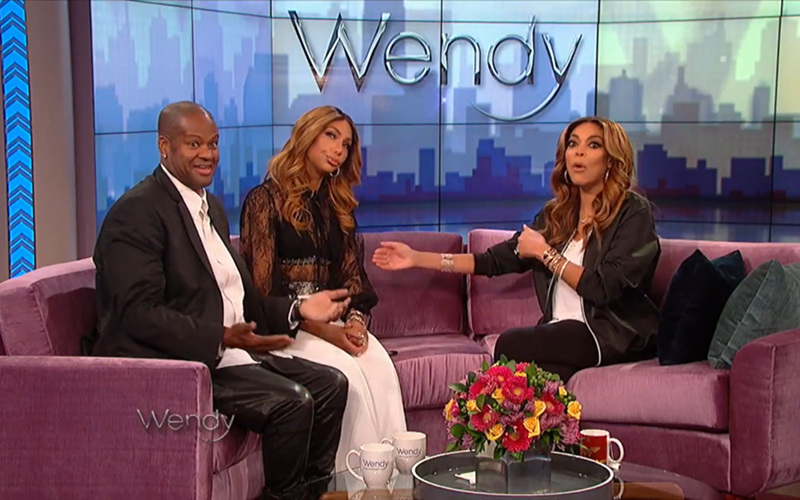 The two shadiest people of daytime television sat on the same couch today and it was certainly a treat. Tamar Braxton was guest on The Wendy Williams Show and she dished on the state of her marriage, her family, and even The Real.
Tamar and her husband Vincent Herbert visited Wendy Tuesday (Mar. 14) to promote Braxton Family Values. However, you know the "hot topics" queen had to get the all tea. And she didn't beat around the bush.
Wendy straight up asked about the latest Tamar/Vince rumor, which suggests Vince may have a love child. A woman recently claimed on Instagram that Vince cheated on Tamar with her the night before their 2009, and the one-night stand resulted in a 7-year-old daughter.
Tamar addressed the rumor in a long now-deleted Instagram post. However, she echoed the post's sentiment on Wendy.
"Girl, I feel like I was tried. I feel like my character was tried, as if, if Vince had a love child, I would be the type of woman who would just accept him and not his child. Well that's not love, because you can't just love a part of a person. You have to love the whole person and everything that comes with that person."
Despite constant reports and rumors suggesting Tamar and Vince's relationship is on the rocks, the singer added the state of her marriage is fine, or at least, finally in a good place.
"Everything is good, and God is good. We have been through a lot in this past year and it did nothing but bring our relationship closer because I'm not even going to sit up here and act like we don't argue, we don't fight… I think we've come to the point where we know that this is where we are supposed to be."
Wendy also wondered if Tamar keeps in touch with any of her former The Real co-hosts. Though it's been nearly a year since Tamar was fired from the daytime show, she claims to not have beef with anyone.
However, she still seems a little bitter to me. She even seemed to throw shade at good-girl Tamera Mowry.
"I saw Tia [Mowry], yesterday, at the airport. I said, 'Hi.'"

*Wendy's keen audience quickly caught the shade*

"It was Tia who I saw. That's not shade. I ain't the shadiest person on the planet. I saw [Tamera's] sister. I ain't plan it!"
Tamar admitted she hasn't seen Loni Love or Adrienne Bailon since leaving the show. Yet, messy Wendy pressed Tamar on what she would say if she ran into any of the other Real co-hosts.
"'God is good. Halleluja. Won't He do it?' Let me tell you something: The only person that I'm beefing with is the devil."
Shade and side-eyes aside, Tamar was briefly able to promote the Braxton Family Values. She reveals she still has mixed feelings about her father's quick marriage to his "girlfriend on the side" following her parents' divorce. The new season of BFV premieres Thursday (Mar. 16).
Also, if you care, Vince has lost over 90 pounds. The full interview is up top. Check it out!
Be the first to receive breaking news alerts and more stories like this by subscribing to our mailing list.