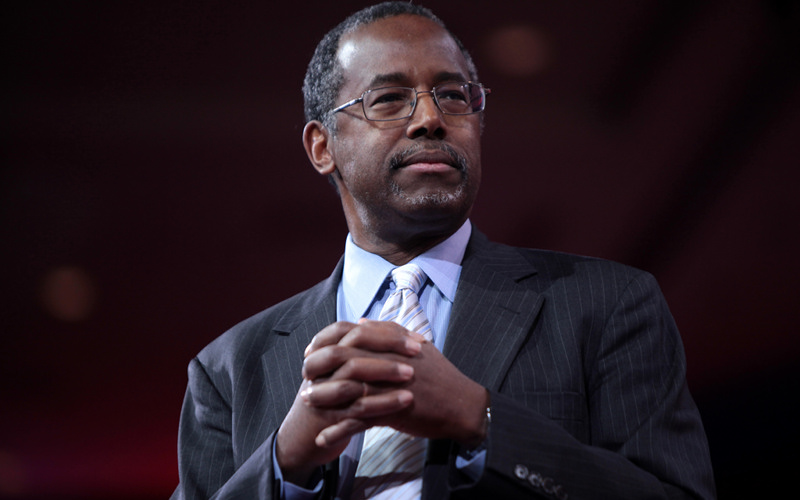 We went from having a black president to only one black person in the current president's cabinet. Unfortunately, it's a man that just referred to slaves as "immigrants" with a dream.
Ben Carson (a former neurosurgeon) was recently confirmed as the Secretary of the Department of Housing and Development. During a Monday (March 6) speech to HUD employees, Carson discussed the work ethic of immigrants who want to achieve the American Dream. He then went on to call slaves involuntarily brought over in slave ships as "immigrants.
https://twitter.com/BlackToLive/status/839023010669608961
"There were other immigrants who came in the bottom of slave ships, who worked even longer, even harder, for less, but they too had a dream that one day their sons, daughters, grandsons, granddaughters, great grandsons, great granddaughters might pursue prosperity and happiness in this land."
Yep, these words really did come from the mouth of the only black person in the president's cabinet! Though should we expect anything less from someone who is desperate for white approval? Though, I've never called anyone this before, Ben Carson seems to be the best example of an "Uncle Tom."
For obvious reasons, the coon comment riled up Twitter. It sparked the hashtag #BenCarsonLogic.
Lincoln didn't free the slaves… he raised the minimum wage for those immigrants #BenCarsonLogic pic.twitter.com/STkGnQNpOK

— Quentindaviscomedy (@quentindcomedy) March 7, 2017
Plantation owners "just wanted to talk" with female slaves. #BenCarsonLogic

— Kent (@Kents_Stuff) March 7, 2017
#BenCarsonLogic Portrait of an American immigrant seeking a better life according to Ben Carson. pic.twitter.com/KFYDYpzoKL

— Greg Bumgardner (@BassArtGreg) March 7, 2017
just hanging, enjoying the sun.#bencarsonlogic. pic.twitter.com/Rw80nrhwOA

— young hawaiian roll. (@_violentflower) March 7, 2017
So Harriet Tubman was just an immigrant woman with a dream to run her own travel agency… #themoreyouknow #BenCarsonLogic

— Kia Giovann Shakur (@KIASHAKUR) March 7, 2017
I bet our ancestors were just dying for Europeans to capture, beat, rape, and force labor upon us. So lucky. #BenCarsonLogic

— Crowned REBEL (@RBLPRNC) March 7, 2017
the cruise ship the "immigrants" took to get to the land of the free #BenCarsonLogic pic.twitter.com/ytyT2Si8T3

— Sara (@sarakhoshniyati) March 7, 2017
Am I right?????? #ImmigrantsMakeAmericaGreat #MSW521 #BenCarsonLogic #crazyman pic.twitter.com/uPvfen7Zq3

— AlisQT (@qt_alis) March 7, 2017
1817 NFL Draft…

#BenCarsonLogic pic.twitter.com/6MQ9ZA1HcL

— #ScorpioSZN ? Nov. 3rd (@EriqEnigma) March 7, 2017
Kunta Kente was employee of the year #BenCarsonLogic

— yung pavito (@ShawnBre3zy) March 7, 2017
Despite the backlash, Carson defended his statement during an appearance on the conservative SiriusXM show "The Armstrong Williams Show."
"I think people need to actually look up the word immigrant. Whether you're voluntary or involuntary, if you come from the outside to the inside, you're an immigrant. Whether you're legal or illegal, you come from the outside to inside, you're an immigrant. Slaves came here as involuntary immigrants but they still had the strength to hold on."
The HUD secretary went even harder with statements like this:
"You can be an involuntary immigrant."

"Slaves didn't just give up and die, our ancestors made something of themselves!"

"An immigrant is a person who comes to live permanently in a foreign country."
Carson eventually caved and wrote a response to the backlash on his personal Facebook account. He wrote in part:
"The slave narrative and immigrant narrative are two entirely different experiences… The two experiences should never be intertwined, nor forgotten, as we demand the necessary progress towards an America that's inclusive and provides access to equal opportunity for all."

Still, I bet somebody white told him to write this.
Be the first to receive breaking news alerts and more stories like this by subscribing to our mailing list.