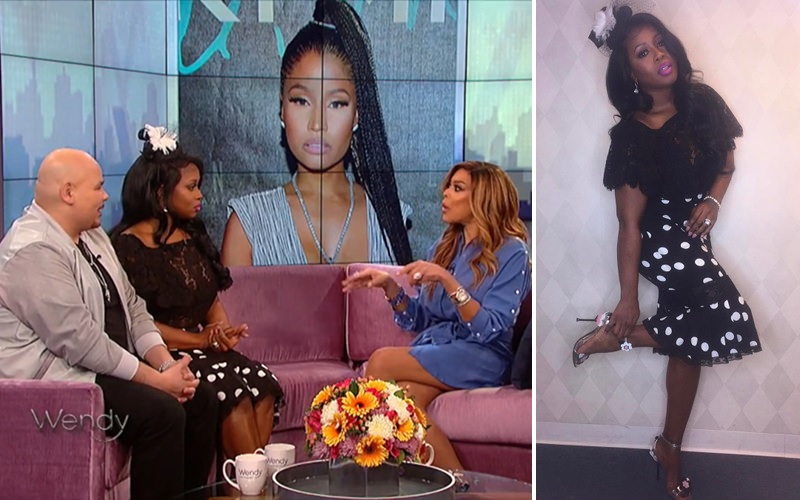 Remy Ma buried Nicki Minaj with two diss tracks and now the rapper is attending her funeral.
Almost a week after she stunned the hip hop community (and the world) by dropping "shETHER" and its follow-up, "Another One," Remy stopped by The Wendy Williams Show Friday (March 3) literally dressed for a funeral. "I came appropriate for the services," she said.
Remy appeared on the show with Fat Joe to promote their album, Plata o Plomo. However, Wendy, of course, couldn't let Remy sit on her purple couch without hearing from the rapper's own lips why she needed to diss Nicki.
Remy says "shETHER" was not inspired by slight jabs Nicki has thrown her way in music, but rather because of "behind the scenes" antics we're not aware of. She accused Nicki of trying to sabotage her career and name and even take money from her pocket.
"It was the behind the scenes things that you people will never know about, as far as trying to keep me off red carpets or trying to make sure awards don't go to me or she's not gonna be in attendance or trying to get people to make bad reports about my album sales or just anything that I'm doing to make me look less and make her look better.

"When you're trying to stop my bag, when you're trying to stop me from taking care of my children, then I have a problem with that."
Remy also says it was time for Nicki to be called out and basically accused her of being a bully to other female artists. She even added that the Trinidadian rapper is "not a nice person."
"She started…she's been doing this to a lot of females from Lil Kim to Mariah [Carey] to Taylor [Swift] to [Miley Cyrus]–and no one says anything…

"This person is not a nice person… If I learned anything from this I realized that I have to be a certain way to everybody; the help, the hair, the makeup, the person holding the door, because so many people have been coming, and the things that I've been hearing I said 'Nah, I'm not going to say that…that's too much."
Nicki has yet to respond to the epic diss track (and "Another One"), but Remy says she's done and not even waiting on a response. "I said what I said, that's it," she told Wendy.
She ended the interview acknowledging her funeral attire and put the final nail in Nicki's coffin with one last comment:
"My grandmother always told me to never speak ill of the dead."
Be the first to receive breaking news alerts and more stories like this by subscribing to our mailing list.