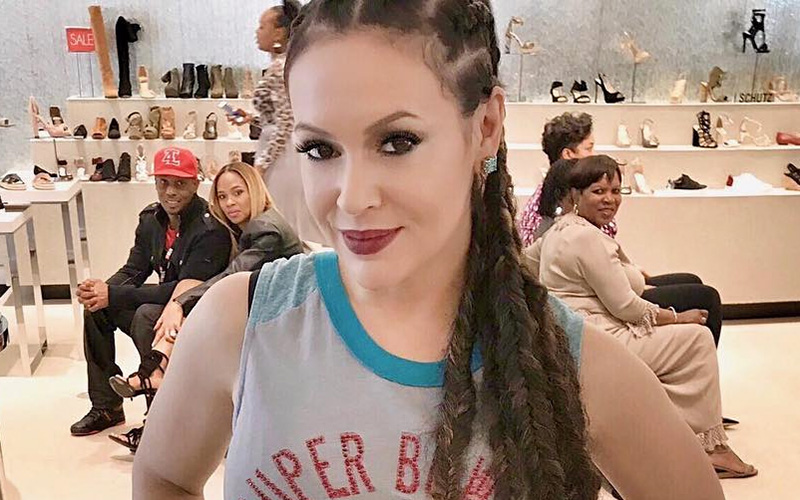 Either Alyssa Milano doesn't have friends, or the friends she does have aren't very good friends, because someone needs to tell her she's looking a hot mess right now with those cornrows in her head.
The actress, famous for her roles on popular TV shows like Who's the Boss? and Charmed, recently showed off her new cornrows, and the internet refuses to stop laughing at the struggle look she's so proud of.
https://www.instagram.com/p/BQEH5Hagqe2/
Over the weekend, just before Super Bowl LI, Milano debuted her new hairstyle on the 'gram, but it seems like she failed to notice on small detail in the background of her photo — the hilarious reaction of a group of black people in the background:
— philip lewis (@Phil_Lewis_) February 3, 2017
Alyssa may not have noticed those people and the hilariously disgusted look on their faces, but you best believe the internet did, because nothing gets past those eagle-eyed folks on social media.
Of course, white celebrities wearing cornrows, a traditionally Black/African hairstyle, is not new to the internet, however, the reaction of the people in the background of Alyssa's IG photo could simply not be ignored.
"LOOOOOOOOOLLLL THE BLACK PPL IN THE BACK," one user commented on Instagram. "look. at. the. faces. of. the. black. people. in. the. background. LMFAAAAAOOOOOOOOO," commented another. "Please zoom in on the faces in the back they looking like what the hell she do to her head," another Instagram user wrote.
The jokes/comments didn't stop there either, as one Twitterer realized why people were giving Alyssa Milano such a hard time:
Now I see why everyone was looking at Alyssa Milano like that…her hair was trash pic.twitter.com/Rq0Fg9GmOE

— Stephanie (@StephBMore) February 6, 2017
And others just continued to express shock/awe and amusement:
https://twitter.com/IsotopeRose/status/827640568754925571
— MuvaHoney ? (@Honey_Bee2) February 4, 2017
Some people called Milano out for cultural appropriation (one Twitter user told her "black cultural styles are not costumes") and she responded with this:
I understand. And I try daily to be as compassionate of a human as humanly possible. I'm on your side. Always.

— Alyssa Milano (@Alyssa_Milano) February 5, 2017
And this:
I'm so sorry you feel this way. I celebrate and embrace differences with crazy amounts of respect and love.

— Alyssa Milano (@Alyssa_Milano) February 6, 2017
And she also shared a TIME magazine article about the issue written by Kareem Abdul-Jabbar:
Cornrows and cultural appropriation – the truth about racial identity theft by Kareem Abdul-Jabbar https://t.co/FYHpDRGFvX

— Alyssa Milano (@Alyssa_Milano) February 8, 2017
Meanwhile, her hairstylist seems to be pretty proud of her work and the attention/press it's getting:
https://www.instagram.com/p/BQGOWczDNhi/
Be the first to receive breaking news alerts and more stories like this by subscribing to our mailing list.