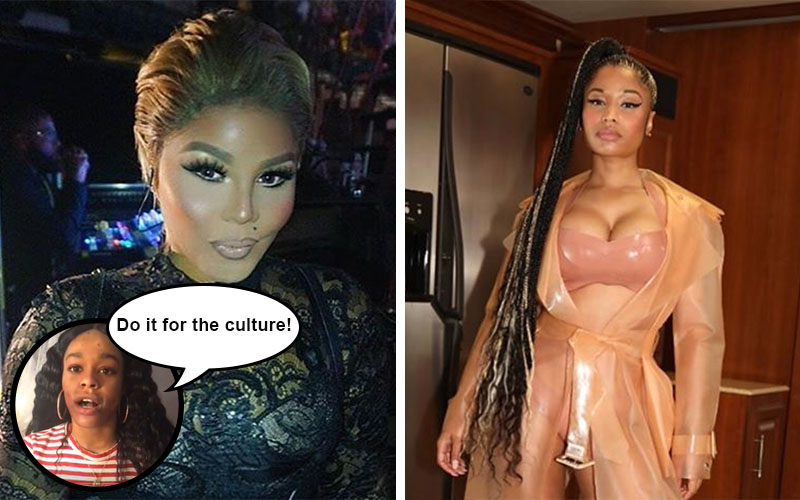 So 9 times out 10, when Azealia Banks posts something on social media, it's usually some deranged nonsense. But every once in a while, Azealia says something that the masses can agree with.
Case in point, Azealia's call for Nicki Minaj and Lil' Kim to put their beef aside and finally give us the femcee duet we've been dreaming of:
Truth be told: Lil' Kim is not the same rapper she used to be, so I'm not really expecting hot bars to come from the tortured, bleached, feline-looking fleshbot that is walking around calling itself Kimberly Jones these days. But still, the symbolic value of the two ladies joining forces could still have impact.
Nicki certainly needs this collaboration far less than Kim does, but it would be a gracious move on her part and show that Kim truly DOES support female hip-hop, like she claims she does.
Azealia, girl, keep sacrificing those chickens and your voodoo spell just might work and bring Kim and Nicki together. Mind you, Azealia probably isn't the best conduit for this healing session, since you know, she's gotten into openly nasty Twitter wars with both Kim and Nicki, but hey, let's not shoot the messenger in this instance, ok?
While Azealia is at it, conjuring up dark spirits to do her bidding, can she get the voodoo gods to give Kim back her old face? Just sayin'. Asking for a friend.
Be the first to receive breaking news alerts and more stories like this by subscribing to our mailing list.