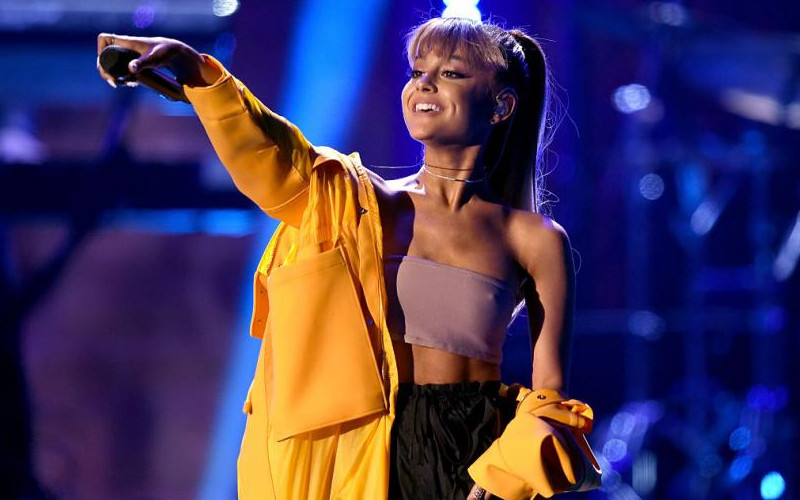 When is it OK to toot your horn? Ariana Grande got a little heat after she touted her accomplishments and work ethic on Instagram. However, given that she's a diva-in-training, Ariana did so with a diva-esque way.
On Friday (Jan. 13), Ariana claimed that she was the "hardest working" 23-year-old on the planet.
"When you're cute but you're also the hardest working 23 year old human being on earth #cute #butalso #CEO #unfuckwitable #haventsleptinyears"
Ariana has had a successful few years, but 2016 was exceptionally good to her. She released her third studio album, Dangerous Woman, which spawned several popular singles and earned a Grammy nomination. She also worked with Stevie Wonder and starred in NBC's Hairspray Live.
2017 is also shaping up to be a good year for the singer. She will soon embark on the Dangerous Woman World Tour and will collaborate with John Legend on the title track of Disney's live action Beauty and the Beast film. Ariana will also be a guest character in an upcoming update for the Final Fantasy mobile game.
Things are clearly going great for the former Nickelodeon star's career and she should be proud of the fruits of her labor. However, maybe her intended humblebrag was a little too much for social media. While many of her fans agreed with and praised Ariana, some called her out for the conceited statement.
https://twitter.com/GodBlessShania/status/820327078646181891
https://twitter.com/onefishtwobitch/status/820352118401929216
https://twitter.com/chubstans/status/820330890895228928
"Ariana thinks she's the hardest working pers-"

Me: pic.twitter.com/R8qgTpwOUq

— ????? (@notearsforag) January 15, 2017
I really like ariana but "hardest working"? somebody who has as much time as her to post all day on her snapchat constantly says otherwise

— abbs (@petalnh) January 15, 2017
https://twitter.com/DeadlyUnstable/status/820425237783265281
did ariana rly say she's the hardest working 23yr old woman on earth pic.twitter.com/dJAtp5mF0P

— mahlet? (@xgirIfriend) January 14, 2017
why is ariana calling herself hardest working 23 year old human on earth lmao why is she being ignorant

— ?? (@biebshyped) January 14, 2017
https://twitter.com/mimiscandybling/status/820338713813086208
Ariana Grande's caption about being the "hardest working 23 year old" is getting a lot of backlash. pic.twitter.com/GtI9WwmcCC

— Pop Crave (@PopCrave) January 14, 2017
It is widely known that Ariana was born into a well-off family, but "working hard" is also relative. Jobs come with different demands that may be physically, mentally, or emotionally challenging, or time-consuming. And in Ariana's case, we in the public only see the finished product, not the work it took to make it happen.
I say all that to show that Ariana probably does work hard, just not the "hardest working" person in the world and she definitely shouldn't have declared so on Instagram. She would have come out better had she just patted herself on the back alone while staring in a mirror and taking out of that signature ponytail of hers.
Be the first to receive breaking news alerts and more stories like this by subscribing to our mailing list.