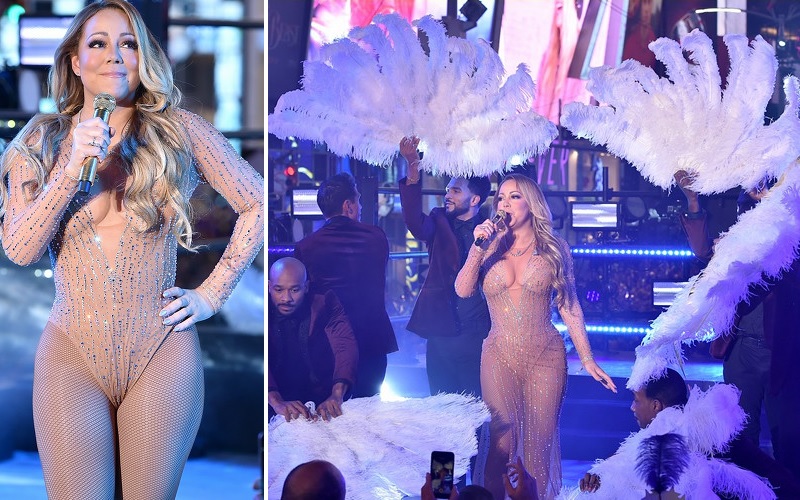 Happy New Year, Mariah! The diva of our generation needs all of the love she can get after her disastrous performance on live television just moments before the ball dropped in NYC to ring in 2017.
Mariah Carey performed during Dick Clark's New Year's Rockin' Eve with Ryan Seacrest, but unfortunately, everything that could go wrong, did! The singer was supposed to perform "Auld Lang Syne" and her hits "Emotions" and "We Belong Together" but all three songs were an epic lip sync fail.
According to TMZ, Mariah and her team are accusing Dick Clark Productions of "sabotage."
Short story — Mariah's team believe there are too many coincidences and too many warnings … they say it was sabotage "so they could get Mariah drama." We know Mariah's people fired off an email to an Exec at Dick Clark Productions, saying, "This is sabotage."
The site claims Mariah repeatedly complained to production that she was having difficulty hearing her in-ear monitors. An hour before she was scheduled to take the stage, she first alerted production of the issue after an interview with Seacrest. She even told the host on-air, "I'm having trouble hearing you."
Production assured her team the problem would be fixed by switching her earpieces to a different frequency. However, 6 minutes before she hit the stage she was still having issues and even went to the stage early to test everything out. Mariah's mic-pack battery was also dead and changed during this time.
Mariah was forced to begin her performance knowing her inner ear monitors weren't working properly. Once onstage, she also noticed the prompter, which displays the lyrics, was not working. Mariah's team says she tried to hear the music on her own, but the massive Times Square audience was too overpowering.
Was it sabotage? I can't really say. The only thing I know for sure is that this would never happen to Beyoncé!
After the performance — if you can even call it that — and the social media clowning session that followed, Mariah tweeted "sh*t happens."
Shit happens ? Have a happy and healthy new year everybody!? Here's to making more headlines in 2017 ? pic.twitter.com/0Td8se57jr

— Mariah Carey (@MariahCarey) January 1, 2017
Here is the cringe-worthy performance from start to finish:
Be the first to receive breaking news alerts and more stories like this by subscribing to our mailing list.