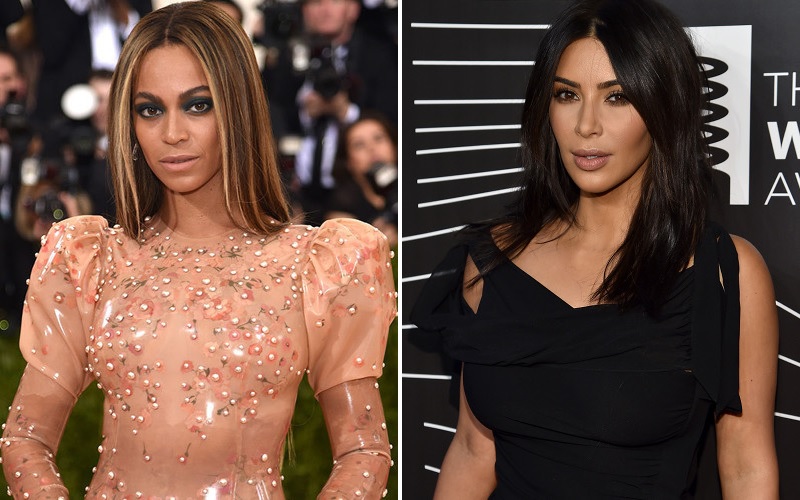 Kanye West can kiss any hopes he had of daughter North West ever playing with Blue Ivy Carter anytime soon goodbye. A new report suggests the feud between the Wests and the Carters has grown to epic proportions and the two Hollywood couples will never be friends.
Radar Online is exclusively reporting Beyoncé "flipped out" on Kim Kardashian recently during a phone call. According to the site, Kim called Beyoncé after Kanye was released from the hospital to apologize for his onstage rants on Beyoncé and Jay Z. However, a source says the conversation did not go as Kim intended.
"Beyonce flipped out on Kim when Kim called her to try and soothe tensions after Kanye's hospitalization. Basically, she told Kim to never, ever, contact her or her husband again and said stuff like she thought that the two of them are made for each other because they are both talentless and pathetic!"
In October, Kanye criticized Beyoncé and Jay Z for not calling or stopping by the house to check on Kim after she was robbed at gunpoint in Paris. He also revealed that their children had never played with each other, despite their daughters being close in age. He went on another Beyoncé/Jay Z rant in November.
The source says the rants caused friction at home with Kim.
"Kim and Kanye both felt awful and got into it because Kim told Kanye that he had ruined their chances of being friends with Beyonce and Jay."
Kim has reportedly spent years desperately trying to become friends with Queen Bey, but Beyoncé "kept ignoring her," says the source. A previous report also claimed that Beyoncé has never liked Kim to begin with, and only tolerated her because of her and Jay's friendship with Kanye.
Furious with Kanye for making matters worse, the source told Radar that Kim attempted one more time to make amends.
"They wanted to try one last time to make things better, so they mailed Bey and Jay an invite to the Kardashian's holiday party. The invite was returned to Kim and Kanye's house with 'Return To Sender' written on the envelope!"
To be fair, I don't think even Kim and Kanye wanted to attend that party.
https://twitter.com/kanyewest/status/813848942001659904
Beyoncé is never one to hide how she feels, but I highly doubt she would "flip out" on Kim Kardashian, mainly because I don't see Beyoncé giving this petty situation that much energy. Kim might be desperate to build a friendship, but I can almost guarantee Beyoncé is not hard-pressed over what Kim or Kanye does.
Be the first to receive breaking news alerts and more stories like this by subscribing to our mailing list.