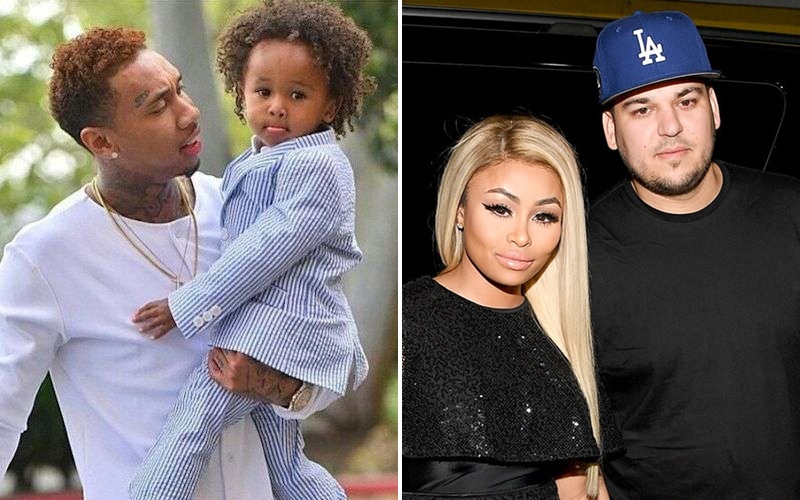 We've all been transfixed by Rob Kardashian and Blac Chyna's tumultuous relationship over the past week. Some watched the drama unfold on social media eating popcorn, while others were genuinely concerned about Rob's mental health. But there's also another person that is being deeply affecting by the fighting.
According to Hollywood Life, King Cairo has witnessed it all go down between his mom and step-dad. Now, Tyga worries how being in such an environment is affecting his four-year-old son.
An insider exclusively revealed to Hollywood Life:
"King must have witnessed Chyna and Rob yelling at each other at one point. He has his action figures in his hands the other day, playing with them as he normally does, but he was yelling and screaming in different voices. Tyga asked him that the deal was and he said his action figures were arguing like mommy and Rob."
King has spent more time with his dad and Kylie Jenner since Chyna gave birth to her and Rob's daughter, Dream Kardashian, in November. The source also revealed Tyga's main concern is his son's welfare if Chyna and Rob's relationship continue to be volatile.
"Tyga was obviously struck by what King said and plans to talk to Chyna about this. He hopes she and Rob get it together for King and Dream's sake."
Rob & Chyna's recent epic blowout occurred last weekend after Chyna's Instagram account was supposedly hacked and alleged text messages of her shaming Rob were posted. The two got into a fight and she walked out on her fiancé, with furniture, food, and their baby in tow.
Rob documented the aftermath on Snapchat, stating "I'm pretty upset and I'm pretty sad because it's about to be Christmas and I want to be with my baby… So yeah I am not feeling so good."
After going back and forth on social media, Rob eventually apologized to Chyna. He revealed he was "in an emotional bad place" at the time and is seeking help. Chyna reposted the apology. Both have also deleted their negative comments they posted about each other.
Shockingly, I agree with Tyga on this one (the first and probably last time). King Cairo shouldn't be in an environment that's not healthy or safe. Some reports claim Rob and Chyna's altercation became physical.
I, too hope, the couple can get it together for the sake of the children involved. However, it may just be time to move on. Fame and ratings are not worth this.
Be the first to receive breaking news alerts and more stories like this by subscribing to our mailing list.