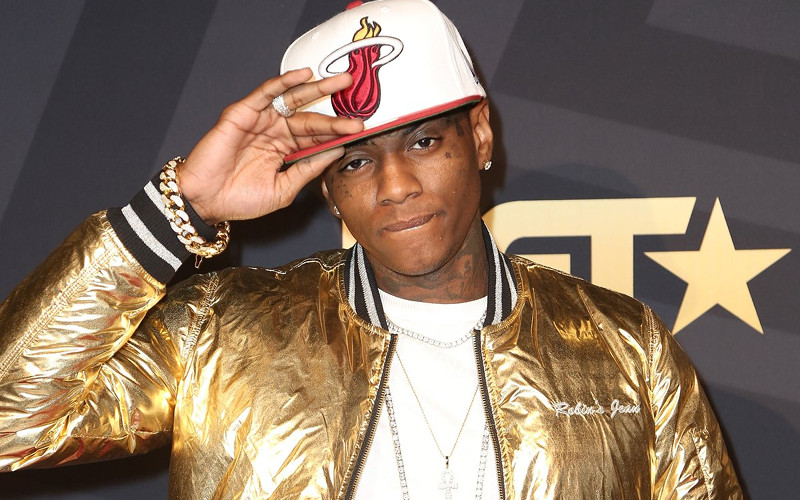 Never sleep on Crime Stoppers. Soulja Boy was arrested earlier today (Dec. 15) after police found a gun in his home, a violation of his probation. The police were investigating a tip from the crime hotline that accused the rapper of making threats online.
TMZ first broke the story. According to the site, police unexpectedly showed up at Soulja's Hollywood Hills home and searched the residence. Lt. Bod Toledo of the LADP says "firearms" were found during the probation search.
"He was arrested due to items in the house. We found firearms in the residence."
Being found in possession of a firearm is a clear violation of the rapper's December 2014 probation after he was arrested in California for carrying a loaded revolver in his car.
TMZ caught video footage of the rapper in handcuffs and being transported to the Van Nuys jail. He's currently being held without bail.
It's being speculated the online threats that were reported was in response to a disturbing video the rapper posted in August. He was seen brandishing a gun (which he now claims was fake) and threatened to send "shooters" to rapper Skrill Dilly's house.
Dilly filed a lawsuit against Soulja in October. Dilly's publicist, Sharika Soal, also alerted police of the threats.
"It was actually me who reported him to the police. I was very upset with his actions."
Rapper Lil Yachty also got the last word after hearing of Soulja's arrest. The two have been beefing for several months over reality star India Love.
Finally the Feds put the social media Al Capone to rest. For Now Atleast.

— underdog (@lilyachty) December 15, 2016
Their feud reignited earlier this week after clips from Love's alleged sex tape leaked. Soulja called Yachty out for suddenly claiming Love was "not my girl."
That's not my girl y'all stop tagging me please ?

— underdog (@lilyachty) December 13, 2016
Be the first to receive breaking news alerts and more stories like this by subscribing to our mailing list.