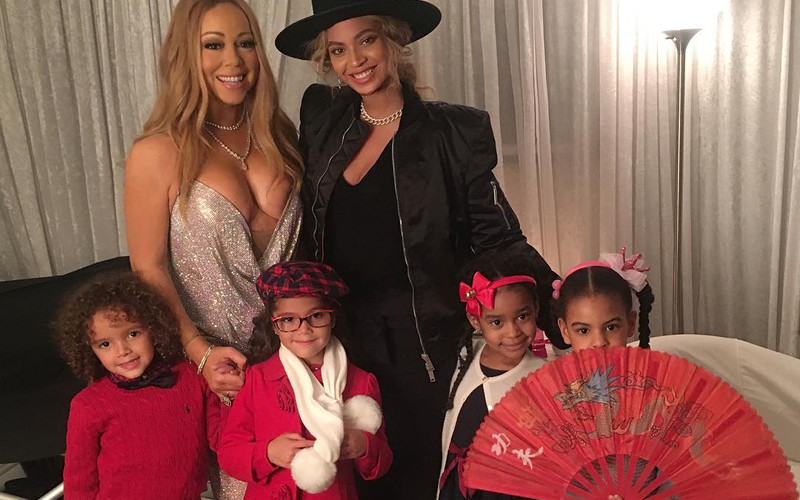 One of the greatest, cutest things in the entire world occurred earlier this week! Although, we weren't present to witness it in person (and honestly, I don't even think we're worthy), there is photographic proof that it, indeed, happened.
Blue Ivy Carter and Moroccan & Monroe Cannon met/posed for a picture! And their famous mothers joined in the pic!
(While North West is probably somewhere lavish chillin', I bet Kanye feels some type a way about Blue Ivy's new friends.)
Beyoncé and Blue attended Mariah Carey's holiday concert at the Beacon Theater in New York City on Sunday night (Dec. 11). Following the show, Mariah welcomed Queen Bey and her daughter backstage. Dressed in holiday red, Mariah's twins, nicknamed Roc & Roe, also greeted Beyoncé and Blue.
Another beautiful young girl is also in the picture. However, no one seems to know who she is. Blue Ivy's BFF perhaps? Regardless, I'd like to call her the luckiest person in the world! Could you imagine being in the presence of such greatness? It's almost like standing next to royalty and their heirs.
Once you get over the fact that Mariah and Beyoncé are in one photo with their kids, you also start realize that Blue Ivy and her fan might actually be the star of the photo.
https://twitter.com/amazonhunty/status/808660153553874944
Blue Ivy with that fan wins photography posing forever. Everyone else can go to bed. pic.twitter.com/9yRgwMSDgX

— Kevin Allred (@KevinAllred) December 13, 2016
https://twitter.com/chelshicks/status/808571068248100864
All the other children said cheese. Blue Ivy got a geisha fan and a smize. I just…

— Sha Glizzy (@L0VEhER) December 13, 2016
Blue ivy is ICONIC! That pose with that fan….

— N O R M A N I ? (@kordeivycarter) December 13, 2016
I strive to be as extra as Blue Ivy with this fan. pic.twitter.com/nnBfPp8hpj

— Kim de la Créme ? (@Kimyellaa) December 13, 2016
Mariah previously posted a photo of she and Beyonce backstage at the concert without the kids.
She clearly knew we had to prepare ourselves for the full experience. Along with "All I Want for Christmas," I'm guessing these photos are Mariah's Christmas presents to us and all I have to say is "thank you!"
Be the first to receive breaking news alerts and more stories like this by subscribing to our mailing list.