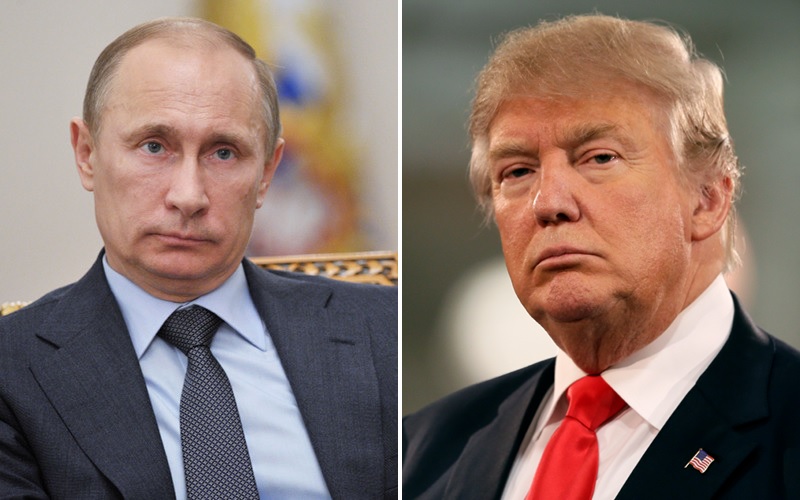 The CIA and other intelligence agencies have concluded with "high confidence" that Russia intervened in the 2016 election to help elect Donald Trump, and not just to undermine the United States political process as previously suspected.
In a report published Friday (Dec 9.), The Washington Post stated intelligence agencies have reached a "consensus" that Russia did, in fact, interfere with the election. Other news organizations have confirmed the CIA presented its findings to a group of US senators in a closed-door meeting last week. "Russia's goal here was to favor one candidate over the other, to help Trump get elected," said a senior US official briefed on the situation.
According to The Washington Post:
Intelligence agencies have identified individuals with connections to the Russian government who provided WikiLeaks with thousands of hacked emails from the Democratic National Committee and others, including Hillary Clinton's campaign chairman, according to U.S. officials. Those officials described the individuals as actors known to the intelligence community and part of a wider Russian operation to boost Trump and hurt Clinton's chances.
The CIA partly based its conclusion after finding some Republican National Committee computer systems were also hacked, but stolen information was never released. Hillary Clinton and the DNC were the primary targets.
Since September, RNC officials have heavily denied any claims that its servers were hacked (though later admitted attempts had been made and a few individual accounts were hacked). However, since the CIA's new findings, the RNC and Republicans have been largely silent.
Democrats and few Republicans are now demanding a full investigation into Russia's alleged involvement with the email hacks and the 2016 election. President Barack Obama also ordered US intelligence agencies to review the cyber-attacks and Russian/foreign intervention in the election. The report should be delivered before he leaves office and may be made public.
The Trump transition team released a statement following the Washington Post's report that criticized US intelligence agencies (of which the President-Elect will soon oversee).
"These are the same people that said Saddam Hussein had weapons of mass destruction. The election ended a long time ago in one of the biggest Electoral College victories in history. It's now time to move on and 'Make America Great Again.'"
— Maggie Haberman (@maggieNYT) December 10, 2016
Following the CIA's new findings, social media began comparing Russia's tampering and Donald Trump's possible illegitimate presidency to the Watergate scandal.
Russia influencing US election to put Trump in power is bigger than Watergate.

— David Corn (@DavidCornDC) December 10, 2016
The #RussianHackers scandal is worse than Watergate. This is not hyperbole. This is not some empty chant. This is literally a comparison.

— Matthew Chapman (@fawfulfan) December 10, 2016
https://twitter.com/clmazin/status/807692432628281344
Nixon was almost Impeached and Convicted for Watergate and then forced to resign. That was a joke compared to Trump's actions. pic.twitter.com/nbb67rB0Mb

— Adam B. Bear (@democraticbear) December 10, 2016
Trump: "This election is rigged," "Crooked Hillary," "It's worse than Watergate."
He was right, talking about himself all along…

— Craig Rozniecki (@CraigRozniecki) December 10, 2016
Interference from a foreign country in a US election is unprecedented and it's unknown how Democrats and/or our government will respond. Although, the result of the election is unfortunately unlikely to change, the CIA's consensus will likely reinvigorate petitions for the Electoral College to vote for Hillary Clinton. Electors will meet in just over week to officially cast their votes.
Be the first to receive breaking news alerts and more stories like this by subscribing to our mailing list.