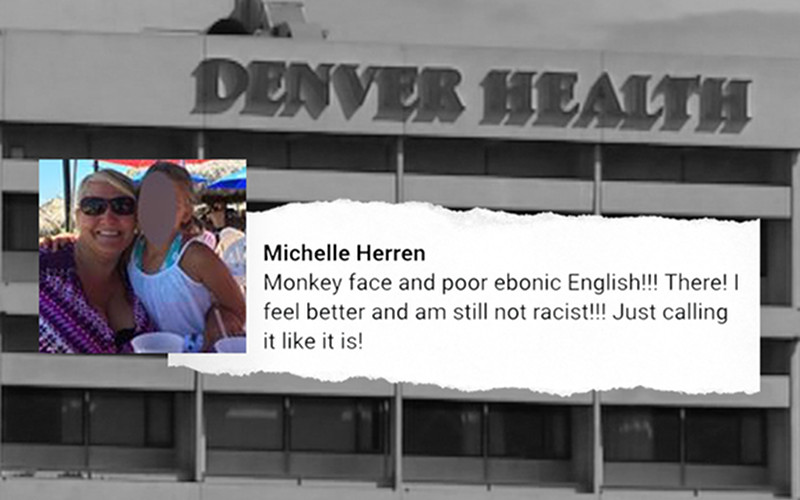 Racists have seriously been coming out with no shame lately. A Denver anesthesiologist revealed her racist thoughts after describing First Lady Michelle Obama as a "monkey face" who speaks "poor ebonic English." Despite the outrage, the doctor pulled out a racist's number one go-to assertion: "I'm not racist."
Dr. Michelle Herren originally posted a picture on her personal Facebook of Obama appearing to scream after a friend praised how eloquent the First Lady speaks. Herren added her caption to the photo.
"Doesn't seem to be speaking too eloquently here, thank god we can't hear her! Harvard??? That's a place for 'entitled' folks said all the liberals!"
Herren didn't stop there. Another friend commented how it seems OK to criticize future First Lady Melania Trump, but any negative comments about Obama are deemed racist. Herren's response:

Herren is a doctor at Denver Health Medical Center, a public hospital with a large number of minority patients and she's also an assistant professor at Colorado University School of Medicine. Outraged, Joann Nieto contacted the Colorado University Board of Regents after seeing Herren's post on her news feed.
"Hiding behind the excuse that you're not racist doesn't negate the fact that you are being racist," Nieto told a local news station.
Herren has since deleted the racist comments, and ultimately deleted her Facebook account. While she still has a job, Denver Health has also confirmed she "will not be seeing patients or providing anesthesia services" until further notice.
Denver Health previously stated it couldn't fire Herren for her racially charged comments:
"While the leadership of Denver Health is appalled by these remarks, as a public entity we are constrained by both state and federal law, including the First Amendment right of free speech, to terminate any employee for their off-duty comments, regardless of how offensive their comments may be."
Herren — who reportedly earns more than $363,000 a year — says her comments were taken "out of context." She also claims she didn't know the term "monkey face" was considered racist and maintains the notion she is, in fact, not racist.
This is just the latest racist attack against Michelle Obama in recent weeks. A West Virginia mayor called the First Lady an "ape in heels," while an Alabama police officer said she was "fluent in ghetto."
Be the first to receive breaking news alerts and more stories like this by subscribing to our mailing list.