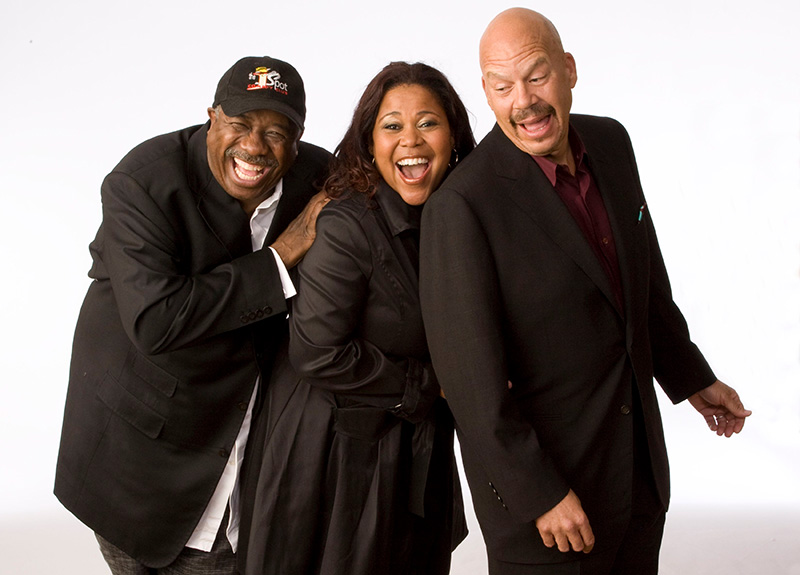 Morning radio, as we know it, is about to change forever. After two decades of bringing his unique humor to pop culture and news topics, J. Anthony Brown has left the Tom Joyner Morning Show.
Sitting alongside Tom Joyner and Sybil Wilkes for more than 20 years, Brown become part of one of — if not the — most popular trios in black radio, broadcasting in over 100 markets. But, without much warning, the popular trio has disbanded as an official announcement came on Monday (Nov. 28).
The comedian did not have a proper send-off and was unable to say his goodbyes on-air. Through his own platform, Brown thanked longtime listeners, Tom Joyner, and the TJMS crew. Despite the unceremonious farewell, he doesn't seem to harbor any hard feelings; he chalks it up to the nature of the radio business.
Saying Goodbye to #TJMS #TomJoynerMorningShow #20years pic.twitter.com/JLlRMuN5eB

— J. Anthony Brown (@jspotcomedy) November 29, 2016
Brown also released a written statement echoing the same sentiment:
"I want to thank all the listeners and fans for embracing me for more than 20 years on the 'Tom Joyner Morning Show.' You were a captive audience, and your support and feedback encouraged me to be a better comic and a better social commentator, reflecting the world around us. I am eternally grateful to Tom Joyner and the morning crew for the years of friendship and laughs, in sickness and in health. I thank you for the opportunity to showcase my talents, and allowing me to have a voice on morning radio."
Brown's last day appearing on the show was Black Friday (Nov. 25). He was supposed to continue through Wednesday (Nov. 30), but it seems Brown was asked not to report to the studio, apparently due to behind-the-scenes politics. Brown's contract was expected to expire at the end of the year and the TJMS will reportedly "move in a new direction" in 2017.
Brown "quit" mid-show in January of this year due to conflicts behind-the-scenes. However, he returned soon after. It's unclear if the "conflicts" or his departure involves Joyner, Wilkes, or any of the other on-air personalities.
A replacement for the comedian has yet to be named. Other comedians and celebrity guests will fill the void on a rotating basis until a permanent co-host is selected.
Brown launched his own syndicated weekend radio talk show in 2015. Currently in 10 markets, the 2-hour-long show is expected to be revamped and his primary focus in 2017.
Until he is back on all our stations, listeners will certainly miss his signature catchphrase: "Watch out deh, now!
Be the first to receive breaking news alerts and more stories like this by subscribing to our mailing list.