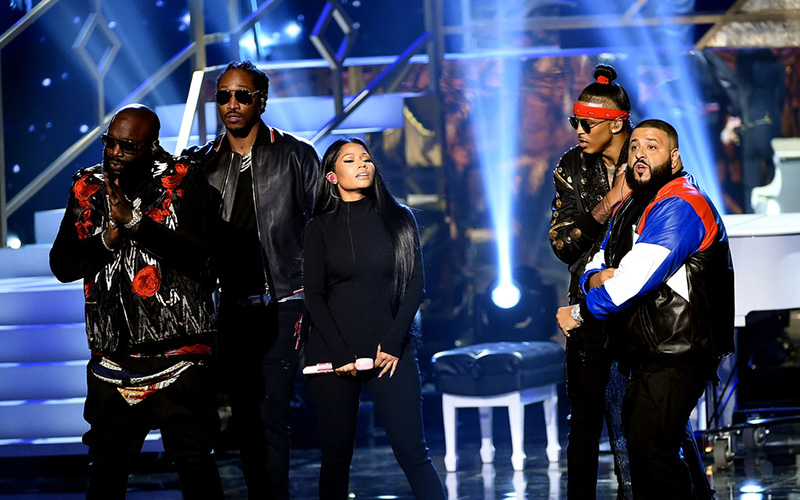 Never one to shy away from tooting his own horn, DJ Khaled took the stage at the 2016 AMAs to shout and holler into the mic while his invited guests, Nicki Minaj, August Alsina, Rick Ross and Future spit their verses on his single "Do You Mind?"
As a "DJ" this is what counts for a performance for the overweight Miami man. But one thing was puzzling: Khaled kept insisting that "Do You Mind?" was the #1 song in the country. He even insisted it was #1 on Billboard, but I'm puzzled by that claim because I looked at the Billboard Hot 100 and Rae Sremmurd is definitely #1 on there with their Mannequin Challenge anthem, "Black Beatles." The same is true on the R&B/Hip Hop charts as well, so I really have no idea where "Do You Mind?" is No. 1. Maybe it's topping the charts in Narnia?
Anyway, in terms of the guests, Nicki Minaj did fine in her all-black sweater dress. It was kind of boring though, and her obvious lip synching at the end was awkward. The only thing more awkward was August Alsina's hairline and his equally tragic lip synching attempts.
Future and Rick Ross were both unremarkable but they showed up, so that must count for something, because the man tasked with singing the song's hook, Chris Brown, didn't. But given that August is an R&B singer, I'm not sure why he couldn't have filled in for Chris instead of them letting the tape play like this was a high school talent show.
The white people in the audience were baffled and puzzled by the entire spectacle and frankly, who can blame them? This definitely felt like a BET Hip Hop Awards moment more than an AMAs setup.
Watch DJ Khaled and Friends mumble and stumble around onstage during their 2016 AMAs performance.
Be the first to receive breaking news alerts and more stories like this by subscribing to our mailing list.