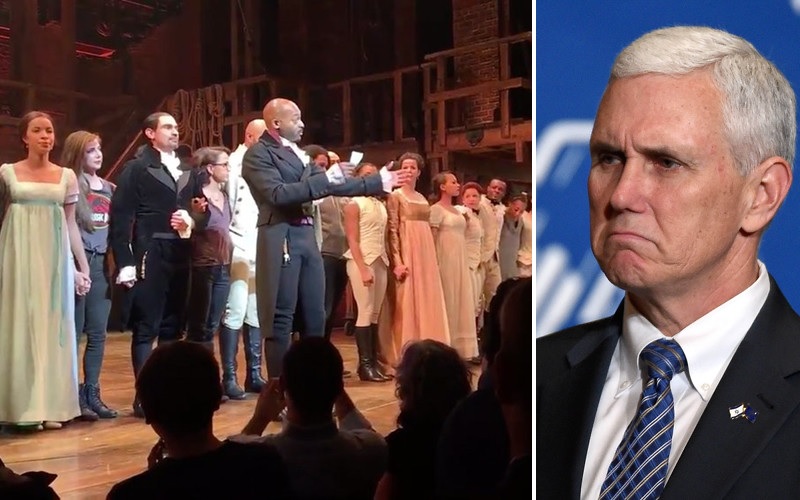 It would seem fitting that the Vice President-elect would attend a performance of the hit Broadway show, Hamilton: An American Musical. That is, if the future Vice President wasn't a perceived homophobe who bashes immigrants and is currently forming an administration full of racists. (Too harsh?)
Vice President-elect Mike Pence attended the Friday (Nov. 18) performance of Hamilton. However, his presence was not received well. While walking to his seat in Richard Rodgers Theatre, Pence was booed by the crowd.
https://twitter.com/dkipke12/status/799802254794571777
Hamilton features a diverse cast comprised of different races, ethnicities, and sexual orientations. Given Pence's stances on certain issues such as immigration and the LGBT community, Twitter was quick to join in with a collective "cyber boo."
So…is Mike Pence at #Hamilton right now to take notes? Get the abridged version?

Does he not know what this musical is about? pic.twitter.com/Juk2gWXBVi

— ?? Winter Samstice Barnes ?? (@samrdbarnes) November 19, 2016
With Mike Pence here at Hamilton tonight, is this part of the government transition? Learning about government?

— Noah Coslov (@NoahCoslov) November 19, 2016
https://twitter.com/apologies2urfam/status/799788202844295168
"When your people say they hate you…" Fully stopped the song for a minute while people lost their shit. Never seen anything like it. https://t.co/Gz1tAEaTAA

— Shannon ?? (@TheStagmania) November 19, 2016
If the Hamilton cast had changed it up and put on an emergency performance of Rent, that would have been the best thing for Mike Pence.

— LOLGOP? (@LOLGOP) November 19, 2016
I'd pay more to see Mike Pence getting booed in the crowd at Hamilton than I would to actually see Hamilton. https://t.co/imOHUlaVIU

— Latara Appleby (@LataraAppleby) November 19, 2016
Reminder that the current star of Hamilton is the incomparable Javier Muñoz, an openly gay, openly HIV-positive actor. Pay attention, Pence.

— Marc (@MarcSnetiker) November 19, 2016
mike pence saw hamilton tonight, he doesn't deserve tickets, he doesn't deserve to hear the music, he doesn't deserve anything that good

— tyler oakley (@tyleroakley) November 19, 2016
I'm at #Hamilton and so is Mike Pence. Crowd booed him like crazy, and gave a standing O at the line "immigrants we get the job done" 1/2

— Christy Colburn (@christy_colburn) November 19, 2016
2/2 Crowd went NUTS at King George's lines "when people say they hate you" & "do you know how hard it is to lead?" He had to stop the song.

— Christy Colburn (@christy_colburn) November 19, 2016
Following the performance, the cast had a special message for Pence (who was already walking out). Brandon Dixon (who portrays Aaron Burr) encouraged Pence to be inspired by Hamilton and to "uphold our American values and work on behalf of ALL of us."
Tonight, VP-Elect Mike Pence attended #HamiltonBway. After the show, @BrandonVDixon delivered the following statement on behalf of the show. pic.twitter.com/Jsg9Q1pMZs

— Hamilton (@HamiltonMusical) November 19, 2016
Unfortunately, Hamilton creator, Lin-Manuel Miranda was not present to welcome the Vice President-elect to the show. I'm sure he would have had much to say about Pence's appearance. While hosting SNL in October, Miranda devoted his musical opening monologue to criticize then-Presidential candidate Donald Trump.
Be the first to receive breaking news alerts and more stories like this by subscribing to our mailing list.