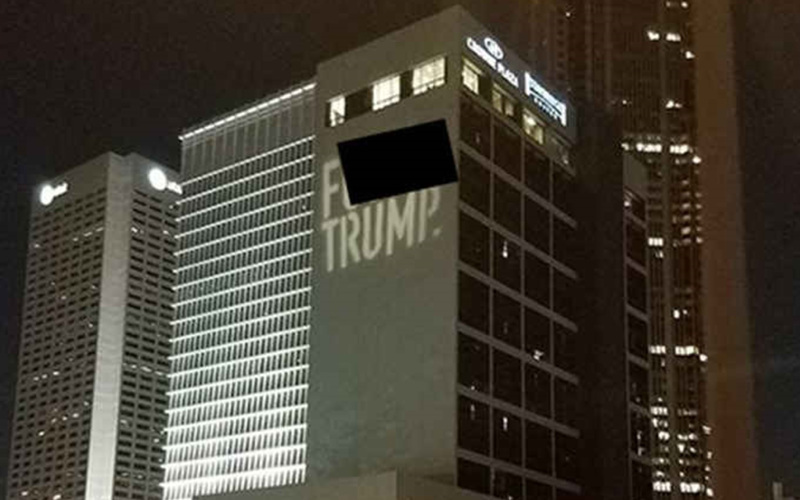 The election of Donald Trump has sparked protests, walk-outs, and anger across the country. One Atlanta group decided to show just how much they disapprove of the President-elect in the most epic way possible.
On Monday (Nov. 14), some Atlanta residents may have noticed a simple, yet emphatic statement sprawled on the side of the Crowne Plaza hotel. Three stories tall, projected for everyone to see was the message, "F**K TRUMP."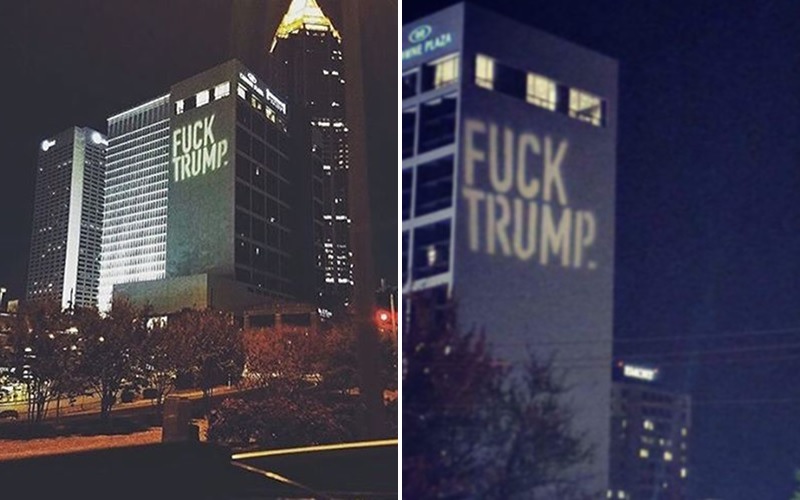 Using tin foil, an X-Acto knife, and home movie projector, the Metro Atlanta Democratic Socialists of America pulled a boss move and told the presumed 45th President how they truly felt.
"Sometimes you've got to do something shocking and startling. Sometimes, it makes people uncomfortable," said Milton Tambor, Chair of the organization.
Though it doesn't begin to compare to what Trump has said in the past, some were outraged that children were exposed to the profanity being projected. Tambor is making no apologies.
"I think part of what parents have to explain is these may not be nice words, but a lot of people are upset, a lot of people are concerned they'll be deported, a lot of people are concerned they'll be losing the healthcare that they have, a lot of people are concerned they'll be the targets of racism, hatred and bigotry and that's what needs to be explained, not the word itself."
"F**k Trump" was projected for 30 minutes before the Atlanta DSA took it down. Authorities were notified, but no one was arrested nor were any charges filed because no crime was committed. The projection didn't cause any permanent damage and was not considered vandalism.
Though Tambor said he is not afraid of potential arrests.
"We're used to civil disobedience. The more people who are arrested, the more influence you have on changing policies."
Crowne Plaza hotel was not pleased in being an unwilling participant in the protest action and released a statement regarding the matter:
The Crowne Plaza Atlanta Midtown hotel holds the safety, security and well-being of our guests and employees as our top priority and concern.

Overnight, the associates of the Crowne Plaza Atlanta Midtown hotel were alerted to a defamatory statement being projected onto the Crowne Plaza/Staybridge Suites Midtown Atlanta building by an unrelated person or group from a distant location.

Our hotel staff and leadership team immediately implemented proper protocols to notify local authorities and have this projected statement removed as quickly as possible.

The hotel staff continues to cooperate fully with local authorities in their investigation. All further questions should be directed to the City of Atlanta Police Department.
It seems the Atlanta DSA is actually expressing what many Americans feel right now. Personally, the best I can do at the moment is acknowledge Donald Trump as the "President-elect." So, while Tambor and his organization may have ruffled a few feathers, their actions are understandable.
Be the first to receive breaking news alerts and more stories like this by subscribing to our mailing list.