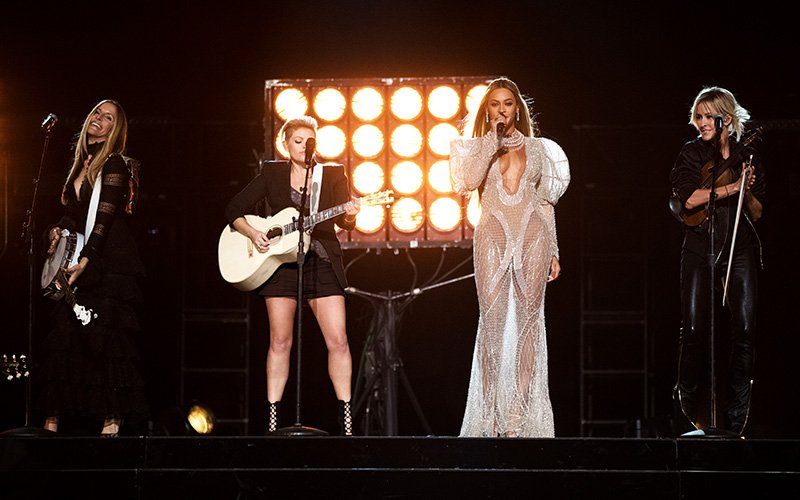 After an extremely lengthy wait (it literally seemed like FOREVER!), Beyoncé FINALLY graced the stage with the Dixie Chicks tonight at the 2016 Country Music Awards (CMAs) and performed "Daddy Lessons" as promised.
Initial reports stated that Queen Bey and the Dixie Chicks would open the show, however, that didn't happen. In fact, they didn't hit the stage until a little after 10:05 p.m. (with ZERO introduction, might we add) and the quartet did not disappoint for the show's 50th annual show, which the CMAs touted as "Country Music's Biggest Night Ever."
Dressed up in a sparkly gown with puffed shoulders (similar to what she wore in the Lemonade visual) and backed by a full brass and bluegrass band — including a saxophonist with some impressive footwork — Beyoncé and the three ladies of the Dixie Chicks (Martie Erwin Maguire, Emily Erwin Robison, and lead singer Natalie Maines) brought the house all the way down with their "surprise" performance.
The Dixie Chicks even mixed in a little bit of their hit single "Long Time Gone" as well! Overall, the four ladies did their thing and it was great seeing Beyoncé performing at an atypical awards show. Also, pay close attention to the end when the crowd cheers and Natalie says, "Good job, B!" like how Blue does on the album.
The 2016 Country Music Awards aired on ABC live from Nashville, TN.
Watch Beyoncé and the Dixie Chicks' "Daddy Lessons" performance below:
Be the first to receive breaking news alerts and more stories like this by subscribing to our mailing list.