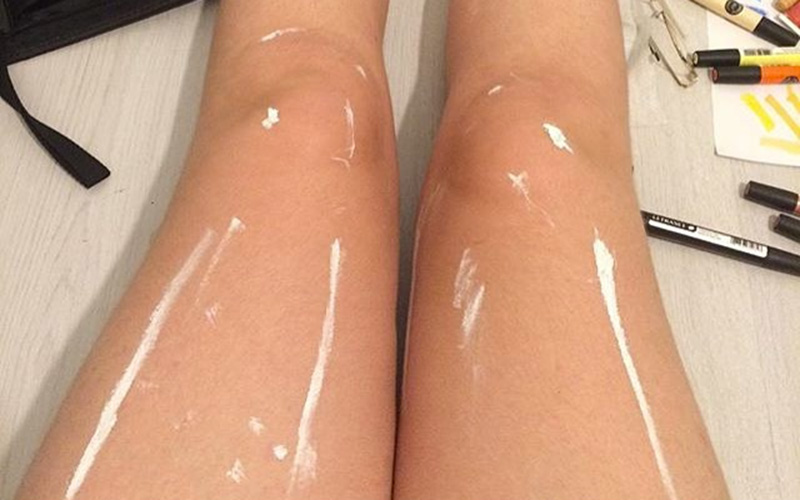 Remember the black and blue dress last year that had everyone completely losing their minds? Well there's a whole new optical illusion that has the Internet in a heated debate.
It all started when Instagram user @leonardhoespams posted a photo of her legs on her page. The photo was shared on Twitter and instantly went viral, becoming the talk of the Internet.
https://www.instagram.com/p/BL6VAH2g8tM/?taken-by=leonardhoespams
Some users argued that the photo showed the person's legs with paint on them, while others argued that the legs were shiny and oily.
Shiny plastic legs. pic.twitter.com/sVE7btqMOw

— Ninja Economics (@NinjaEconomics) October 26, 2016
This literally never looked like shiny legs, its clearly white paint lmfao wtf https://t.co/2IPd7fGLHn

— Mel? (@EclecticMeli) October 26, 2016
Come to find out, after viewing the photo full-size, it can easily be seen that the person actually has paint on their legs. Many tweeted that once they were able to see the paint on the person's legs, they weren't able to see shiny/oily legs anymore.
How did I go from seeing oily legs to dry legs with some paint on ? https://t.co/Hj3kqTWU9f

— L ? (@_laurenlx) October 26, 2016
Am no understandin how a could see shines legs and now a can only see white paint?!??!!! https://t.co/73HQyLmKWM

— Meg Cam (@meggcamm) October 26, 2016
https://twitter.com/Bxresi/status/791330872872009728
Were you tricked by the optical illusion? What was the first thing you saw in this photo? Oily/shiny/plastic legs? Or white paint on dry legs?
Be the first to receive breaking news alerts and more stories like this by subscribing to our mailing list.