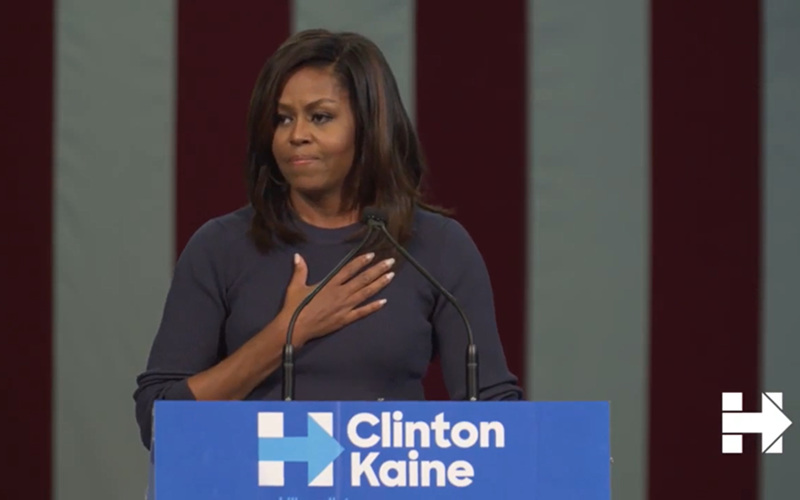 2016 has really become "The Year of Michelle Obama." The First Lady of the United States has always been a great speaker, but in her final year in the White House, she has blossomed into one of the best orators in the political spectrum. On Thursday (Oct. 13) she delivered an impassioned speech in response to Donald Trump's lewd comments about being sexually aggressive towards women that everyone needs to hear.
Obama attended a rally for Hillary Clinton in Manchester, New Hampshire. Noting it would be "dishonest and disingenuous to me to just move on to the next thing like this was all just a bad dream," FLOTUS decided to forgo her typical campaign speech.
"I can't believe that I'm saying that a candidate for president of the United States has bragged about sexually assaulting women. I can't stop thinking about this. It has shaken me to my core in a way that I couldn't have predicted," she said.
With her voice quivering and almost on the verge of tears, the First Lady continued:
"This was not just a lewd conversation," she said. "This wasn't just locker room banter. This was a powerful individual speaking freely and openly about sexually predatory behavior, and actually bragging about kissing and groping women…

I feel it so personally. The shameful comments about our bodies, the disrespect of our ambitions and intellect, the belief that you can do anything you want to a woman — it is cruel, it's frightening, and the truth is, it hurts.

It's like that sick, sinking feeling you get when you're walking down the street minding your own business and some guy yells out vulgar words about your body, or when you see that guy at work that stands just a little too close, stares a little too long and makes you feel uncomfortable in your own skin."

It's that feeling of terror and violation that too many women have felt when someone has grabbed them, or forced himself on them and they've said no but he didn't listen ? something that we know happens on college campuses and countless other places every single day."
Obama never mentioned Trump by name, only referring to him has "a candidate." However, she made it abundantly clear that his comments were more than "locker room talk" and was not the character/behavior of the President of the United States.
"Too many are treating this as just another day's headline, as if our outrage is overblown or unwarranted, as if this is normal, just politics as usual. This is not normal. This is not politics as usual. This is disgraceful. It is intolerable. And it doesn't matter what party you belong to ? Democrat, Republican, independent ? no woman deserves to be treated this way. None of us deserves this kind of abuse…

I can tell you that the men in my life do not talk about women like this. And I know that my family is not unusual. And to dismiss this as everyday locker-room talk is an insult to decent men everywhere."
Though Clinton was campaigning in San Francisco during Obama's moving speech, she applauded the First Lady's words.
"If you haven't seen it, I hope you will see Michelle Obama's speech today in New Hampshire and, once again, she gave a compelling and strong case about the stakes in the election, but about who we are as Americans. And we cannot let this pessimism, this dark and divisive and dangerous vision in America take hold in anybody's heart. We have to keep lifting up this campaign."
You can read Michelle Obama's full transcribed speech here.
Be the first to receive breaking news alerts and more stories like this by subscribing to our mailing list.