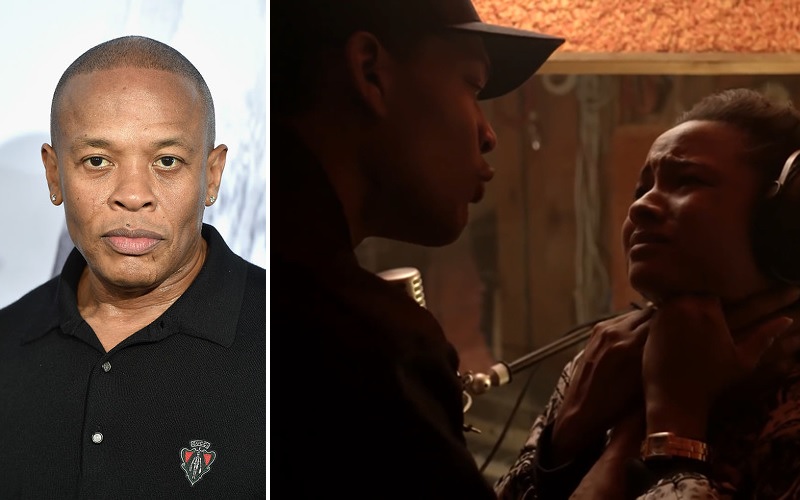 Michel'le's side of the story will not be told if Dr. Dre gets his way. The hip hop mogul has reportedly sent a cease and desist letter to Sony in order to prevent the company from airing Michel'le's TV biopic because it will portray him as an abuser.
Surviving Compton: Dre, Suge & Michel'le is scheduled to premiere on Lifetime later this week (Oct. 15). The TV movie will detail the physical abuse the singer says she endured during relationships with Suge Knight and Dr. Dre. Clips from the film show Dre punching Michel'le, pulling her by the hair, and even pointing a gun at her.
Dre and his lawyers are prepared to take Sony (and even Michel'le) to court if the film makes it to air. Dre denies the allegations and the cease and desist letter states there was never any abuse during their relationship from 30 years ago, citing the lack of medical records and/or police reports to prove otherwise.
Michel'le explained why she never reported the abuse on a recent appearance on The Wendy Williams Show to promote the upcoming movie.
"I stayed because it was normal. After the first hit, you don't think they're going to do it again. I didn't call the police because I didn't want him to go to jail. All the men around me were always going to jail and be gone for years and I didn't think that was a good idea."
Michel'le decided to release the biopic after being left out of the critically acclaimed 2015 N.W.A film, Straight Outta Compton. Many immediately questioned why Michel'le and Dre's known abuse against women were not included. Dre eventually released a statement of apology for mistreating women, but did not personally apologize directly to the women he allegedly abused.
"Twenty-five years ago I was a young man drinking too much and in over my head with no real structure in my life. However, none of this is an excuse for what I did.

"I've been married for 19 years and every day I'm working to be a better man for my family, seeking guidance along the way. I'm doing everything I can so I never resemble that man again.

"I apologize to the women I've hurt. I deeply regret what I did and know that it has forever impacted all of our lives."
As for now, Surviving Compton is set to air, despite Dre's threatened legal action. The movie premieres on Saturday, October 15th on Lifetime at 8pm.
Be the first to receive breaking news alerts and more stories like this by subscribing to our mailing list.