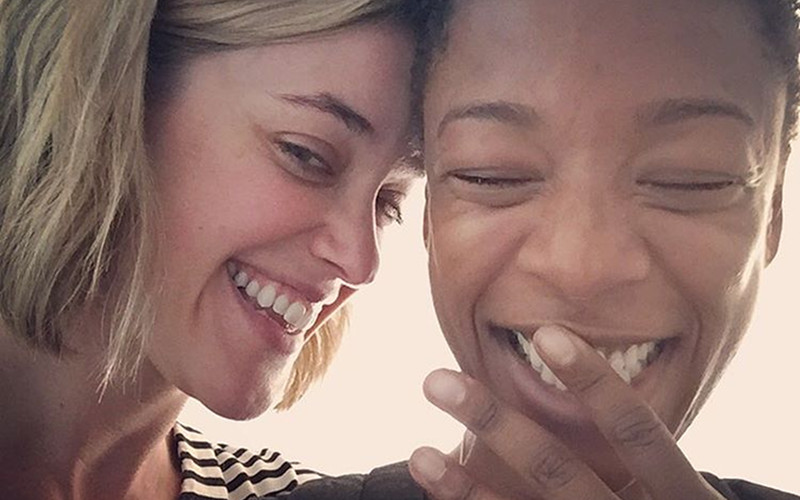 Ladies love Litchfield! Former Orange is the New Black star Samira Wiley found love on the set of the hit Netflix series and is now engaged.
Rocking a huge diamond ring, Wiley took to her Instagram account to announce her engagement to her fans. The actress and her now-fiancé Lauren Morelli were all smiles in the happy snapshot. Wiley simple captioned the photo with "Yes." The two began dating in 2014.
Morelli is a staff writer and producer for OITNB. When joining the show in 2012, she had just married TV writer Steve Basilone a few months prior. However, working on the series forced Morelli to confront her own sexuality for the first, something she often dismissed and shrugged off.
Realizing she was gay, she came out publicly in an essay for Mic:
"It wasn't so much one thing, but the sum of many small details: how uncomfortable I felt around groups of lesbians or how I considered myself (shrug) a 'not very sexual person." When considered alone, these seemed like little quirks that made me me. Wanting to read a book instead of have sex is a perfectly reasonable preference to have, right?

But on set, these small moments came into sharp relief, and I found myself answering to an endless stream of cast members who peppered me with questions like a gaggle of kindergarteners curious about their new teacher. 'Are you dating anyone?' 'You're married?' 'To a man?' 'But you used to kiss girls?' 'Do you miss it?' I was finally forced to consider a question that had never, ever occurred to me before: 'Holy s–t, am I gay?

I went through it all on set: I fell in love with a woman, and I watched my life play out on screen…It feels liberating and appropriate to live my life in front of you."
I wish the happy couple all the best. However, Morelli could have showed her love to Wiley in another way:  by not killing her character off the show! Wiley starred as the beloved Poussey Washington. Shockingly, the character was accidentally suffocated to death in a season 4 police brutality story arc.
Yeah, I still haven't recovered from that loss.
Be the first to receive breaking news alerts and more stories like this by subscribing to our mailing list.