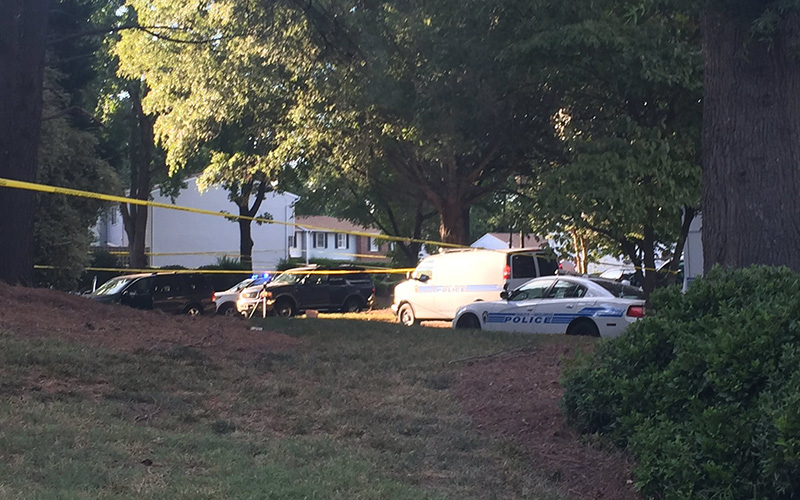 Yet another black man has died in an officer-involved shooting, and a video posted by his daughter showing the aftermath is going viral on the internet.
A woman in Charlotte, North Carolina streamed live video footage via "Facebook Live" after her father was shot and killed by police.
WATCH BELOW (WARNING GRAPHIC LANGUAGE):
In the footage, the woman, whose name on Facebook is "Lyric YourAdorable Scott," is clearly emotionally distressed as she confronts police over shooting and killing her father.
"Oh my gosh y'all, look… the police just shot my daddy four times for being black," she says at the beginning of the hour-long live video stream. "They tased him first and then shot him."
According to police in Charlotte, officers were looking for a suspect with an outstanding arrest warrant Tuesday afternoon (Sep. 20) at "The Village at College Downs" apartment complex when they noticed a person (who was not the suspect they were looking for) inside a vehicle.
Police said the man exited the vehicle with a firearm and got back in. As officers approached the car, the man got out of the car with the gun again, officials said, and at that point, they considered him "an imminent deadly threat to the officers who subsequently fired their weapon striking the subject," according to officials.
Old Concord Road shutdown as police investigate shooting. pic.twitter.com/Uf0PK7CcGc

— Brett Baldeck (@BrettFOX46) September 20, 2016
BREAKING: CMPD confirms officer involved shooting. The man has died at the hospital.

— Brett Baldeck (@BrettFOX46) September 20, 2016
CMPD says man was armed with a gun and made threat to officers. At least one officer did fire weapon.

— Brett Baldeck (@BrettFOX46) September 20, 2016
Officers immediately called for an ambulance and began performing CPR. He was rushed to the Carolinas Medical Center where he was pronounced dead.
The identity of the man hasn't been released yet, and Investigators said they recovered a firearm and are interviewing witnesses. The man's family, however, said that he didn't have a gun and was waiting in his car for his son to get off the school bus.
UPDATE: The victim's name is Keith Lamont Scott
The victim's daughter could be heard in her Facebook Live video saying that her father, who is disabled, was shot while reading a book in his car. A man claiming to be the victim's brother said as much to a news reporter.
A man who says he is the victims brother is very upset. Says he was just reading a book when officers shot him. Officers say he was armed.

— Brett Baldeck (@BrettFOX46) September 20, 2016
Police said the shooting happened at about 3:50 p.m and that the investigation is ongoing.
Keith Scott's shooting death at the hands of police comes not even 24 hours after the officer-involved shooting death of Terence Crutcher in Tulsa, Oklahoma.
UPDATE: The victim's daughter posted another Facebook Live video. Watch below (WARNING: GRAPHIC LANGUAGE).
Be the first to receive breaking news alerts and more stories like this by subscribing to our mailing list.