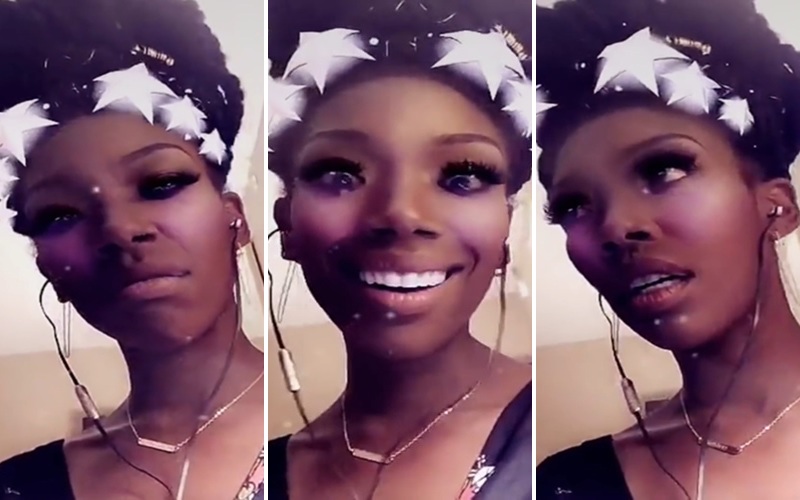 So, I can't be the only person who think Brandy is starting to lose it, right? I mean, I know it's not cool to joke about such things, but we really need to make sure Brandy is OK.
The singer/actress has seemingly responded to archrival Monica's interview on The Real. Monica appeared on the talk show and took the high road as she explained that she was "unbothered" by the "chile bye" comment Brandy made after someone asked if she would participate in the #SoGoneChallenge.
Continuing on the petty train she's been riding lately, Brandy took a different route. Through several extremely strange videos, she cryptically addressed the interview.
"I have to stay so positive I can say what I really feel, because I have to be so positive…

"Back to normal! I Had to get that little [wee noise] off my chest. I just felt so attacked. I've been erasing and deleting and starting over because these streets. Very, very lit.

"Is everything fine? Yes, everything is OK. I just know that my calling is higher. I will not take credit for that. That's all God, period.

"I have to stay poised. I have to choose my battles wisely. So I'm going to choose to inspire."
However, this is not the first time she addressed Monica's The Real interview. After Monica's statement was released, Brandy posted a gorgeous photo of herself on Instagram. But pay close attention to the caption's long hashtags.
https://www.instagram.com/p/BKL0RtKgvhF/
#Inspire is the only reason #IAm @beautyamazonmua #Gift @drkariwill #Gift #GoddessTwist #Brakari @brakarihaircollection Hey Hey Hey, #IKnowTHEREALStoryThatEverybodyDoesntKnow #NewKeyOnKeyNewMeOnMe #MissSubstance #PositivityIsTheOneThingYouShouldNotFake
She capitalizes "THE REAL" and alludes to knowing something that the rest of us doesn't.
P-E-T-T-Y! Nothing but pettiness!
After 20 years Brandy should just let it go and move on. Monica hasn't responded to the latest shade, but she's clearly looking like the more mature one in the situation.
In the meantime, someone really needs to check up on Brandy make sure everything really is fine. Like, for real.
Be the first to receive breaking news alerts and more stories like this by subscribing to our mailing list.