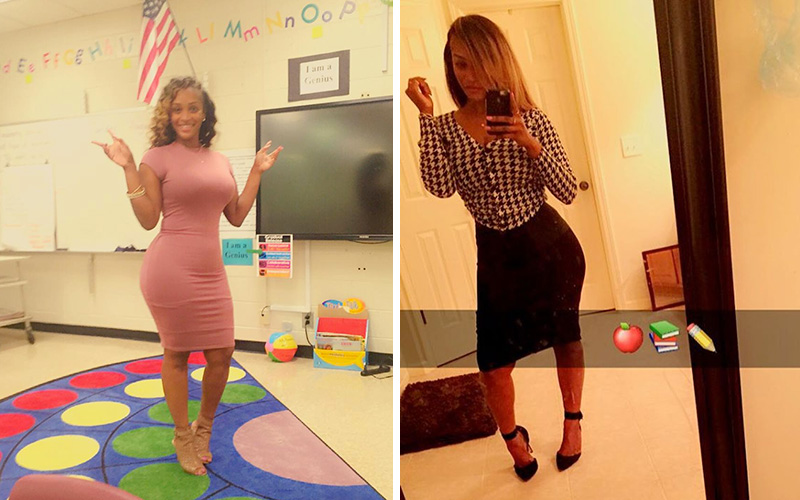 The Internet has been fooled once again.
Earlier this week, an Atlanta woman named Patrice "Tricey" Brown went viral after social media dubbed her the "sexiest teacher alive."
Brown's new-found fame quickly escalated to her becoming the topic of a heated debate online over the clothes she wears to work. Some felt Brown's tight form-fitting dresses and high heels were inappropriate for her to be working around children, while others came to her defense and called critics out for sexualizing her because of her curvy coke bottle figure.
Well turns out, the whole controversy surrounding Brown and the attire she chooses to wear to work is pretty much pointless because she isn't even a licensed teacher.
Atlanta Public Schools have released a statement confirming that Brown is a paraprofessional, or in other words, a teacher's aide/assistant. The APS also said that in the aftermath of her newfound internet fame, Brown had been "given guidance" on her attire and social media presence.
"She was given guidance regarding the APS Employee Dress Code of Ethics for educators, and she has been cooperative in addressing her presence on social media," the APS said in a statement.
https://www.instagram.com/p/BKUiyYTDfan/?taken-by=balleralert
Brown has deleted several photos (mostly the ones of her in the classroom) from her Instagram page. She also responded to all the mayhem and wrote in a post on her IG, "My only focus is to remain FOCUSED! #TheBiggerPicture."
Hopefully this little "scandal" doesn't affect her possibly getting a job in the future as a full time teacher.
Be the first to receive breaking news alerts and more stories like this by subscribing to our mailing list.