A joke Amber Rose recently made has caused the internet to slut shame her and left Wiz Khalifa "bummed out."
Rose is now the new co-host of the Loveline podcast with Dr. Chris Donaghue. In the first episode — which will be released Sept. 13 — she discusses the horrible threesome she just had. Apparently it was her first threesome (one man and another woman) and she's "literally having sleepless nights" about the encounter.
"I felt the pressure, getting older, to experience new things. I did it against my better judgment because, really, I talk about sex a lot, I promote that. I felt like there was no passion. There was no kissing and rolling around, all those moments that I enjoy. It just wasn't there. Maybe I'll just call my baby daddy over tonight."
Wiz didn't care for the last part and responded via Twitter.
https://twitter.com/wizkhalifa/status/774280183939420160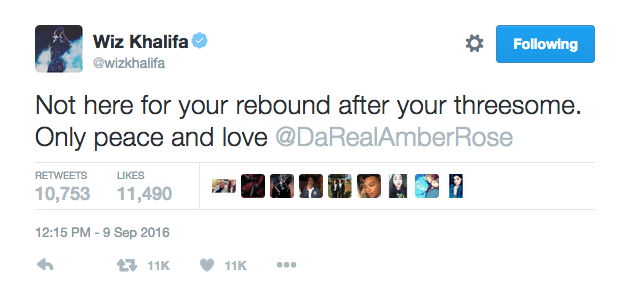 Don't let fame and illusions fool you. Have an awesome day.

— Wiz Khalifa (@wizkhalifa) September 9, 2016
"If I were to say 'I f*cked two b-tches last week and it was wack. Ima just call my baby's mom.' Would you feel flattered?" he also wrote in a deleted tweet.

Rose is now being slut shamed for talking about the experience and they both have responded to the mess.
I'm getting publicly Slut shamed…Again. For the same things he does all the time…..Great. #GimmieMyWatchBack Lol #PettyAF still ??u tho

— Amber Rose (@DaRealAmberRose) September 9, 2016
https://twitter.com/wizkhalifa/status/774321976760422400
https://twitter.com/wizkhalifa/status/774322582644416512
https://twitter.com/wizkhalifa/status/774323473531273216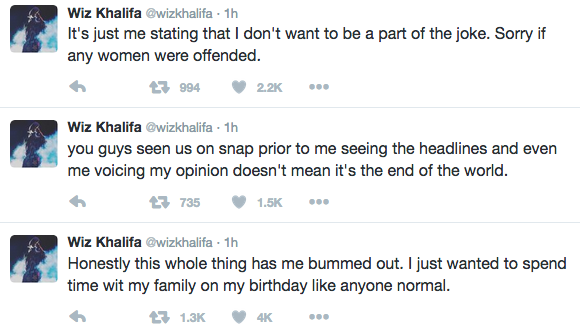 And this is just her first episode! I can't even imagine the uproar of following appearances on the show will bring. However, I'm sure producers and sponsors of the podcast are thankful for the controversy/publicity.
Though, I'm still shocked this was Amber Rose's first threesome ever. I just knew that was how Wiz and Kanye West got down.
Be the first to receive breaking news alerts and more stories like this by subscribing to our mailing list.