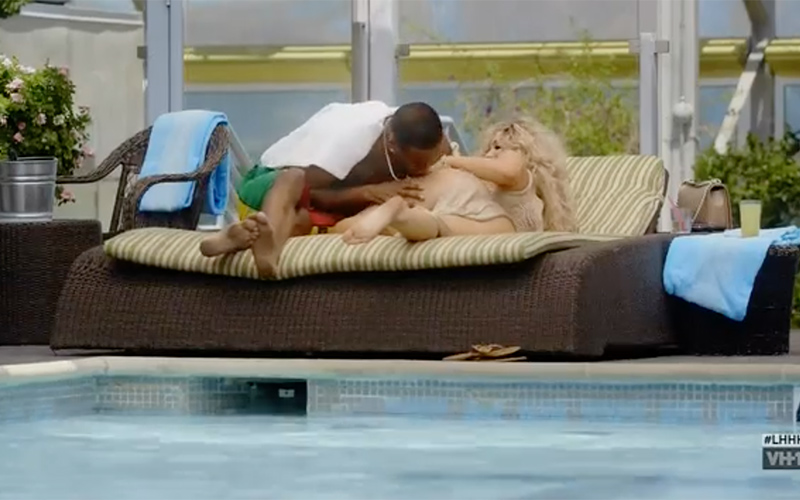 When you lose a woman like Nicki Minaj, what woman do you get as her runner-up? If you're Safaree, apparently the answer lies in Nikki Mudarris, who could charitably be described as a Moroccan, fake-me-out Nicki Minaj.
Like Nicki, Nikki Baby has a fake ass and fake tits, but unlike Nicki, Nikki has no musical talents to build a career on.
Safaree, who has been teased prominently in promos for this third season of Love & Hip Hop Hollywood, makes his debut on this, the third episode of the season. After giving a brief rundown on his background (which is largely built on his one-time role of being Nicki Minaj's boyfriend) we quickly cut to a scene of Safaree and Nikki lounging by the pool.
If you'll recall, Nikki Baby was once engaged in a complicated affair with Lil' Fizz, but that was so yesterday apparently, since Safaree is now the one rubbin' and smoochin' on Nikki's jiggly, fake ass.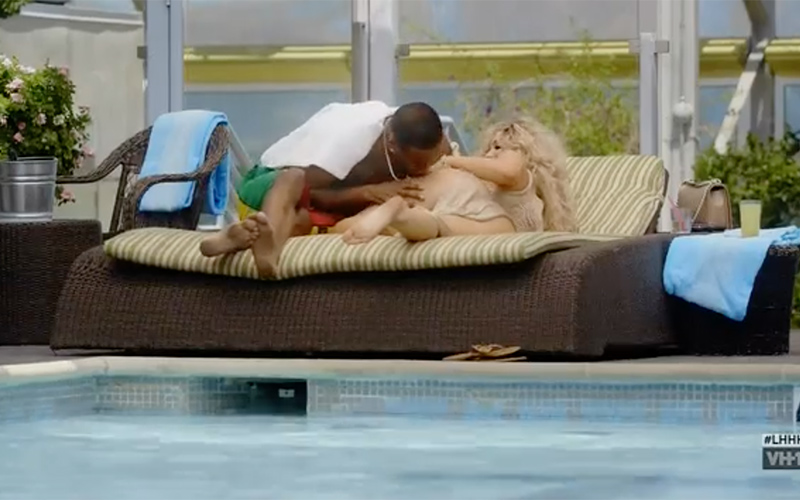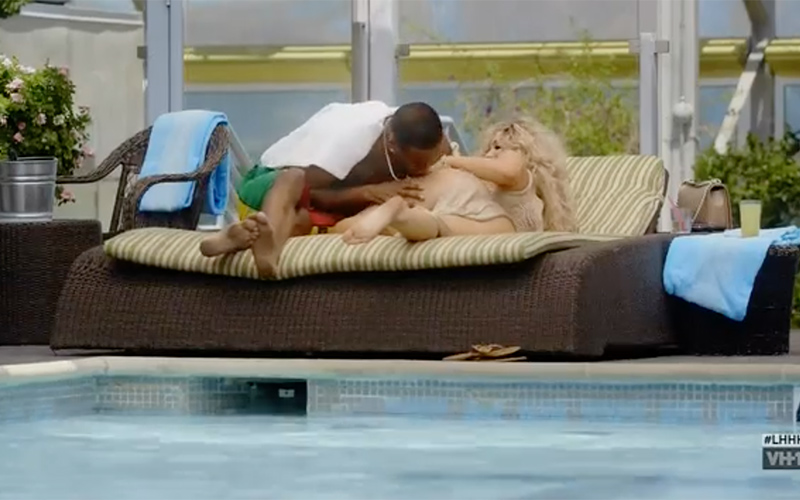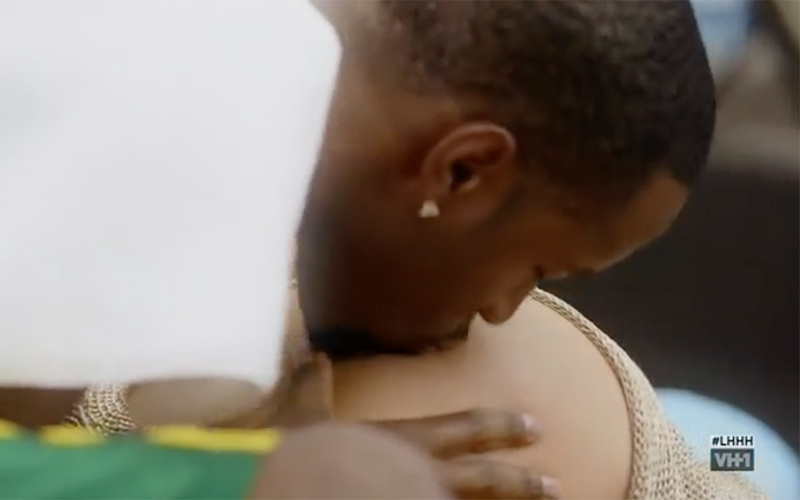 I guess now we know what Safaree did to keep both his current Nikki and former Nicki very happy. I'm sure his mother and grandmother are proud to see Safaree kissing bare ass on national TV. Anything to secure that spot on the show, right?
While Safaree is very pleased with his station in life as Nikki's boy toy, Nikki later reveals that Safaree is just one of two flavors of ice cream she's savoring these days.
Like Erica Mena, Nikki Mudarris is giving the bisexual storyline a go. That means she's engaged in a hot affair with Rosa Acosta, who is also doubling as a model for her lingerie line.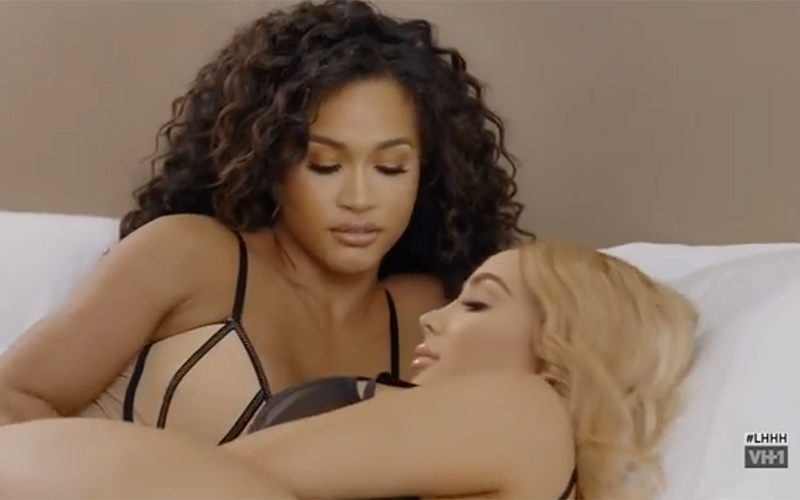 This might've felt a little more thrilling if we haven't seen woman after woman cycle through this plotline on Love & Hip Hop New York with Mena and Love & Hip Hop Atlanta with Mimi Faust, but you do have to admit that the Rosa and Nikki combo is among the sexiest.
Masika Heals Wounds with Fetty Wap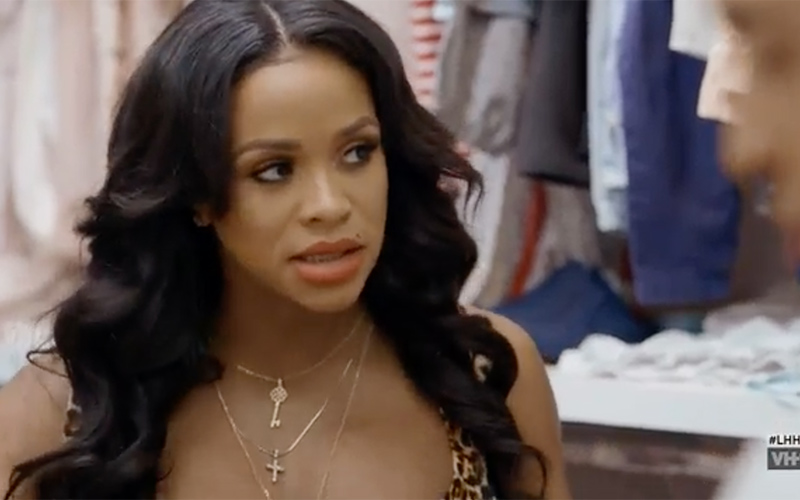 While shopping with Nia Riley and Jason Lee, the infamous Hollywood Unlocked blogger, Masika's collagen-injected lips start to flap quickly about that latest and greatest update with her baby daddy, Fetty Wap.
In previous episodes, Fetty was dragging Masika's name through the mud as he deined paternity. But now, out of the blue, he's decided to come around, apologize for his behavior and make amends for the baby's sake.
Stunned by the about face, Masika asks her "friends" Nia and Jason if they think the change of heart is genuine. Nia smartly replies that he's likely finally heard from an adult or a PR specialist who advised him to shapen up. From there, we cut to a scene with Masika and Fetty sitting down for lunch, in the grand LHH tradition.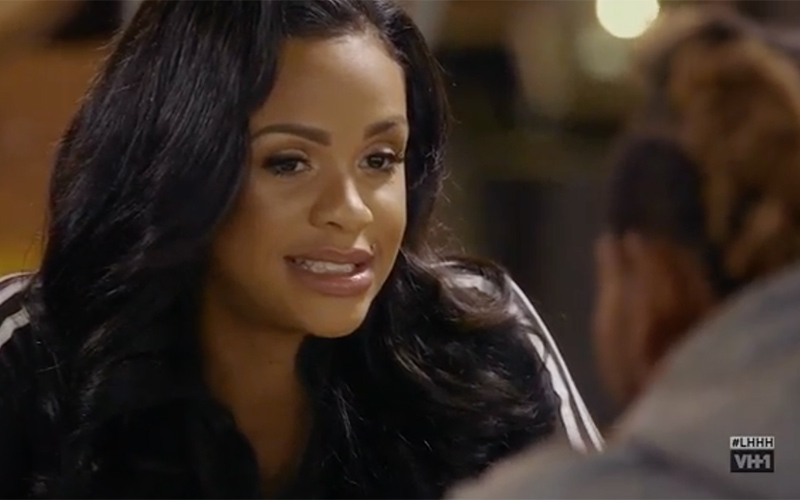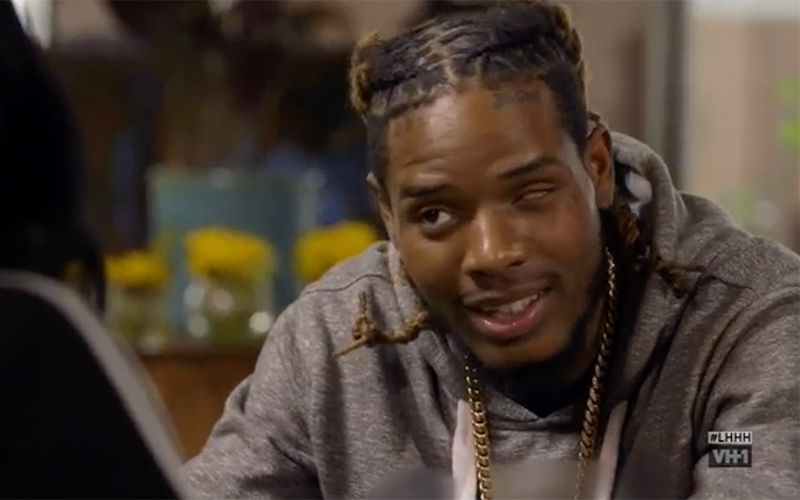 Masika confronts her baby daddy about his prior behavior, but Fetty shies away from answering anything directly and instead just generally thanks her for accepting his apology and having a change of heart.
"I just had to man up. And that's basically what it is, either you was gonna accept it or you wasn't, you know you feel me? And thank you for accepting it," said Fetty.
Good grief. I know Fetty has a physical disability with one of his eyes, but is he mentally disabled as well? He really should have had something more substantive to say given the reprehensible way he dragged Masika's name through the mud.
But Masika is clearly in a forgiving mood and decides to accept Fetty's fumbled and mumbled apology.
Later, we watch as Masika goes into labor. Her mother and father are by her side and I must say, neither of them look very pleased with the situation.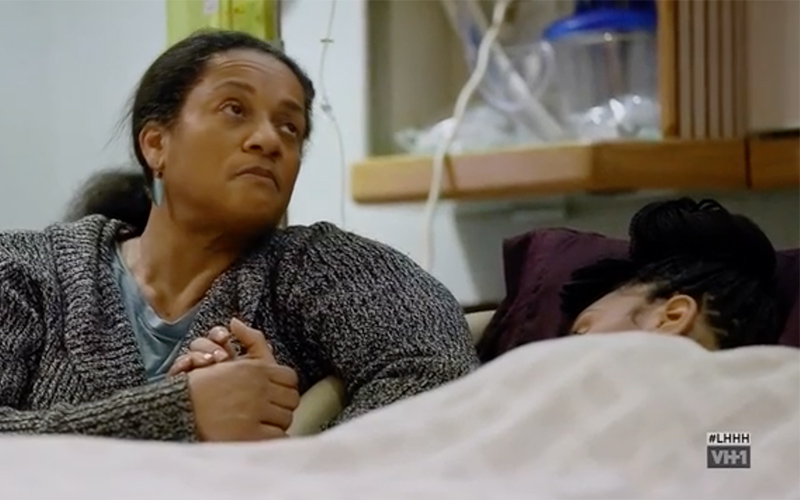 They looked very tired of having to deal with the consequences of Masika's hoe shit. Lord knows she's been putting her mama and daddy through it for years.
And then Fetty Wap showed up just in time to witness the birth of his daughter. And for a brief split second, they all looked like a happy family.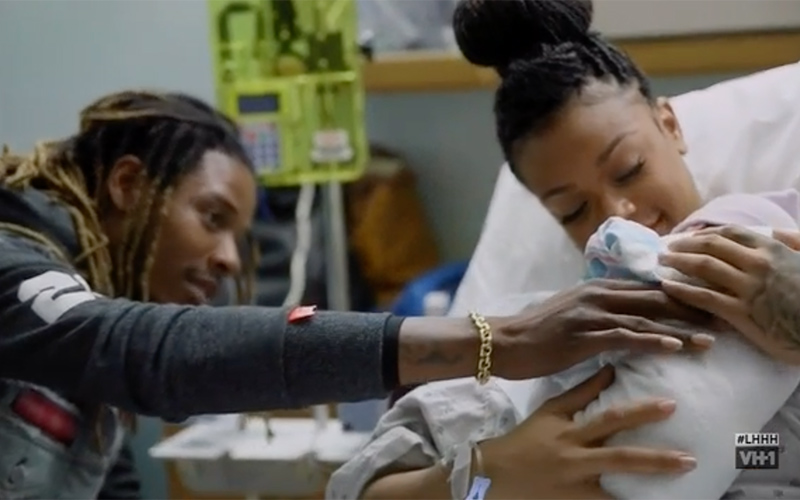 Lil' Brandi Begs for Her Husband's Forgiveness at the Strip Club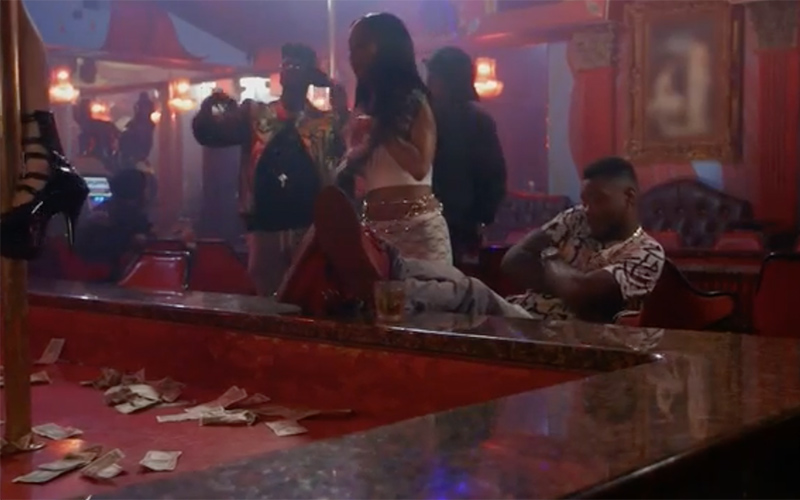 When people complain about LHH shows being fake, it's precisely because of scenes like this. Max, a rising rapper, is pissed off at his wife Lil' Brandi because she swindled $27,000 he trusted to her for their son's savings. Brandi used that $27K as investment capital in some awful, tacky retail store.
Brandi decided to break this troubling news to her husband at the launch party for said store and he rightfully was furious and decided to walk out of the event and drove off, leaving Lil' Brandi behind in an absolute fit.
So now, it's been a few days and Max has been drinking and sleeping at the studio, all in an attempt to punish Brandi. But Lil' Brandi has had enough and she decides to confront him at the strip club he's hanging out at.
Now this is where it gets very fake, as Brandi rolls up on Max, she complains about having to speak with him as she's surrounded by "stank pussy." Mind you, none of the women in the club are nude. Second of all, there's absolutely no audible music as Brandi and Max proceed to have their discussion.
Have you ever been in a strip club that was so quiet that you could comfortably have a conversation without shouting directly into the person's ear canal? Of course not, and yet Lil' Brandi is able to comfortably shout and holler at her husband from a comfortable distance.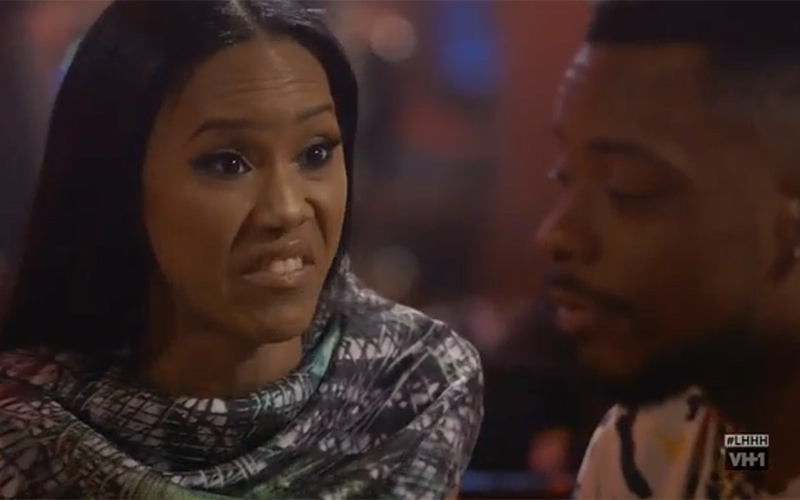 Brandi comes clean about the fact that she "fucked up," but that's not enough for Max and he resents when Brandi attempts to use their son as bait to bring him back home. So he once again, walks off and leaves Brandi to her temper tantrums.
I hope this fake cryin' and hollerin' gets Lil' Brandi that Emmy she's clearly angling for.
Attack of the Mad Black Mamas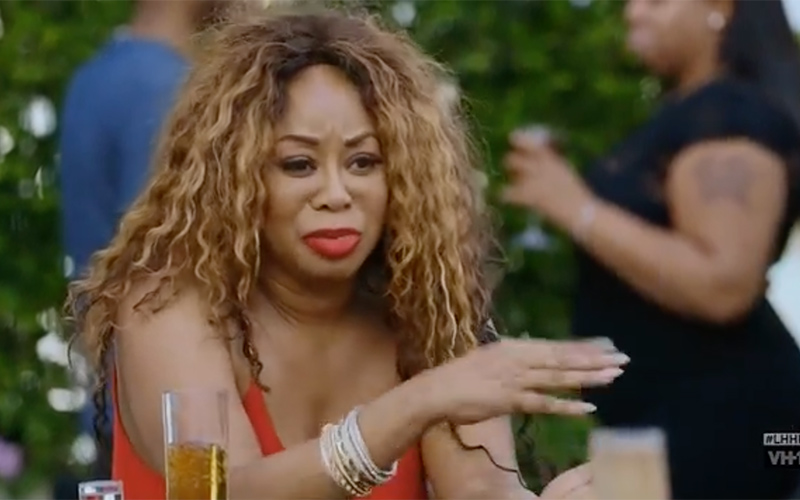 In the attempt to add a Momma Dee or a Deb Antney to the show, LHHH has turned to its newest cast members Lyrica and A1.
Lyrica is a rising singer-songwriter and A1 is a similarly up and coming producer. They're together and they're in love, but their mothers Pam and Lyrica (Yes, Lyrica named her daughter after herself) absolutely can't stand each other.
The two middle-aged women are clearly hamming it up for TV, but there does seems to be a genuine layer of hot mess in there.
Lyrica Garret is Lyrica's mother and a one-time back-up singer. She has delusions of grandeur and lacks any kind of boundaries when it comes to interfering in her daughter's relationship.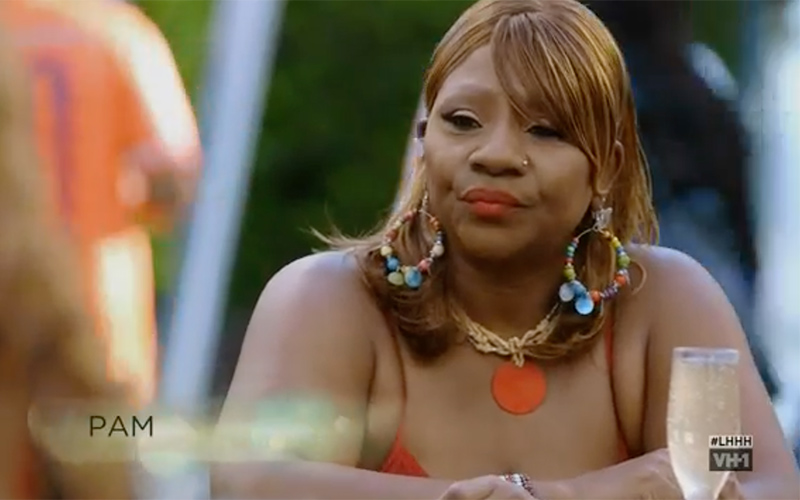 Pam is A1's mother and she seems to lack good fashion sense, a command of the English language and self-restraint.
In an attempt to bridge the divide between the two of them, Lyrica Garrett and Pam meet up for….wait for it…lunch! The two try to hash things out privately, but Pam rightfully gets offended when Lyrica harps on her living with her son.
"You easily offended, Pam?" Lyrica asked.
"Yes, I am," said Pam.
"Do you think that's something you can work on?" responded Lyrica.
This is how you know Lyrica has no damn common sense. Instead of promising to be LESS offensive once Pam admits that she's sensitive, Lyrica is asking if Pam can work on being less sensitive.
Things go even further left at a dinner with A1 and Lyrica present. As the foursome attempt to form some familial bonds, things get heated over a proposed toast from Lyrica Garrett. As Lyrica proposes the toast, A1 asks what the toast is for. Pam, playfully, chimes in that they should toast to her being in L.A. for a year and a half.
Lyrica, rudely, responds, "My toast is to Pam finally getting the hell out."
"The hell out of what?" Pam asks.
"The hell out of my daughter's house," Lyrica says.
And before you know it, Lyrica is spilling a drink on Pam and they're both standing up and cursing at each other and security is separating the two women.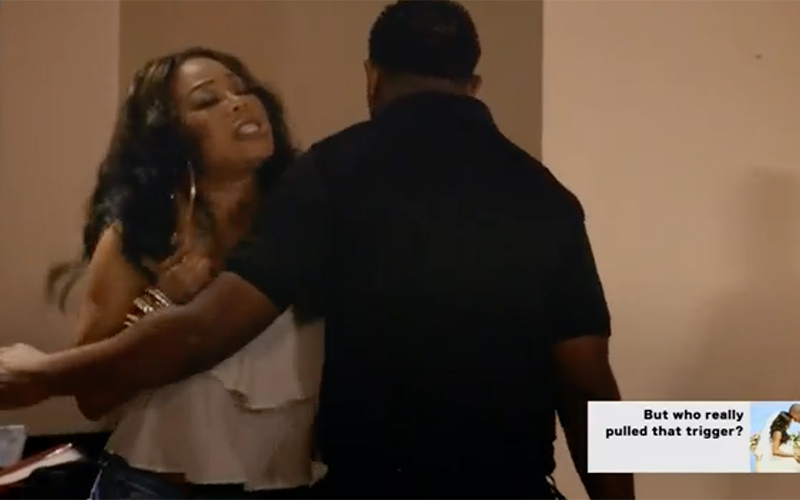 The white people sitting at the restaurant are absolutely scandalized.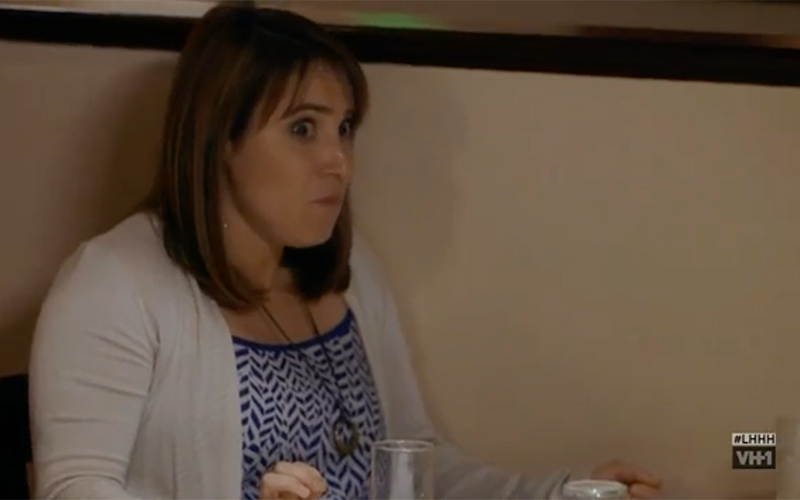 While I love a crazy old lady acting out on reality TV, there's something about this Lyrica and Pam beef that isn't quite hitting the spot. Maybe it's cause the barbs aren't sharp enough and the motives aren't strong enough. I don't know.
But all I know is I'm ready to get back to Moniece's shade next week. This week's episode definitely felt like we were stuck with the B-list cast.
Be the first to receive breaking news alerts and more stories like this by subscribing to our mailing list.