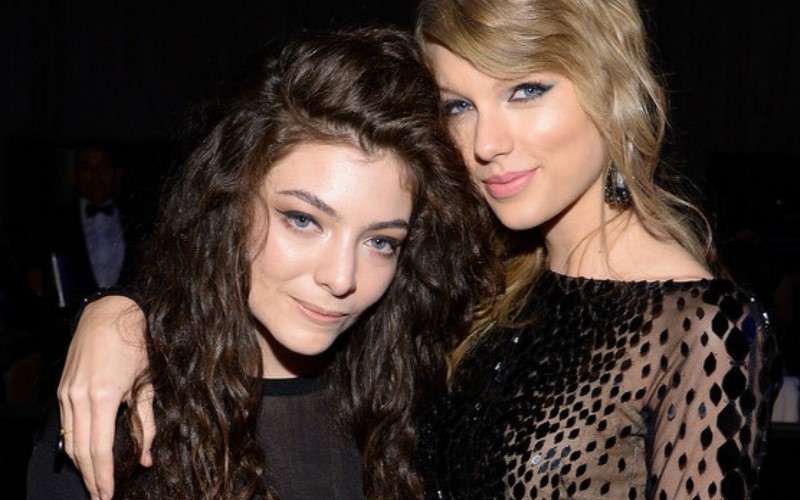 It's sooo funny to see white girls throwing shade. Some people are speculating Lorde's latest comments are a subtle dig aimed at bestie Taylor Swift.
Lorde had a whirlwind 2013 with her debut album, Pure Heroine. It has sold nearly 5 million copies worldwide and spawned hits like "Royals" and "Team." But besides a collaboration with Disclosure and single for the The Hunger Games: Mockingjay, Pt. 1 soundtrack, the singer-songwriter has been pretty much silent.
"Do you think we will ever get another album or should we just give up on you as an artist?" a frustrated fan asked Lorde on her Instagram account.
And she actually responded to the blunt question:
"Give up on me if you want to! I'm an artist, I write a record when I have enough special stories to tell, and it's all me, every melody every lyric, not some team who just start the machine up every eighteen months like clockwork.

The record is written, we're in the production stages now. I've worked like a dog for a year making this thing great for you guys."
So how is this honest response supposedly shade toward Swift? Well, as it turns out, the pop star actually does churn out an album every 18 months or so and the songstress is known to have huge teams working on her albums behind the scenes. *Check the credits, hoe*
Those fueling this rumor also noted that the once inseparable duo has not been photographed together in about a year.
It was recently reported that Swift's "squad" was in crisis mode because everyone is tired of putting up with her diva attitude and mean-girl behavior. I've even heard she's skipping this year's MTV VMA Awards because she no longer has her squad, which she famously debuted at the event last year.
Could the Lorde-Taylor feud give credence to the shattered squad rumors? Honestly, I don't really care. I just have to give a shout-out to anybody willing to call out Taylor Swift!
Be the first to receive breaking news alerts and more stories like this by subscribing to our mailing list.