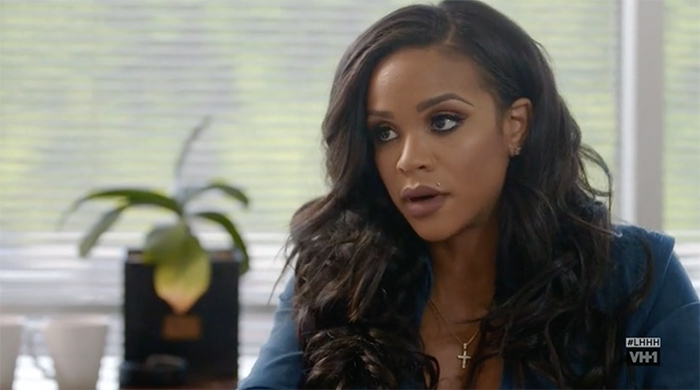 The world was introduced to Masika Kalysha on season 1 of Love & Hip Hop Hollywood when she was a jumpoff for producer Mally Mal. She was merely a supporting cast member then and she was uninvited to participate in season 2. But when her personal life off-camera became far more interesting than anything she'd done for VH1, LHHH producers had to invite her back.
So what was the selling point that restored Masika to her former glory? Getting knocked up by a one-eyed Jersey street rat named Fetty Wap.
The problem is that Fetty Wap, as most Jersey street rats are prone to doing, lacks any kind of moral compass and common sense. So even though he carelessly slept with Masika without any kind of protection, he lashes out at her for the pregnancy and claims he's not the father.
When we catch up to Masika on the show, it starts with her well into her pregnancy. The drama on social media has already erupted and she's meeting with lawyers to file against Fetty Wap to order a paternity test to clear her name and prove the child is his.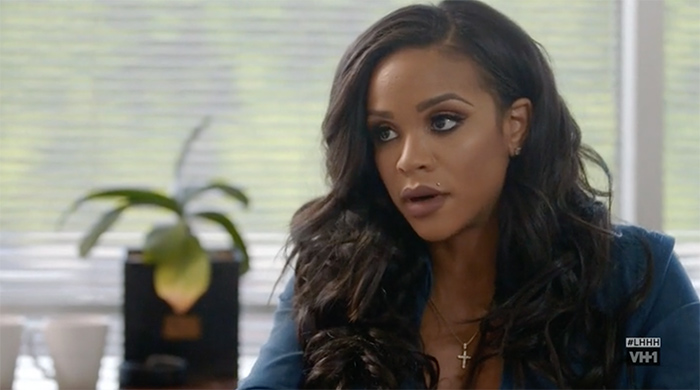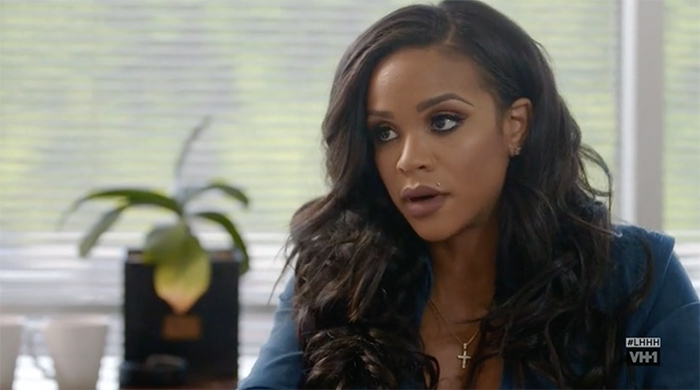 As the lawyers explain Masika's options, she numbly nods in agreement. While some of her stiffed-facedness might come from the botox and plastic surgery she's clearly enjoying, you can also tell that the whole saga is taking its toll on her.
In short, before Masika can collect any coins from Fetty Wap, she's going to have to get that paternity test done.
Masika makes it a point to say that she doesn't WANT to go the legal route, but she feels obligated to because she doesn't want her daughter to grow up hearing her father on the radio and on TV and wonder why she can't have a relationship with him.
Now that's a stretch. By the time this baby grows up and is old enough to recognize her father's music, I'm sure Fetty's music career will be good and dead. If you think Fetty Wap's music career is in for the long haul, well, just look at the musical longevity of his LHHH cast mate, Soulja Boy. These trash rappers are here today, gone today.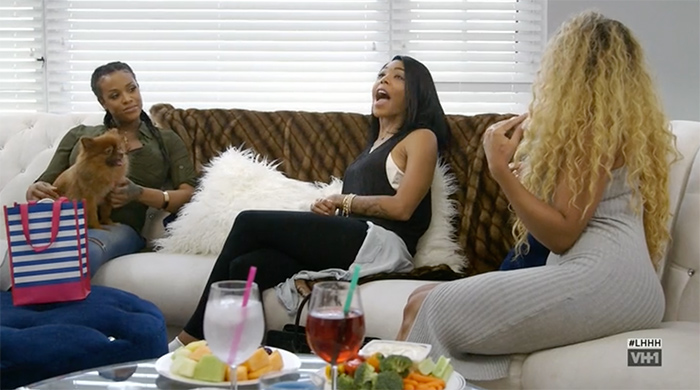 To bring Masika back into the fold, the producers pair her up with Moniece and Nia, who pay Masika a visit. It seems like we're about to get more insights into Masika's messy situation, but beyond a brief rehashing of Fetty's trifling behavior on social media, before you know it, Masika is asking Moniece about why she put Princess on blast on Instagram.
SEE MORE: Moniece Says Princess Love Knew Ray J Hit It First, and That's Why She's Big Mad
Moniece then goes off saying that she got into it with Princess at Mendeecees and Yandy's wedding. Princess didn't like it that Moniece was calling Ray J "Raymond." Moniece's response: "Bitch, I fucked your man and yeah, I liked it!"
Um, that seems like an overreaction, just a tad.
Princess Sees Moniece as Enemy Number 1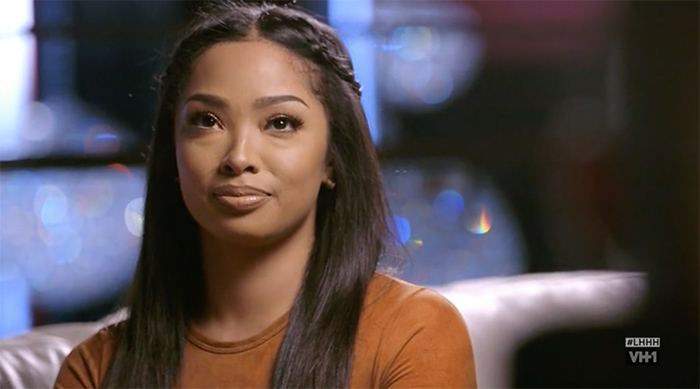 After rolling in the mud with Teairra Mari last season, Princess is ready to rumble with Moniece this season. After Moniece spread it to the world that she slept with Ray J first, Princess takes offense to Lil' Fizz's baby mama's bad behavior.
Jason Lee, the blogger embedded on LHHH, sets up an "interview" with Princess where he asks Princess about how she feels about Moniece's comments.
Princess says that Ray J told her that they slept together once at a party when she was 19.
"Yes, Moniece. You got fucked by Ray J. Who the fuck cares? You want a fucking cookie? The bitch is not relevant. Ray doesn't even remember when it happened. Or maybe he's trying to make himself forget. I would too," says Princess. "She needs to go on somewhere before I slap them big-ass, tired-ass bags off her eyes and smack that smirk off her face."
Now see, I can understand her being annoyed at Moniece's antics, because who wants to have the thought of their man sleeping with another woman rubbed in her face? But Princess is a damn fool if she truly believes Ray only slept with Moniece once. Honesty is not Ray J's best character trait and whether it was once or 20 times, it was well before Princess even entered the picture so what does it matter?
Bringing the mess straight to the source, Teiarra Mari meets up with Moniece and helpfully shares Princess's Hollywood Unlocked interview with Mo-Mo.
SEE MORE: Princess Love Claps Back at "Bitter Bitch" Moniece — God Will Never Bless You, and a Man Will Never Want You
Before she even hits play on Teairra's iPhone, Moniece does an impeccable impression of Princess's permanently pinched face.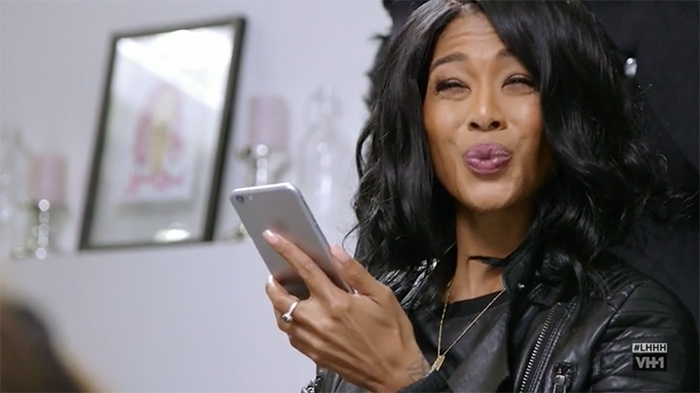 This messy bitch is the best.
While watching the interview, Moniece immediately rebutts the claim that she only slept with Ray J once, which is an obvious lie on his and Princess's part.
"What I really want to do is bust this bitch upside her head and keep it pushing," says Moniece.
Moniece then proceeds to curse Ray J and Princess's marriage saying she doesn't think it'll last because Ray J can't be faithful long term and that she's going to feel sorry for Princess when Ray J knocks her up. I mean, there are no lies being told here, but it's still rude as fuck to say.
Ray J and Princess Solve Their Prenup Problems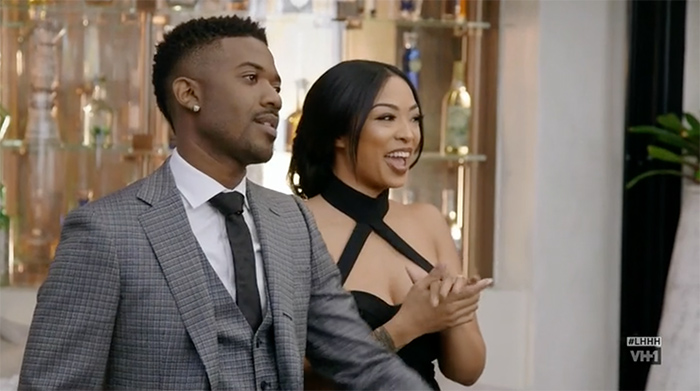 Sonja Norwood is nobody's fool and that old lady is determined to make sure that her baby boy doesn't get taken for a ride. Unfortunately, while Sonja is talking that good sense, Brandy, the famous and talented Norwood sibling, is all pro-do-what-your-heart-feels-is-right.
So in a one-on-one with Princess, Brandy advises her future sister-in-law to be honest and tell Ray how she feels. That, I understand. Even if Princess does end up signing the pre-nup, her future husband deserves to know her true feelings on the matter. Brandy then suggests that Princess be honest with Sonja too. That, I would NOT advise. If Princess wants to enter this family with all of her limbs intact, she better let Ray tangle with his mama. Cause Sonja Norwood will clean the shit out of Princess's clock if she even tries it.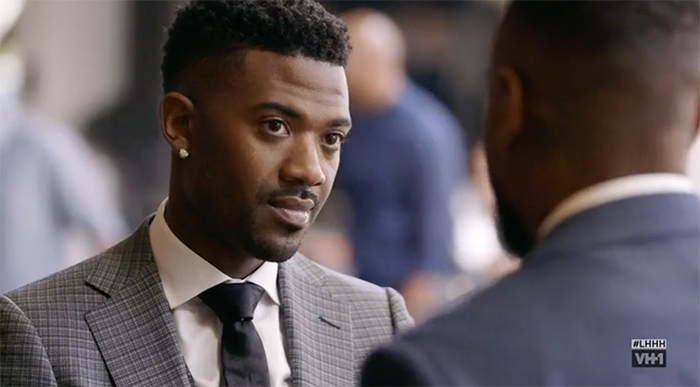 In another side convo, Ray chats with Max, Lil' Brandi's husband about how they got married. Lil' B and Max were broke, so they just eloped. Ray asks Max is they signed a pre-nup, and he says no, because it's a sign you don't trust your partner.
Fool, you didn't sign a pre-nup because you don't have a damn thing worth protecting. Ray J is still collecting royalties off of Moesha, "One Wish," "Wait a Minute" and "Sexy Can I." Ray J is certainly nobody's Usher, but he's strung together enough hits to keep the lights on.
So with Max's words ringing in his ears, Ray makes a bold decision in front of his family and friends as they gather to toast the happy couple. He pulls out the pre-nup papers and decides to tear them up.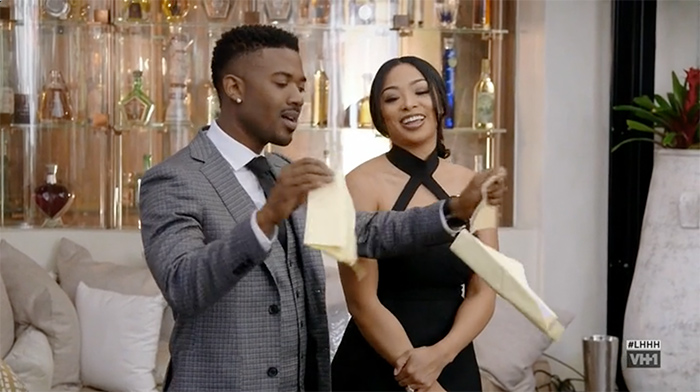 Sonja's face, which is twisted in absolute horror, looks like she just saw Abe Lincoln tear up the Emancipation Proclamation. In her confessional, she vows to emerge victorious, but it's clear, that for now, she's lost the battle.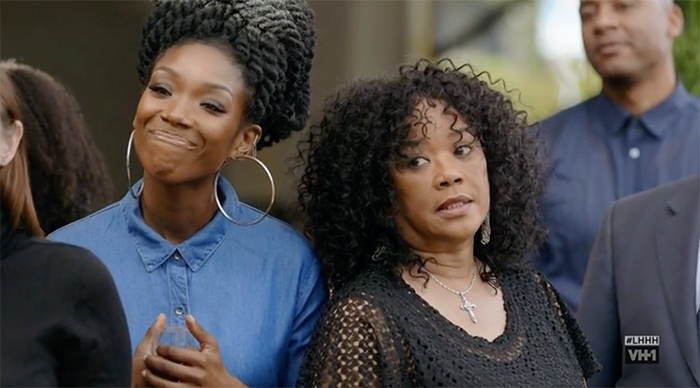 Ray J, you so stupid.
Lil' Brandi's Got Money Problems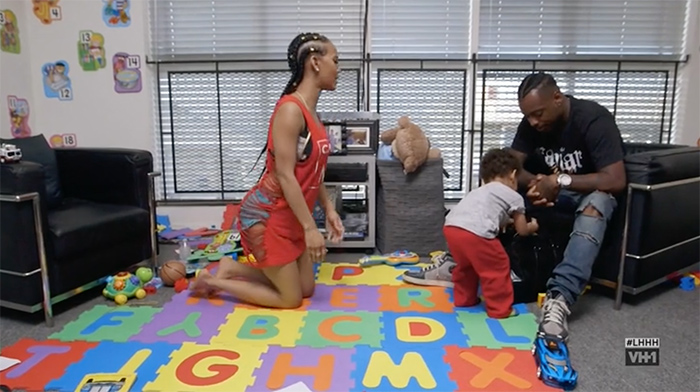 In many of the trailers for this season, there's been hints of a major rift coming between Lil' Brandi and her husband, Max, who moonlights as a rapper, even though no one has ever heard of him.
From the previews, it SEEMED like Brandi might have been creepin' with another man, but in this episode we learn what will tear the two apart: Money.
Brandi has apparently been encouraging Max to build a nest egg for their son, Brandus. So Max, who was apparently $27,000 to produce an EP, decides to give that money to Brandi to put away for their son.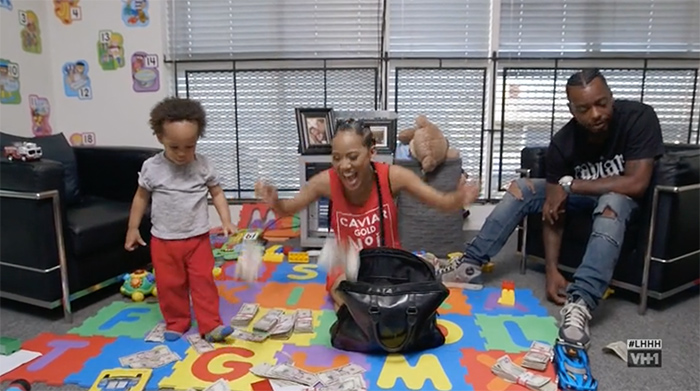 But first, she throws the money in the air and lets this little ass baby crawl and drool all over it.
Seriously, does she have ANY idea how dirty money is? And further more, does she realize how prone babies are to ripping shit up? If Brandus just started going HAM and teared that money up she would've learned her lesson.
Luckily, nothing like that happens on camera, and Brandi promises to put the money into a CD for their little one.
But in later scenes, Max learns from Ray J that Brandi has not been wedding planning with Princess like she says she has been. So, what, exactly HAS she been doing?
We'll have to find out, but it can't be no good.
Willie Taylor and Shanda Confront His Mistress
I know that the LHHH producers want to make this whole confrontation between Shanda, Willie and Kyesha into a big spectacle, but it's honestly not that interesting.
After Shanda confronts Willie in the studio, Willie confesses to texting Kyesha but denies ever actually sleeping with her.
But Kyesha says it was way more than just texts as Kyesha says she was pregnant by Willie and that they were intimate as recently as December 2015.
After their confrontation in the parking lot, Willie and Shanda regroup as Shanda searches for answers. Willie claims that he only started corresponding with Kyesha after she told him her mother had died. Shanda calls bullshit on this, but she lets Willie carry this lie on. He holds steadfast to his claims that he hasn't had sex with Kyesha since 2004.
Shanda decides that the best course of action is to sit down with Kyesha again, and rehash the whole thing. Yes, because that went so well the first time?
So the three of them sit down at a perfectly lovely establishment in West Hollywood, and it takes all of five seconds for the hot ghetto mess to break loose.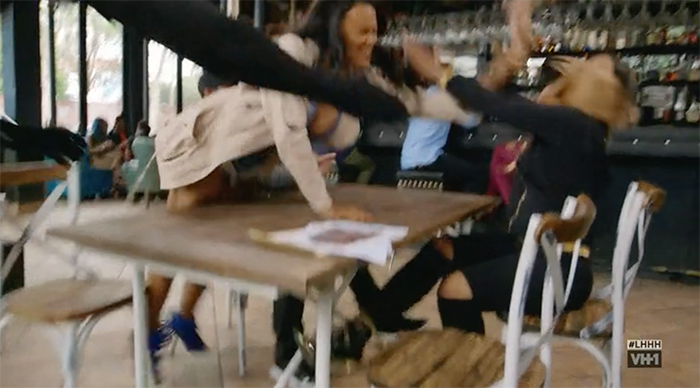 Yes, that's Shanda and Kyesha fighting like two mangy alleycats.
What set Shanda off? Oh, just Kyesha admitting that she's still in love with Willie.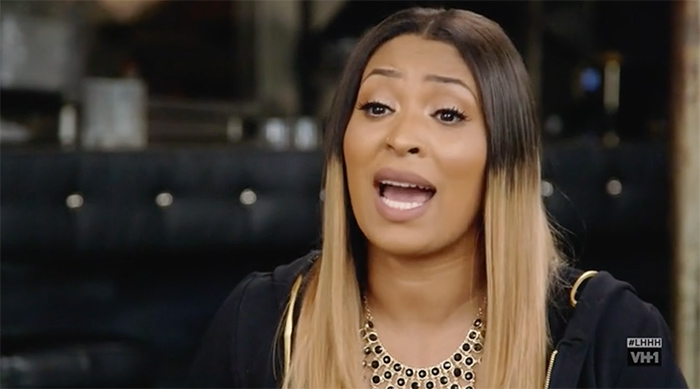 Seriously. Shanda says the reason she wanted to meet with Kyesha is to get the whole truth out, but then when Kyesha gives her side of the story, Shanda attacks her. Shanda is mad at the wrong bitch. She needs to be directing all of that fury and might at Willie Taylor, her husband, because that bullshit-ass "we just texted for 10 years" story is faker than the blonde extensions in Kyesha's hair.
Be the first to receive breaking news alerts and more stories like this by subscribing to our mailing list.