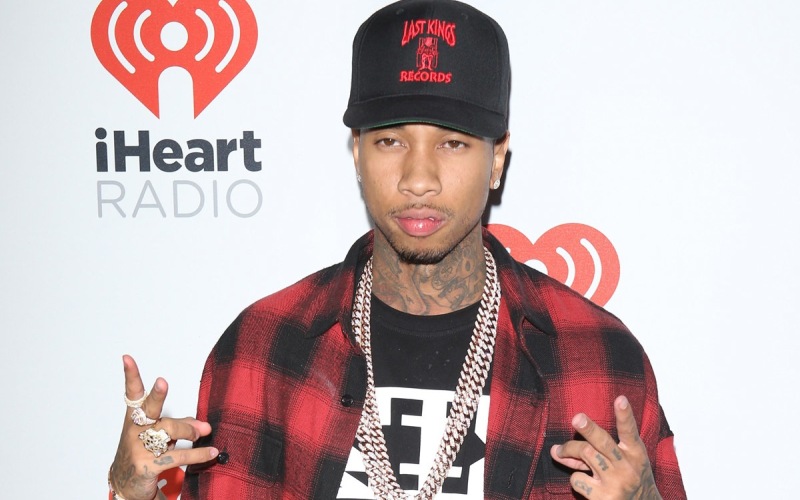 By now, you've probably heard that an arrest warrant has been issued for Tyga. However, the rapper is currently out of the country in Turks & Caicos, celebrating girlfriend Kylie Jenner's 19th birthday. It's now being reported Tyga may very well be detained by police upon re-entering the U.S.
The arrested warrant was issued after Tyga failed to appear in court. A former landlord is suing the rapper for $480,285 he allegedly owes to cover damages for a property he rented. He was served papers back in July while on stage performing at the San Diego nightclub, Flux.
According to Boris Treyzon (the landlord's lawyer), Tyga could be detained once he returns to the country.
"[Tues, Aug. 9] was his day to [appear in court] and he didn't show up. We requested the court to issue a bench warrant. The court agreed with us that his actions have been not what society demands of him, so they issued a bench warrant. Now, if he comes in contact with law enforcement, they will likely detain him and keep him detained until he posts bond."
The new Maybach he just bought Jenner for her birthday could also be seized. Apparently, there was a lien placed on Tyga's assets when he was served and he bought the new car anyways.
"We have an irate client who is owed half a million dollars and then the client reads that Tyga is giving a Maybach as a gift – that's in violation of two things. There is a hold on him transferring any assets while there is a judgment outstanding – that's going to be a separate action to recover that car unless the judgment is satisfied – and he's to appear in court, be placed under oath and he needs to answer questions."
Tyga is reportedly "[not] too concerned" about his legal issues, but Treyzon and his client clearly aren't playing any games. A date for another hearing has yet to be scheduled.
Neither Tyga nor his reps have commented on the issue. If he doesn't get things straightened out, it looks like handcuffs will do all the talking for him.
Be the first to receive breaking news alerts and more stories like this by subscribing to our mailing list.