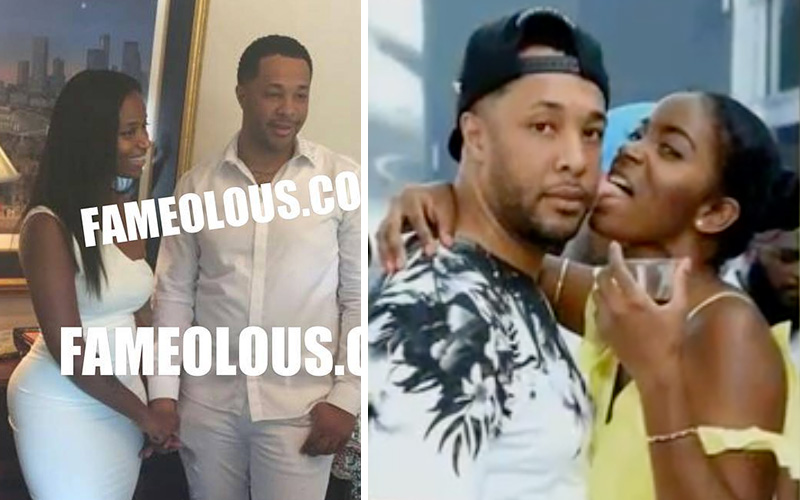 Tiarra Becca's new husband Brian has finally been revealed.
While Tiarra has kept Brian's face covered in all of her posts on social media, the reality star shared a photo of her mystery guy on Monday night's part 2 reunion episode of Love & Hip Hop Atlanta.
https://www.instagram.com/p/BIp4FB5AK7L/?taken-by=tia_becca_&hl=en
https://www.instagram.com/p/BIxmjUnAhHO/?taken-by=tia_becca_&hl=en
https://www.instagram.com/p/BIxnN5PgJ_T/?taken-by=tia_becca_&hl=en
Fameolous claims to have all the juice about Tiarra's hubby Brian, and according to the blog, he just got out of jail after doing an 8-year bid.
Brian is allegedly a former member of the BMF and is the same guy who is in Tiarra's alleged sex tape. The site is also claiming that Tiarra is no longer pregnant with Brian's baby.
Tia Becca's husband just got out of prison last year after doing eight years in jail for cocaine. He also recently left the Black Mafia Family, an organized gang in the United States ran by blacks. We're also told this is the man who was in her sex tape that we drop in June of this year. Tia Becca was allegedly pregnant but we also were told she isn't pregnant any longer.
https://www.instagram.com/p/BI2rTb7BjEL/?taken-by=fameolousent
Tiarra also recently talked with VH1 about her marriage and pregnancy, dispelling rumors that she is no longer with child.
Tiarra says she met Brian a long time ago and that he is a producer who has managed several artists in Atlanta. She also revealed that they got married at the courthouse, her hubby hates her being on LHHATL, and that the baby's due date is on January 12th.
Check out the interview below:
So, who is this person that you married? Can you tell us about him?
His name is Bryan and I've known him for a while. He was cool with one of my cousins. He's great, he managed all these different artists like, Quiktrip and Rico Richie. Everyone knows about him in Atlanta. He's a really really good guy.

What was the wedding like? Was it a big event or small? Court house?
We got married at the court. He has a probation officer who is not nice so she would not allow him to do a lot. She wouldn't let him travel to the beach to get married like we wanted to and she wouldn't even allow us to move in together until my background check came back clean. She is so difficult. We are planning a big ceremony soon on a beach, how I want it and we'll have pictures.

What does he think of you being on Love & Hip Hop?
He hates it. He thinks that KK and Tommie are disrespectful. He's like, I wish you had never had even had a baby by Scrapp. [He says,] "I'll take care of your kids," because he thinks that he thinks that a lot of people are disrespectful and he's very overprotective of me for that so you know he just wants to protect me, basically. Not overprotective but he just wants to protect me. Them people, a lot of stuff that they say and that they do he just thinks it's out of line and unnecessary but he's supportive of the show and he likes the show within itself. He just don't like nobody f–king with me.

If you wanted to come back would he be supportive? Would he come on the show with you?
Yes, he will, he's been back and forth about it but he'll be supportive and whatever, he's like such a perfect guy. You know he has his flaws and whatever but as far as how supportive he is with me and how he helps me now, he's really wanting to do whatever I want to do.

So, in the finale that you took a pregnancy test. What can you tell us about your pregnancy?
We're expecting a baby on January [12th]. That's why I'm like laying down now. I'm sleepy. Every day I'm so tired, I just kind of fall asleep.
Be the first to receive breaking news alerts and more stories like this by subscribing to our mailing list.