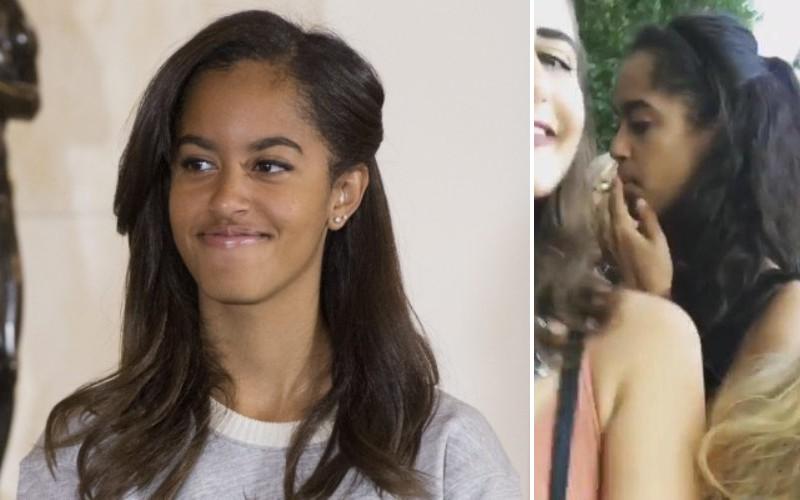 LEAVE MALIA ALONE!!! *said in my best Britney Spears fan Chris Crocker voice*
A video of Malia Obama from last month's Lollapalooza has surfaced and it seems the First Daughter of the United States was even more turnt up than we originally thought. The short 9-second clip shows Obama allegedly smoking a little weed.
Malia Obama caught smoking the loud wow pic.twitter.com/0Skr31wIiY

— Kenny N. (@phillycustoms) August 10, 2016
Hmmm… She's definitely puffing on something but I'm not quite sure what. Radar Online broke the story and exclusively released the video. The entertainment news site was notified by Jerrdin Selwyn, who recorded the moment in question.
"I saw some young guy hand her a cigarette and she took at least one hit on it. She had it in her hand for about one minute, then gave it back to him," she said told Radar Online. She also added that "you could smell the marijuana smoke."
Barely a week after media slammed Obama for dancing at same music festival, users on social media, once again, defended her against haters.
White people when they saw Malia Obama smoking weed. pic.twitter.com/S9SSDYm8EC

— Brian • 9463 ? (@iPulledDaTrigga) August 10, 2016
Breaking: According to my sources Malia Obama is a teenager. More as this develops.

— David Dennis Jr. (@DavidDTSS) August 10, 2016
It's really not a big deal for Malia Obama to be smoking weed but her friends are TRASH for posting a video that shows her doing it

— Arnesa. (@arrrnesa_xx) August 10, 2016
https://twitter.com/n9viv/status/763429821938540545
Malia Obama is smoking weed and going to Harvard. Y'all smoking weed and can't even pass your global history regents. Leave that girl alone?

— justice (@J_Marshall25) August 10, 2016
https://twitter.com/portraitgrip/status/763435555166314496
This really shouldn't even be a big deal. First off, marijuana was recently decriminalized in Illinois, the state the Lollapalooza was held. Also, her father has admitted to smoking weed and briefly using other drugs in the past. And furthermore, she's still attending Harvard University in fall 2017. Just let the girl live and experience life outside of the White House.
Be the first to receive breaking news alerts and more stories like this by subscribing to our mailing list.