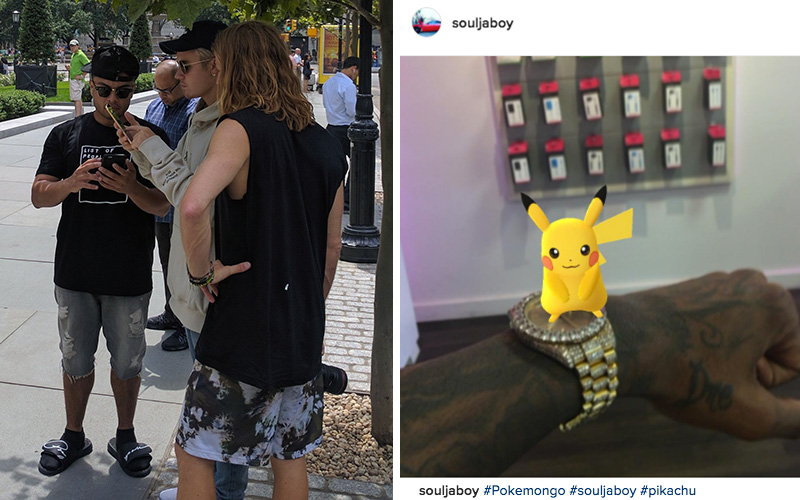 As big as Pokémon Go has become, it's no surprise that the Hollywood and sports elite have joined in on the action. From Justin Bieber being overshadowed by a rare Pokémon to UFC celebrations, the app is taking over in the entertainment world.
The Justin Bieber incident highlights just how popular this game is. When a rare catch popped up in Central Park, the Biebs was amidst the surprisingly large crowd of trainers hoping to catch the digital creature. Yet, despite his superstar status, everyone was too focused on their phones to notice the modern day Vanilla Ice among them.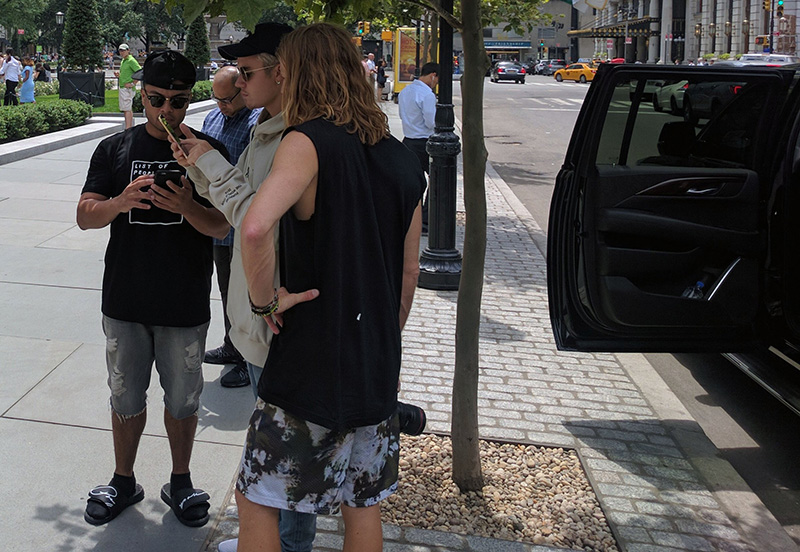 We were in Central Park filming interviews when Justin Bieber and his crew of bodyguards and videographers disembarked from a hulking black SUV. This wasn't a publicity stunt — instead, The Biebs was in Central Park simply to catch Pokémon in the park. And as you can see, his entourage was also there to catch some pocket monsters.

Amazingly, with so many folks of the right age around, you'd expect him to draw massive crowds. After all, he's in New York City playing two sold out shows at Madison Square Garden, finishing out his Purpose tour. But people were too busy focusing on the game to even notice that Bieber was around. "Who was that?" one player asked me.
And Justin Bieber is definitely not the only celebrity joining in on the action. A host of high profile trainers have shared their experiences and pictures of trying to catch 'em all.
Demi just seriously said out loud… "There's no fuckin Pokemon here?!" #thisisoutofhand @ddlovato

— Nick Jonas (@nickjonas) July 12, 2016
"No ma'am, I was not taking video of your child, I came to this park to catch Pokemon."#PokemonGO

— Trevor Noah (@Trevornoah) July 10, 2016
I'll trade you ANYTHING for all of my Zubats. #TooManyZubats

— jimmy fallon (@jimmyfallon) July 12, 2016
I love catching Pokémon on this new app! Much better than the stuff you can catch from Tinder.

— Stephen Colbert (@StephenAtHome) July 12, 2016
Caught a @Pokemon on set today…#PokemonGo pic.twitter.com/t0hmAzP4ys

— Mario Lopez (@MarioLopezExtra) July 12, 2016
I feel like there's Pokemon all around me and I just don't know it.

— Wiz Khalifa (@wizkhalifa) July 11, 2016
But it's not just the entertainment world that's been overcome with the Pokemon craze. Whether it's in celebration…
Or simply players partaking in the fun…
When just trying to watch @NBA summer league and a wild Spearow jumps in front of you ? pic.twitter.com/KpL8K9Nb0v

— Rudy Gobert (@rudygobert27) July 12, 2016
Squad!! #PokemonGO pic.twitter.com/WaMBZdcc9S

— Tobias Harris (@tobias31) July 14, 2016
It seems like everyone's gotten in the action. I'm just waiting to hear about the first injury to a major sports star due to chasing down the elusive Mewtwo.
Be the first to receive breaking news alerts and more stories like this by subscribing to our mailing list.