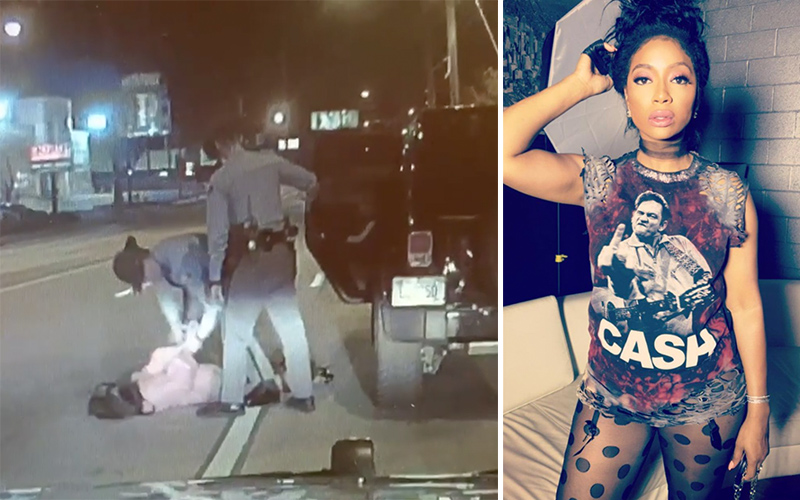 While she's been busy in front of the cameras on VH1's hit reality show Love & Hip Hop Atlanta this season, Tommie was unexpectedly the star of a different kind of show recently.
In an attempt to seek justice and perhaps join in solidarity with the larger #BlackLivesMatter movement on social media, Tommie posted a series of video clips from a recent arrest in which an office aggressively manhandles her. The officer apparently pulled the car over because he suspected the driver was driving under the influence.
But Tommie claims she wasn't the driver. The officer didn't care though and when he barked at Tommie to get out of the car and she ignored his requests, he reached right and snatched Tommie out of that car like a newborn being yanked from its mother's womb.
https://www.instagram.com/p/BIDjz1zgD6A/
https://www.instagram.com/p/BIDlekNgM51/
https://www.instagram.com/p/BIDqO0LgHiT/
There were apparently three people in the car, including Tommie. There was a male, who Tommie claims was the driver, and another female, who Tommie says was pregnant.
https://www.instagram.com/p/BIDqsFhgOid/
It's not clear WHEN this incident took place, but you have to assume it's somewhat recent.
Although Tommie is usually up to no good, does she have a point in this video about the aggressive treatment toward her by the police? If so, will this make its way into a future LHHATL storyline?
Be the first to receive breaking news alerts and more stories like this by subscribing to our mailing list.