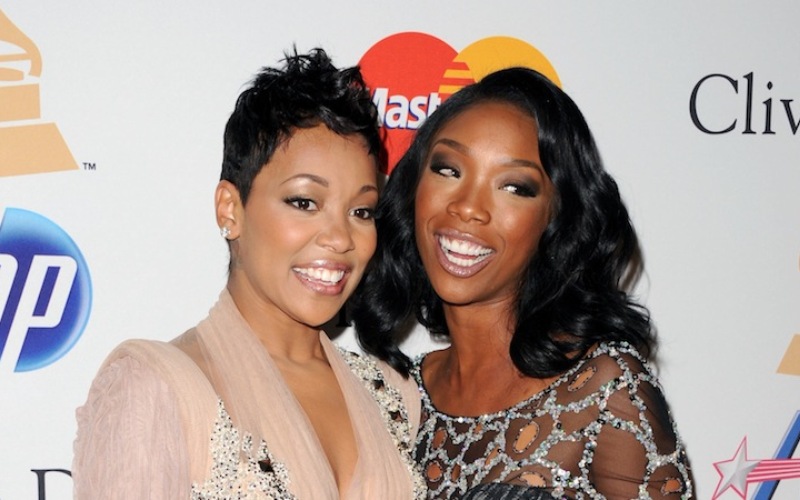 Listen up all female performers: Brandy Norwood wants you to know that she changed the game when she wore a hat and had male back-up dancers during one of her performances. So, stop trying to cop her creative genius.
Apparently, the singer was a little salty while watching Monica perform at VH1 Hip Hop Honors. Monica performed her hit "So Gone," while paying tribute to the song's writer and producer Missy Elliott. During her performance, she wore an all-white ensemble, complete with a hat, and utilized male dancers. Brandy then posted a throwback pic on Instagram displaying a similar aesthetic.
"#tbt #MadHatterAndBoyz Now Everybody got #HatsAndBoyz …. We stay humble and flattered by the #CatsThatCopy," she captioned the photo.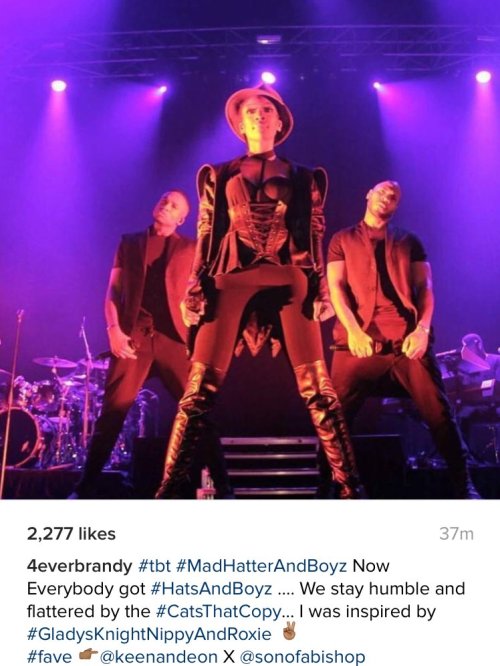 Here is a photo of Monica at the 2016 VH1 Hip Honors for comparison.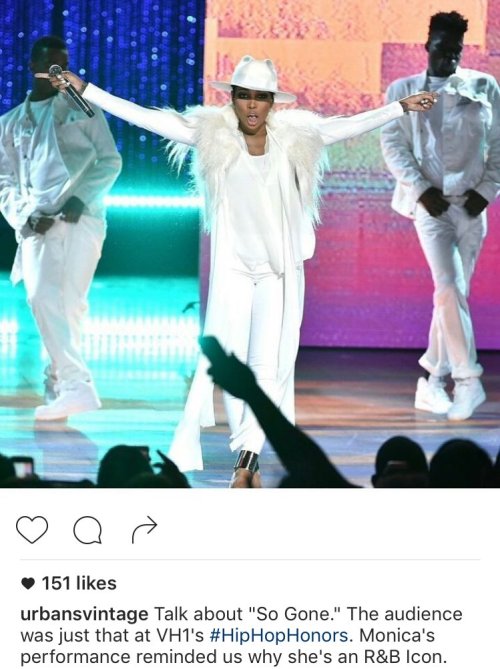 Brandy eventually deleted her post, but some on Twitter called her out for even suggesting Monica copied her.
Girl @4everBrandy u are too funny. Now you know @MonicaBrown ain't bit mo copy u. Seriously! U are a comic relief at times ?????

— Charm (@CharMyLife) July 15, 2016
?? for @4everbrandy to get on Instagram claiming Monica copying her. Bitch go find yourself… slow bunny! Nobody wants to copy a fake!

— Christophér (@ChrisFierce) July 15, 2016
I can't believe @4everBrandy came for Monica and then deleted it tho! Scary Mary IN THESE STREETS. She know wassup.

— BRANDON (@BdotMARTIN) July 15, 2016
Monica done released two albums since Brandy's last. She needs to work things out with her label instead of worrying about Mo.

— DebateYourStepDaddyNotMe (@CrushedSounds) July 15, 2016
I need Monica to go ahead and break her foot off in Brandy's ass. Just because.

— Erik Killmonger (@ISetItOff) July 15, 2016
As much as I love her and think she is one of the greatest voices of the 90s/00s era, Brandy needs to have several seats on this one. Performing with "HatsAndBoyz" is nothing special or new. So why does she feel the need to lay claim to a something so common?
We all know what Brandy has contributed to the music and entertainment industry, but this ultra diva attitude she's been given off these past few years gotta go!
h/t: Lipstick Alley
Be the first to receive breaking news alerts and more stories like this by subscribing to our mailing list.