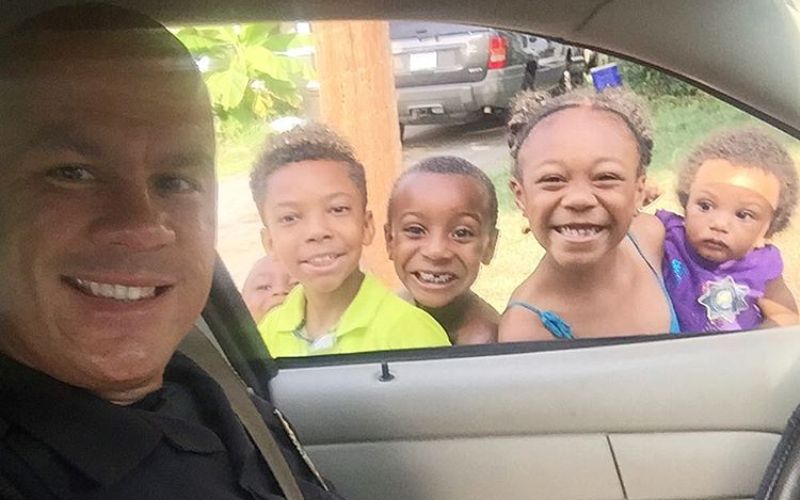 In a week that has seen police kill and be killed, we need some good news. Officer Tommy Norman of the North Little Rock Police Department is a shining example of a good cop we need to celebrate.
Norman has become somewhat of a social media star thanks to his good deeds and positive relationship with the black community he patrols. He is often seen hanging out with neighborhood children and residents. He also collects items like food, clothes, and toys to pass out to kids and families that need them.
The 18-year-veteran says connecting with the community is the only way officers can truly make a difference and ease the racial tension that currently exists.
"Park that car, get out, walk the streets, sit on some front porches and get to know people and their stories," he advised other officers in an Instagram post last year. "Everyone has a story. I don't care if there are two kids out or two hundred, get out & engage & become a friend. That's the only true way that bridging the gap will take place."
Norman's social media presence has gained much traction in recent weeks thanks to shout-outs from celebrities like Taraji P. Henson and The Game. The rapper's son found Norman online after the father/son pair had a conversation about good and bad cops.
They have since created a GoFundMe page to help raise money for other items Norman can provide for the communities he patrols. Their goal initial goal was $10,000. However, over $50,000 has been raised at the writing of this post.
https://www.instagram.com/p/BHr6WG_AWh8/
Black Lives Matter critics constantly deem the movement as "anti-cop," but that's simply not the case. The movement is trying to dismantle a system that allows officers dismiss and dehumanize people of color. Officer Norman is the standard every police officer in America should strive to be. He's shown the way and proves good cops do, in fact, exist.
Be the first to receive breaking news alerts and more stories like this by subscribing to our mailing list.