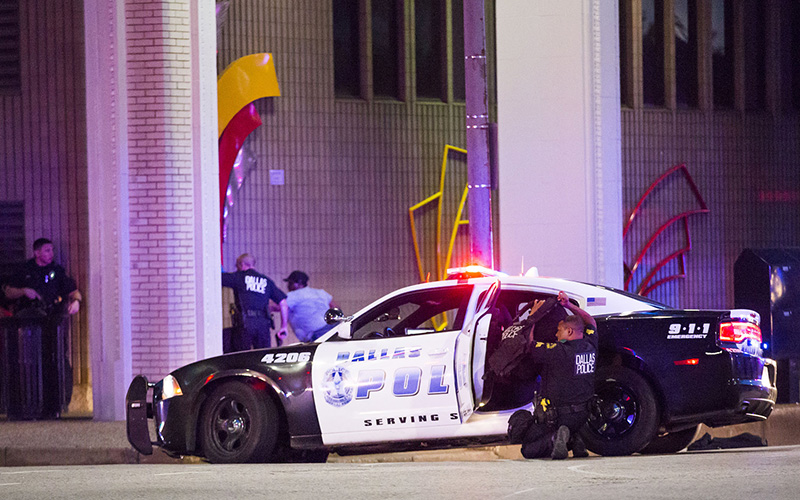 In the wake of the officer-involved shootings of Alton Sterling and Philando Castile, multiple cops were shot and killed during a rally in downtown Dallas Thursday night (Jul 7).
According to Dallas police, 11 officers were shot in total, 4 are dead and several others are critically injured. Two snipers standing from "elevated positions" are said to be the alleged shooters.
Dallas Police Chief David Brown said in a statement, "Tonight it appears that two snipers shot ten police officers from elevated positions during the protest/rally… An intensive search for suspects is currently underway. No suspects are in custody at this time. We ask that any citizen with information regarding the shootings tonight call 214-671-3482. We will provide more information once it is available. Please keep us in your thoughts and prayers tonight."
Dallas police released a photo of a man who they believed was a "person of interest."
https://twitter.com/DallasPD/status/751262719584575488?ref_src=twsrc%5Etfw
The rally took place in response to the recent police killings of black men.
Witnesses say the rally was about to end when they heard multiple gunshots and saw protesters running in fear of their lives. Videos posted online show people freaking out after hearing random pops.
Video from a protestor as the shooting began. Jesus. Disturbing content. #Dallas #DallasPoliceShooting pic.twitter.com/yhPTI9KC2g

— Andy Cole (@AndyCole84) July 8, 2016
This is a little bit cleaner clip. Shots fired at the #blacklivesmatter protest. pic.twitter.com/DAJVkCll32

— G.J. McCarthy (@gjmccarthy) July 8, 2016
Holy fuck pic.twitter.com/tB9V4beKav

— Gribbs (@WhoAteMyPizza) July 8, 2016
Police are also reporting that the snipers may have planted a bomb in the area.
UPDATE #1: The man in the photo has turned himself in to police, and another person of interest is also in custody. The Dallas PD also recovered the reported suspicious package, which is being inspected by the DPD bomb squad.
Update: pic.twitter.com/qBJe3q0EtN

— Dallas Police Dept (@DallasPD) July 8, 2016
Be the first to receive breaking news alerts and more stories like this by subscribing to our mailing list.