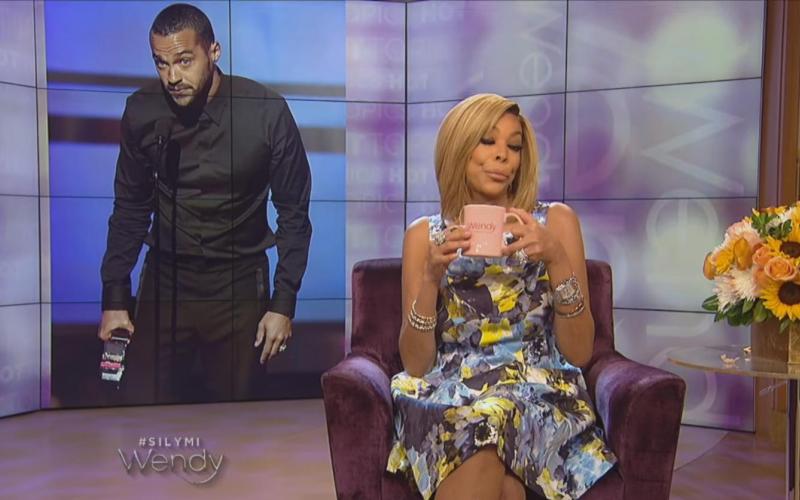 Wendy Williams, what you doin'?
The talk show host is known to make some shady and/or controversial statements. However, her take on the petition to get Jesse Williams fired was so wrong, she became a trending topic on Twitter.
There is currently a petition to get Jesse fired from Grey's Anatomy due to his BET Awards Speech. While Wendy didn't agree he should be fired, she attempted to co-sign some of the arguments outraged white people have made against Jesse. She also completely dissed HBCUs and the NAACP by pulling a Stacey Dash and questioning their existence.
"I must say to you, [Jesse Williams] was on BET. His speech was very poignant," she said. "On the other hand, I would be really offended if there was a school that was known as a historically white college. We have historically Black colleges. What if there was the National Organization for White People, only? There's the NAACP."
Black Twitter went off as the "Hot Topics" clip went viral, with some users pointing out that Williams' ridiculous rant was being aired on BET, of all networks.
So Wendy Williams on "BET" bashing HBCU'S huh??? On BET ya'll… pic.twitter.com/8mWcOu7ulG

— LeVelle Moton (@LeVelleMoton) July 6, 2016
https://twitter.com/MrCouture/status/750809379922776065
Ok, @BET…
It's time for Wendy Williams to go! Just drop some @beingmaryjane reruns in her time slot. Thanks! pic.twitter.com/SsefS3rEzh

— ????? ?? (@authentic_april) July 6, 2016
Y'all just realized Wendy Williams was trash?

— Myleeza?? (@MyleezaKardash) July 6, 2016
Wendy Williams: how about those negros huh!?
her audience: pic.twitter.com/Ruv3osAuQF

— black history heaux (@localblactivist) July 6, 2016
https://twitter.com/Lizzs_Lockeroom/status/750807094073430016
https://twitter.com/OnlyForSelenas/status/750838927666343936
Wendy Williams starting to think she one of them cause they tune in to her show.

— Vince B. Aries (@Vince_Aries) July 6, 2016
Watching the episode live, I stopped listening as soon as she said "historically white college" because I had no clue what road she was about to take. And she went down that road alone as even her own audience was looking at her with a collective side eye.
How the black host doesn't realize that historically black colleges and universities (HBCUs) and organizations like the NAACP developed as a result of black people being excluded from such institutions is beyond me. Black people and people of color have had to create their own spaces after being denied access to predominantly white spaces for decades. I guess segregation and systemic racism never happened though.
What's even worse is that even after being dragged online, Wendy will most likely not address the controversy. She'll move on to throwing more shade at Beyonce and other Hollywood celebrities like just another Thursday.
Be the first to receive breaking news alerts and more stories like this by subscribing to our mailing list.