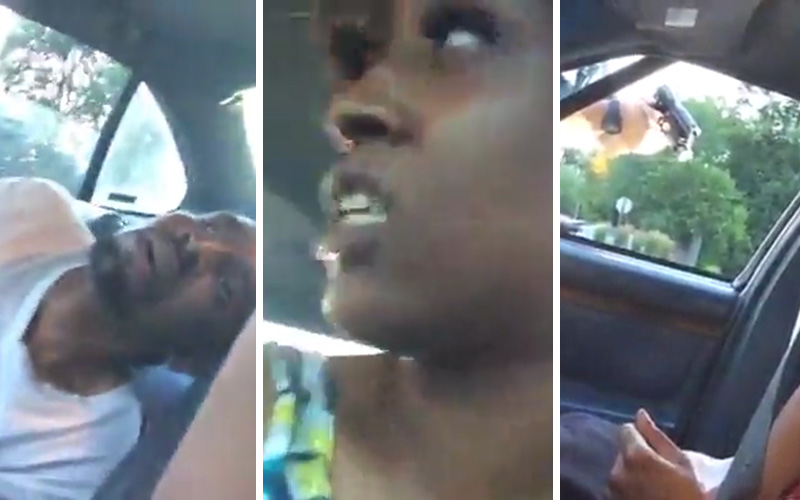 A man is dead following an officer-involved shooting Wednesday night (Jul 6) in Falcon Heights, Minnesota, and the moments immediately following the shooting were all captured on video.
St. Anthony's police confirmed that the man, who was identified as 32-year-old Philando Castile, was shot and killed by an officer during a traffic stop.
In video footage uploaded to Facebook through the popular social network's "Live" feature, a woman (identified as Diamond Reynolds, Castile's girlfriend) can be heard saying to Castile, "Stay with me" before she addresses the camera. "We got pulled over for a busted tail light in the back," she said. "And the police… he's covered [in blood]. They killed my boyfriend."
WARNING: GRAPHIC VIDEO FOOTAGE BELOW.
Reynolds goes on to say that Castile was shot at least four or five times by a police officer as he was pulling out his wallet so that he could show the cop his ID. The woman added that her boyfriend told the officer that he had a firearm but was licensed to carry it.
"He let the officer know he had a firearm, and he was reaching for his wallet, and the officer just shot him," Diamond said to the camera. "He just shot his arm off." As Reynolds continued recording the video on Facebook Live, the cop could be seen with his firearm pointing at the couple through the vehicle's window.
"Keep your hands on the wheel!" the cop shouts to Reynolds. "F*ck! I told him not to reach for it, I told him to get his hand off of it!
The man can be heard moaning in the video and his T-shirt is soaked with blood. You can also hear a baby, presumably sitting in the backseat, crying in the background.
"Oh, God, please don't tell me he's dead, please don't tell me my boyfriend just went like that," Reynolds says. "Please don't tell me that he's gone. Please, officer, don't tell me that you just did that to him. You shot four bullets into him, sir. He was just getting his license and registration, sir."
At that point, the officer yells to "get the female passenger out" and another cop tells her to step out of the vehicle with her hands up. Reynolds is then placed in handcuffs and told she's being detained until they get "this is all sorted out."
The Facebook Live video continues for another 8 minutes as the woman can be heard off camera praying and becoming more hysterical over the incident as time passes.
One of the most heartbreaking moments of the entire ordeal happens near the end of the clip when Reynolds is in the backseat of a police car and her 4-year-old daughter says, "It's OK mommy… It's OK, I'm right here with you.
It didn't take long for news of the police shooting and the accompanying Facebook Live video to hit Twitter under the hashtags #FalconHeightsShooting and #PhilandoCastile, with users outraged over the death of yet another black man at the hands of police — less than 48 hours after the police shooting of Alton Sterling in Baton Rouge, Louisiana.
https://twitter.com/skeletontrash/status/750887955514814466
Police surrounding this car on Larpenteur and Fry in #FalconHeights. Unclear why at this point. Waiting for info. pic.twitter.com/ogz0INKJ37

— bouaxiong (@boua_xiong) July 7, 2016
One of my coworkers texted to tell me about the shooting in Falcon Heights. As a Black woman, she's scared of this world.

— jgarcia (@jasoncomix) July 7, 2016
Man the police just shot another Blackman in falcon heights MN. His girlfriend in the car with their kid and she was recording it Live! Wtf

— Darkwing Del (@Del_Geezy) July 7, 2016
Police on scene of a shooting in Falcon Heights. pic.twitter.com/pbhhaLwuU4

— Ted Haller (@TedHallerMN) July 7, 2016
His name was Philando Castile, 32 years old. He was a son, a father & a brother. #FalconHeightsShooting pic.twitter.com/1Lh9Cr0qmV

— TheDawn (@MaLumiere) July 7, 2016
Another hashtag. Another video. Another life possibly ripped away because American police officers are trigger happy #FalconHeightsShooting

— thugga OG (@tattedpoc) July 7, 2016
https://twitter.com/gristacular/status/750928742403350528
Be the first to receive breaking news alerts and more stories like this by subscribing to our mailing list.