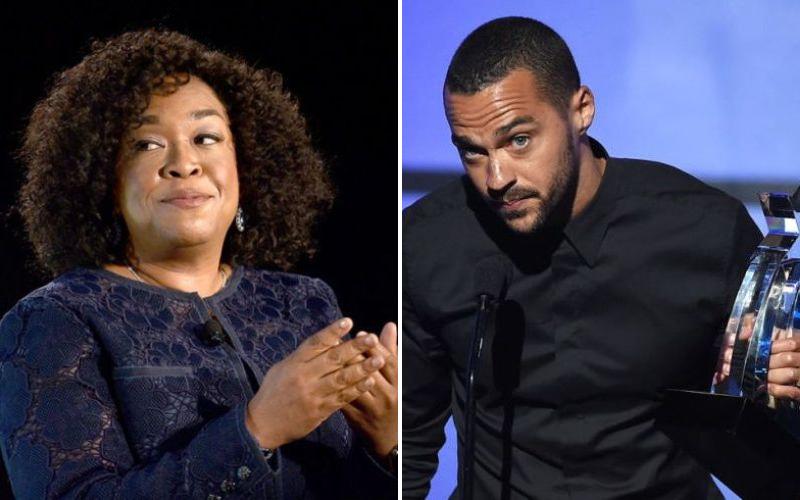 The trail of white tears is just going to have to continue. Though unnecessary, Shonda Rhimes and Jesse Williams have both responded to petitions attempting to get the actor fired after his BET Awards speech.
Williams accepted the Humanitarian Award for his work as a civil rights activist. Instead of giving the average "thank you" speech, he opted to deliver a power message about injustice, cultural appropriation, and institutional racism.
However, some completely missed the point of his speech (or refused to listen) and deemed it "anti-cops" and "racist against white people." Of course they took to social media — specifically the official Grey's Anatomy Facebook page — to express their anger that a black man dared to talk about oppression. Some even threatened to boycott the show until Williams was fired, and a Change.org petition was even created that currently has over 10,000 signatures.
However, Rhimes (strong black woman and Grey's Anatomy creator) answered the call like the boss she is.
Um, people? Boo don't need a petition. #shondalandrules

— shonda rhimes (@shondarhimes) July 5, 2016
In response to the heavy backlash, including a ridiculous post by black Fox News puppet Stacey Dash, Williams also took Twitter.
Do not promote empty people & their tantrums. Pure clickbait to gain followers, attention & money, for themselves, not you. Never you.

— jesse Williams. (@iJesseWilliams) July 3, 2016
The Change.org petition had 20 signatures when GoT first reported on the boycott. It somehow currently has 10,587. A petition to keep Williams on the ABC show currently has 7,258.
Anyone who opposed/denied Williams' speech can stay mad. He used his platform to unapologetically speak honestly on race and oppression in America. Just because he is a star on one of the most popular shows or because he has a white mother, does not mean he has "transcended race" or is immune/oblivious to issues the black community faces.
I look forward to seeing what Williams will do next in his activism efforts, while also enjoying his character, Jackson Avery, on the upcoming 13th season of Grey's Anatomy!
Be the first to receive breaking news alerts and more stories like this by subscribing to our mailing list.