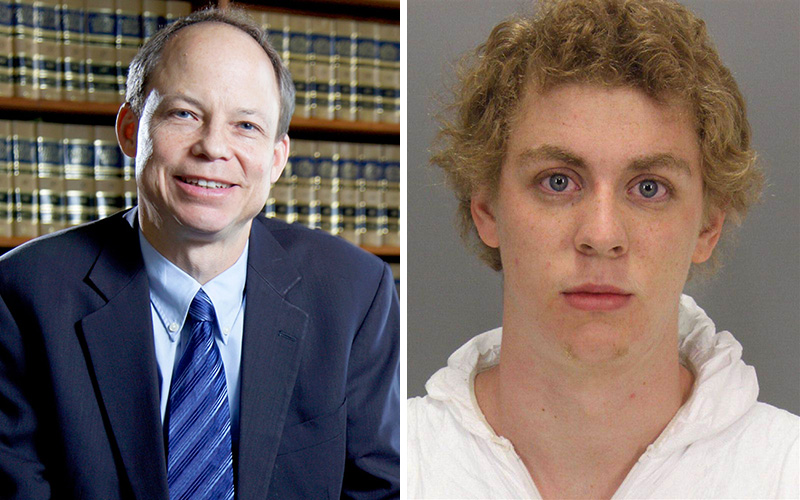 The California judge who presided over the Brock Turner case is once again at the center of controversy.
Aaron Persky, who sentenced the former Stanford swimmer to six months in jail and three years probation after Turner had sex with an unconscious women in an alley, has reignited criticism regarding his leniency towards Brock after delivering a much harsher sentence to the Latino assailant in a similar case.
Raul Ramirez was convicted of felony sexual assault after forcibly digitally penetrating his female roommate. Like Turner, Ramirez had no priors. After receiving credit for good behavior, Brock will only spend three months behind bars and is scheduled to be released on September 2. Prosecutors in the case had asked that Turner receive a six-year sentence. Ramirez will receive three years in prison (sexual assault usually carries a two-year minimum sentence).
According to The Guardian, Ramirez, a 32-year-old immigrant from El Salvador, didn't have the same advantages as Brock who comes from a privileged background. Turner's family had the funds for a private attorney, and he had the support of no less than a dozen character witnesses. In addition, Ramirez's bail was set at $200,000 in contrast to Brock's $150,000.
Critics of Persky could argue these facts support the notion that the judge is guilty of bias in his courtroom, but defense attorney Alexander Cross, who briefly represented Ramirez, stated, "What happened to Mr. Ramirez is standard. The anomaly is the Stanford case."
Ramirez pled guilty to a felony of sexual force and under the terms of this agreement, he does not have an option for probation or a lighter sentence
But if Persky had been so inclined, he could have approved or negotiated a deal so that Ramirez pled guilty to the lesser charge of the two he was facing — assault with the attempt to commit rape.
According to The Guardian, "If the more serious charge was dropped — as was the case with Turner, who had two rape charges dropped — Ramirez could have potentially avoided prison."
Persky, a former Stanford athlete himself, "had to bend over backwards to accommodate this young man's (Brock Turner) request for probation," Stanford professor Michele Dauber told CNN earlier this month. "This just shows our concern about Judge Persky's ability to be unbiased is justified. We continue to think that he abused his discretion in giving an unduly lenient sentence to Turner," Dauber said about the Ramirez case.
Dauber is spearheading a recall campaign, which is unlikely to be successful since Persky, who ran unopposed, recently won his seat.
Be the first to receive breaking news alerts and more stories like this by subscribing to our mailing list.