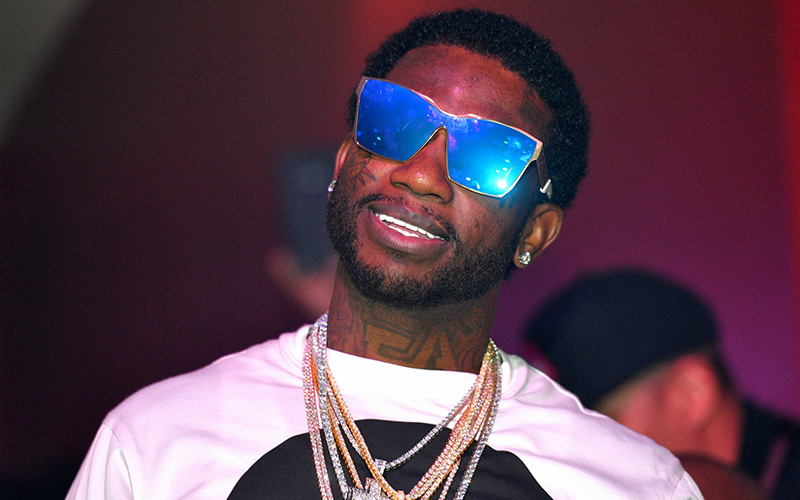 The Internet loves a good conspiracy theory, and this week, we were put on to a new one. Remember how when Gucci Mane went to jail in 2013 he was fat and incoherent, and when he got out a couple of months ago he had a six-pack and was speaking proper English?
Well, according to the Internet's latest conspiracy theory, the Gucci Mane that was released from prison and has been promoting healthy living and using words like "opulent" is a government-issued clone.
Folks have been joking around on Twitter for weeks that this new prim and proper Gucci is not the real deal, but people started actually believing it after one of those fake news sites posted a bogus interview from Lil Boosie in which he claims that the Gucci Mane that was released from prison is actually a clone.
"I rock with Gucci the long way but that ain't the real Gucci, we both sitting in the studio and he seemed lost and after his show at Mansion he called me Herman […] You know they can do that crazy clone sh*t these days, you look at Gucci and tell me that's Gucci and I'll pay yo child support and yo baby momma rent."
Because the Internet will always Internet, people ran with that quote as law. Of course, some people are joking, but it's hard to tell the difference between who's just fooling around and who really believes this shit.
I FUCKING KNEW GUCCI MANE WAS A CLONE! I KNEW IT!

— Icarus Ca$h (@DrZGraham) June 22, 2016
Look. At. The. Accuracy. (and further proof gucci mane is a clone) pic.twitter.com/r2lCKrtoJJ

— Kenny N. (@phillycustoms) June 24, 2016
I really do believe they clone Gucci Mane

— … (@prissy_lena) June 16, 2016
Am I da only 1 dat miss da fat Gucci mane… dis new Gucci Dats out is a clone I swear! #guwop

— Cargo (@cargo_indacut) June 13, 2016
Thankfully, there are still people with good sense out there, and they were quick to call bullshit on the clone theories.
https://twitter.com/IamAkademiks/status/745765235605176320
I'm not surprised Facebook users are disrespectful enough to start a Gucci Mane clone conspiracy theory.

— Johnetta Elzie (@Nettaaaaaaaa) June 22, 2016
https://twitter.com/CardoGotWings/status/745436045592780802
WE THINK GUCCI MANE IS HOME, BUT THE CIA SECRETLY RELEASED A CLONE THAT SPEAKS PROPER ENGLISH ???? #blackplottwist pic.twitter.com/5C3rO996mc

— houseofaura (@houseofaura) June 20, 2016
Gucci Mane change his life for the better and y'all say it's a clone y'all gotta chill ? can a man not make progress

— Charles James II (@CJDeuce_) June 21, 2016
The theory has grown in popularity so much that Gucci Mane himself responded on Snapchat a few days ago, saying that he can neither confirm nor deny the allegations.
"I'm hearing that Gucci is a clone. I will neither support or deny those accusations," the rapper said in his new proper accent as the person behind the camera gives a light chuckle.
https://www.instagram.com/p/BG7PKXsO0Vv/
So there you have it. Straight outta the horse's mouth. Which isn't really saying much, because that's exactly what a clone would say, right?
Be the first to receive breaking news alerts and more stories like this by subscribing to our mailing list.