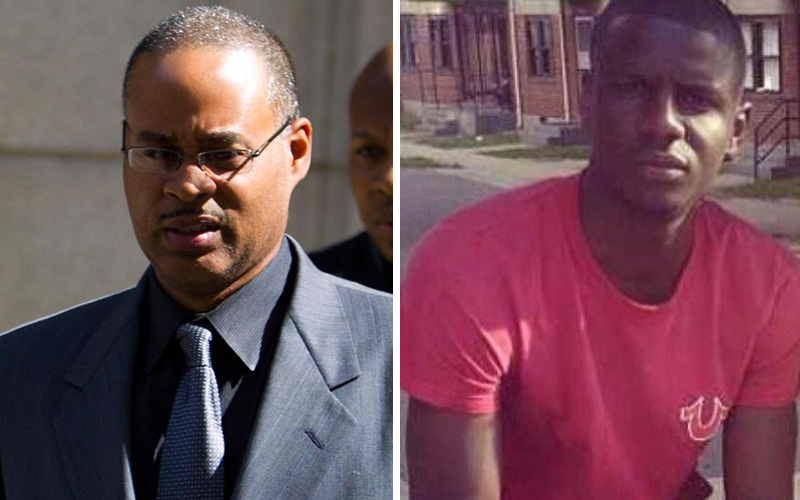 Justice for Freddie Gray has suffered another major blow. Baltimore police officer Caesar Goodson Jr., the driver of the van in which Gray was fatally injured, was found not guilty on all counts.
Gray was arrested in April 2015 and was placed unrestrained in the back of a police van. At some point during transport, the 25-year-old lapsed into a coma and was taken to the hospital. He died a week later. The medical examiner concluded Gray's death was caused by a severe spinal injury and ruled it a homicide.
As the driver of the van transporting Gray, Goodson faced several charges including three counts of manslaughter and second-degree depraved-heart murder — the most serious of any other officer charged in Gray case.
However, Judge Barry Williams ruled the state had "failed to meet its burden to show that the actions of the defendant rose above mere civil negligence."
Twitter was shocked and appalled over the judge's ruling.
6 cops can snatch you up off the street, no crime committed, kill you, and all 6 of them face no repercussions. #FreddieGray

— Spider-W.E.B. DuBois (@AkaDimiX) June 24, 2016
Everybody who was involved in that riot and destruction of that store serving jail time but no one killed Freddie gray?? ?

— Beyond description (@2old4dramaok) June 24, 2016
so NOONE killed #FreddieGray huh? word??

— Questlove (In E flat) (@questlove) June 23, 2016
The display of injustice in #Baltimore with the murder of #FreddieGray is obscene

— jamalbryant (@jamalhbryant) June 23, 2016
Gee, looks like NOBODY killed Freddie Gray. Guess he just died of being black. Funny how that happens in this country.

— Stephen King (@StephenKing) June 23, 2016
The fact that none of the three officers tried so far have been convicted of 1 charge, is not only an injustice it is immoral. #FreddieGray

— Kwame Rose (@kwamerose) June 23, 2016
Prosecutors argued Goodson, along with the other five charged officers, intentionally gave Gray a "rough ride," an unsanctioned tactic police used on combative detainees, and caused the spinal injury.
"Rough rides" have caused severe injuries and even death in the past, and a new policy to properly secure suspects was placed six days before Gray's arrest. However, the six officers did not follow the new protocol.
Goodson's acquittal is the third setback in Gray's case. Officer Edward Nero was acquitted of all charges in May and a judge declared a mistrial Officer William Porter's trial in December 2015. This now raises questions in the three upcoming trials, including Porter's retrial.
Gray's death was ruled a homicide and yet, none of the people involved have been held responsible. How is this even possible? How is this considered justice?
Police officers continuously not being held accountable for their actions set a very dangerous precedent. It says that officers are above the law and operate with different standards than the average citizen. Murder is murder, regardless if you have a badge or not.
Unfortunately, it's abundantly clear that there is still a long road ahead in the fight against police brutality.
Be the first to receive breaking news alerts and more stories like this by subscribing to our mailing list.