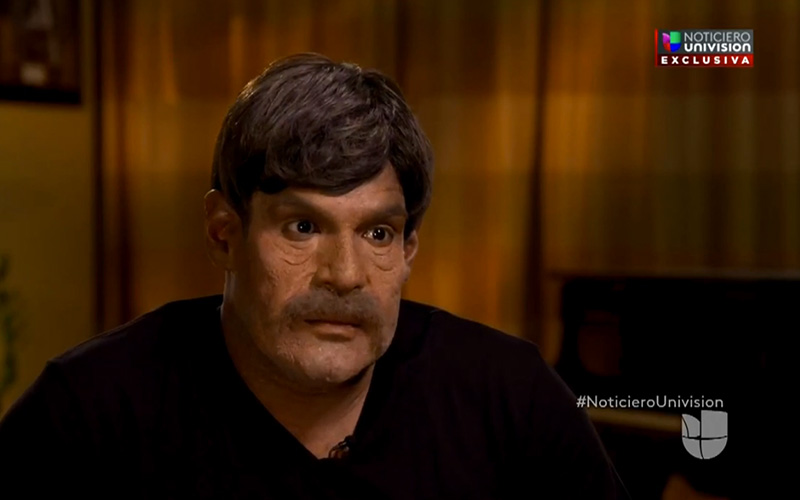 With just over a week since a man opened fire in an Orlando gay nightclub, killing 49 people, more information about the killer is being revealed and his possible motives are being theorized.
Though the deadliest mass shooting in US history has been deemed an act of terrorism, an alleged former lover of the shooter believes revenge (not "hate") was the motive behind the massacre.
The man, only identified by the name "Miguel," spoke exclusively to Univision while disguised with makeup and prosthetics. He says Omar Mateen was out to seek revenge against a former lover that failed to disclose his positive HIV status, and the gay Latino community that rejected him.
After waiting four or five months to receive his negative HIV test, Mateen allegedly told Miguel, "I'm going to make them pay for what they did to me."
Miguel said:
"He adored Latinos, gay Latinos, with brown skin – but he felt rejected. He felt used by them – there were moments in the Pulse nightclub that made him feel really bad. Guys used him. That really affected him… I believe this crazy horrible thing he did – that was revenge."
Miguel says he met Mateen on the gay dating app, Grindr. Their relationship began as "friends with benefits" and lasted around two months. They met around 20 times; the last occurred in December when Miguel moved away.
Though Miguel says Mateen never revealed his name, he did disclose some personal details such as age, marriage, and his child. Miguel believes the marriage was used to hide Mateen's homosexuality.
He described Mateen as "affectionate" and "sweet," and also said he enjoyed being cuddled.
The FBI has confirmed they have talked with Miguel about his allegations. It can also be confirmed that Mateen used gay dating apps and frequently visited the Pulse nightclub where he opened fire.
Miguel's story seems plausible. Over 90% of the victims were of Hispanic descent and the shooting occurred on Pulse's weekly "Latin Night." A Black survivor, Patience Carter, quoted Mateen saying: "I don't have a problem with black people. This is about my country. You guys have suffered enough."
However, if revenge was his motivation, why claim allegiance to ISIS? Labeling the shooting as an act of domestic terrorism cannot be dismissed just yet. More investigation needs to be conducted before any final determinations are made.
Regardless of Mateen's reasons, the Pulse nightclub shooting was a hate crime. LGBT people were specifically targeted, and 49 people lost their lives for simply being who they are.
Be the first to receive breaking news alerts and more stories like this by subscribing to our mailing list.