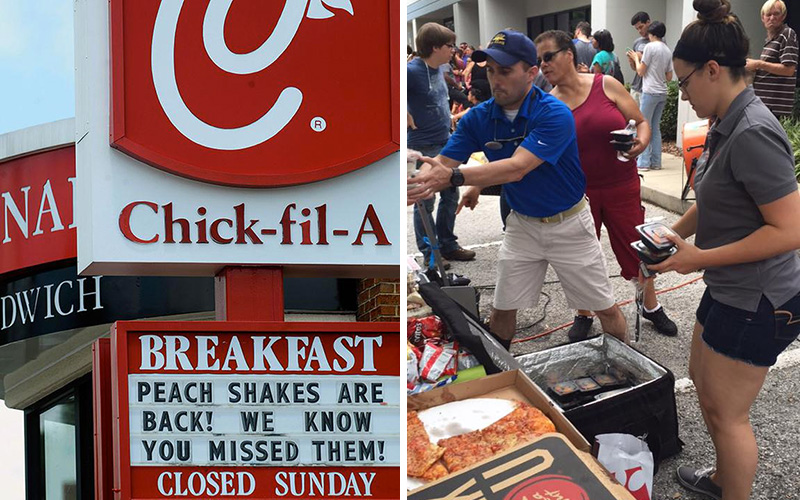 Employees from several Orlando Chick-fil-A restaurants donated their time by preparing and delivering food to first responders and people waiting in line to donate blood to victims following the shooting at Pulse nightclub. 49 people were killed and many others injured after gunman Omar Mateen opened fire in the crowded club early Sunday morning.
The chain is usually closed on Sundays, a policy put into place 70 years ago by its founder, Truett Cathy, so that employees could go to church or spend time with friends and family or do anything that doesn't have to do with working.
The philanthropic gesture is an unexpected one, given Chick-fil-A became the center of a firestorm in 2012 when CEO Dan Cathy spoke out against same-sex marriage on a syndicated radio talk show. His public stance regarding gay rights triggered protests and boycotts nationwide.
After realizing that gay people love a good chicken sandwich and waffle fries as much as their heterosexual clientele, Cathy decided to tone down the homophobic rhetoric.
In 2014, Cathy told USA Today, "I'm going to leave it to politicians and others to discuss social issues."
The Chick-fil-A store in Lee Vista, FL posted pics on its Facebook page on Sunday of its employees in action, along with the message "We love our city and the people in our community."
But not everyone is taking the gesture as a sign that times are changing when it comes to the conservative fast-food retailer.
Bill Huelsman, a volunteer at the GLBT Community Center of Orlando stated, "They should be trying to do the right thing. Everybody is pulling together."
In Chick-fil-A's defense, the chain doesn't appear to expect a pat on the back for their altruistic efforts.
"We do not think this requires any recognition," said company spokeswoman Carrie Kurlander. "It is the least we can do in this community we love."
"Cluck" one up for Chick-fil-A for taking a step in the right direction.
Be the first to receive breaking news alerts and more stories like this by subscribing to our mailing list.