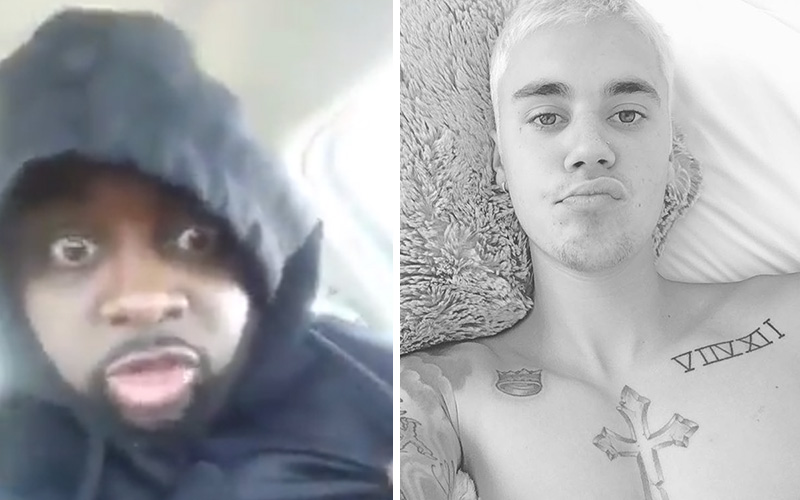 The guy who got into a street brawl with Justin Bieber last night is reportedly a 6'5″ Cleveland man named Lamont Richmond.
After footage of the brawl exploded on the web, Lamont took to social media to give his side of the story. According to Lamont, JB was the aggressor in the fight and ran up on him after he asked for an autograph.
Lamont says that he was "with the girls" when the incident took place.
"The fool ran up on me. I was with the girls, we just asked the ni**a for an autograph. I don't know about all this other stuff y'all talking about. I ain't got nothing else to say," he says in a 13-second (now deleted) video from his Facebook obtained by TMZ.
Lamont also wrote about the incident in a post on Facebook (that he also later deleted), and went into further detail about who "the girls" are. Turns out, he is a ladies man (or so he says…) and has two girlfriends who wanted Justin Bieber to take a pic with them, but he allegedly said "hell no."
"For all you people talking crap he started with me I was just walking with my girlfriend both of them. They asked the little guy can they take a picture with him he said hell no get out his face so I said what the hell wrong with you. Then he threw a punch and you see from the video what I had to do."

As we previously reported, JB and Lamont got into an all-out brawl after the Cavaliers and Warriors Finals game in Cleveland Wednesday evening.
A source told Entertainment Tonight that the fight had occurred over JB talking to the guy's chick, but now that seems like that's not the matter.
"[Bieber] was apparently talking to the girl this guy was with, and when the guy stepped in, Biebs told him he would f**k him up. That's when fists started flying," the insider revealed.
"Biebs was hanging out outside the hotel, and had been getting harassed by people walking by (mostly guys making fun of him) and hounded for pictures, so he was a bit on edge," the insider added.
"He had a friend about his size with him, and there was a bodyguard or two but he was kind of on his own, wandering around. Bodyguards only stepped in after Bieber hit the deck. The bodyguards broke it up and security cleared everyone out pretty quickly."
We give JB props for holding his own against a guy that big, but we also question his sanity, because who in the hell fights a guy that big?!
Be the first to receive breaking news alerts and more stories like this by subscribing to our mailing list.