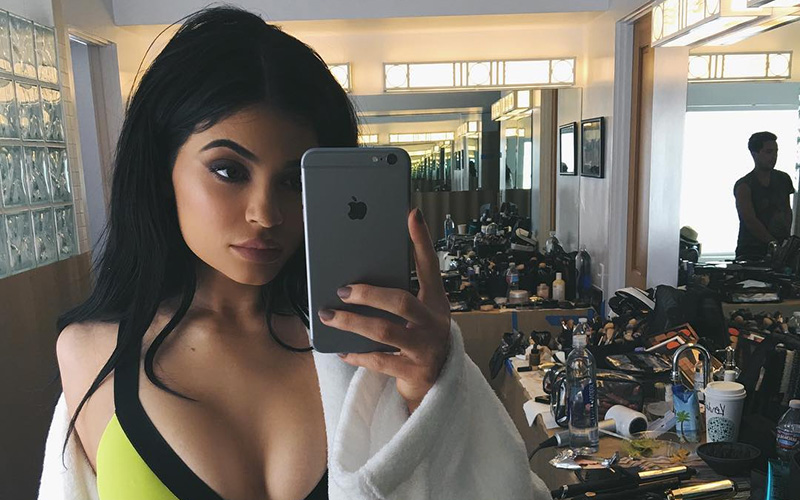 Kim Kardashian launched her career based on a "leaked" sex tape, and it's only fitting that one of her sisters take a note out of her playbook. Rumors are currently swirling that a sex tape of Kylie Jenner and her ex-boyfriend Tyga could be leaked in the near-future.
There have long been rumors of the alleged sex tape, and said rumors were reignited once again a few days ago after a series of tweets from Jenner's account brought the topic back up. But before you get excited — or throw up — it seems Jenner's account was actually hacked.
Several racist, homophobic, and vulgar comments were tweeted to Jenner's 16 million-plus followers. Along with tweets about the alleged sex tape, Justin Bieber was even brought into the conversation. The hacker eventually revealed themselves as @lolsw4y, the same person who hacked Katy Perry's Twitter account last week.
YOOOO!!! Whoever hacked Kylie Jenner's Twitter is going crazy!!! ?? pic.twitter.com/RhlL2cK81l

— gabrielle (@_gabzzzz_) June 6, 2016
While most would be horrified that such inflammatory statements were made from their account, Jenner was most concerned with the idea that a sex tape of her and Tyga was floating around. She addressed the users asking for the tape's release on Snapchat… while casually eating pretzels.
Notice how she never denies the existence of sex tape though. Hmm… Maybe the hacker was right all along. The sex tape will never see the light of day because it is "trash." Kim and Ray J must have set a standard the Jenner and Tyga simply could neither meet nor exceed.
Jokes aside, the attention-seeking Jenner is probably not bothered by the drama because it brings the focus back on herself. It was announced last week that her frenemy, Blac Chyna, will be starring in a reality show alongside her brother, Rob Kardashian. Chyna is Tyga's ex and is also the mother to his son. She is currently engaged to Rob and is pregnant with their first child. The latest hacking scandal and sex tape rumor earns her a trending topic and gets her name back on the blogs.
Well played, Kylie!
Be the first to receive breaking news alerts and more stories like this by subscribing to our mailing list.