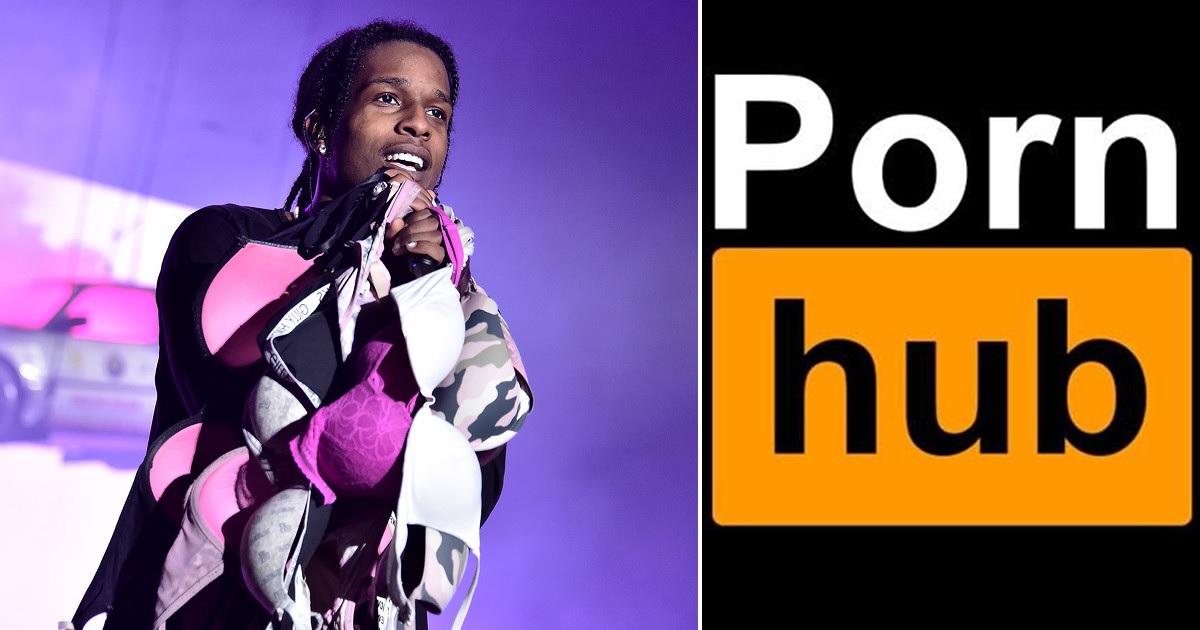 A$AP Rocky's last few months have truly been a wild ride. And it seems like he may just end 2019 with a bang.
A video published on the site PornHub went viral late Wednesday night (Dec. 18) and many began speculating that it's a leaked sex tape of A$AP Rocky with a woman.
Though it has not been confirmed, fans are convinced the man in the video is Rocky based on similar tattoos.
Rocky and the man in the PornHub video both have "A$AP" tatted across their stomachs. They each also have the same small symbol tattooed on their left hands.
The alleged sex tape caused A$AP Rocky to became a top trending topic. Even if it is him, the 31-year-old may not want to claim so because, unfortunately, he is getting clowned.
Many are unimpressed with the rapper's bedroom performance.
me and all my friends after watching the ASAP rocky video pic.twitter.com/1k4gu0vCvL

— you can call me shorty or shawty or whateva you wa (@selena_olucero) December 19, 2019
Asap Rocky has a sex addiction with that kind of stroke? Tehehe pic.twitter.com/wdk4d0lsoY

— IG: detaylor__ (@keshuun) December 19, 2019
I fantasized about asap rocky's stroke game for years! I can't get those years back! I've been bambooz'd! pic.twitter.com/TKBSxnTvPM

— ??Ø?????????? (@OnyxxHayes) December 19, 2019
Me knowing my girls fantasy of asap rocky is ruined now & my stroke game is better pic.twitter.com/zQjHIAvjIY

— christopher (@chrisxxl626) December 19, 2019
My favourite comment on ASAP rocky's sex tape pic.twitter.com/tYS2N4pH8O

— hot girl jac (@poisonmematty) December 19, 2019
now asap rocky gotta voluntarily drop another sextape to make up for this one cus baby…. pic.twitter.com/eb3eJLWJPu

— SAI (@sairusbliss1) December 19, 2019
So from the ASAP Rocky sex tape tweets that I'm seeing, his pistol don't go bang bang, boom boom, pop pop? pic.twitter.com/Czzx2OiSVL

— RISE UP WORKING CLASS (@AFlyBlackCommie) December 19, 2019
When asap rocky gives it his all in his sex tape but logs in to see twitter dragging him to the ends of the earth. pic.twitter.com/Y6dH83B27V

— Mike Oxmaul (@Nguye4l) December 19, 2019
A sorry ass penis https://t.co/O2GlzlcJVS

— Maya Angelique? (@moneyymaya) December 19, 2019
The uploader of the video also suggests that Rocky is the man in the clip.
Yo, Lmao, don't befriend me expecting more ASAP BBC," they wrote in the description and also explaining that they only posted the video because the original was taken down by Google Drive.
Again, it has not been confirmed whether A$AP Rocky is, in fact, the man featured in the graphic video.
However, Rocky has admitted to recording himself during sexual acts and has even described himself as a sex addict.
In a 2018 interview with Esquire, he revealed that he engaged in his first orgy when he was just 13 years old.
It occurred on an apartment rooftop with several of his male and female middle school peers. He's continued to engage in group sex into adulthood.
"Yeah man, lot of orgies," he told Esquire. "I've photographed and documented many of them. The women that I'm around are into that free-spirited sh*t like me."
Be the first to receive breaking news alerts and more stories like this by subscribing to our mailing list.