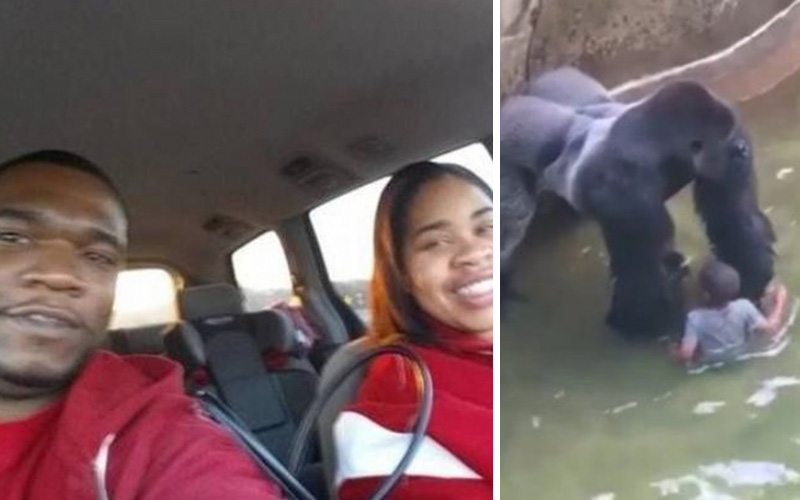 The wildest news story of 2016 is finally coming to an end. After a brief investigation, the parents of the child that fell into a gorilla enclosure will not face any charges.
*Cue the resurgence of #JusticeForHarmabe*
Cincinnati police investigated whether Michelle Gregg, the mother of the 3-year-old boy was negligent and at fault for the incident that occurred on May 28 at the Cincinnati Zoo. Hamilton County police found the mother was not liable of any wrongdoing.
"By all accounts, this mother did not act in any way where she presented this child to some harm. She had three other kids with her and turned her back… And if anyone doesn't believe a 3-year-old can scamper off very quickly, they've never had kids," said prosecutor Joseph Deters.
As you recall, news outlets and social media went went apeshit after a toddler fell into an exhibit and was dragged through a moat for nearly 10 minutes by a 450-pound silverback gorilla. The 17-year-old gorilla, named Harambe, was subsequently shot and killed by the zoo's dangerous animal response team.
The decision to not place the mother on any charges should not come as a surprise. The entire situation seemed like a "series of unfortunate events" from the very beginning. It's hard enough to take care of one toddler in a public place, let alone four children at a chaotic zoo. However, social media was quick to condemn the mother when one of her kids waltzed off when she turned her back for probably a few seconds. Some even unnecessarily brought the child's father's arrest record into the conversation, and he wasn't even at the zoo.
However, let's not let the zoo off the hook either. Security and protection measures around the gorilla pit should seriously be increased if a 3-year-old was able to fall into the enclosure. Harambe also probably didn't have to be killed. I'm shocked the Cincinnati Zoo did not have any protocols to follow in situations like this. It took 10 minutes for them to develop a plan, only to ultimately decide to kill the endangered animal.
Though the mother has received donations to help with any possible legal fees, the family has refused them and urges donations to be sent to the Cincinnati Zoo in Haramabe's name. Hopefully, the zoo will use the funds to increase security measures.
Now that more information has come to light, can we please move past this insane story? It seemed more people were outraged that a gorilla was killed than they were that a toddler was in serious trouble. Neither should have happened, but let's not place an animal's life over an innocent boy's.
Be the first to receive breaking news alerts and more stories like this by subscribing to our mailing list.