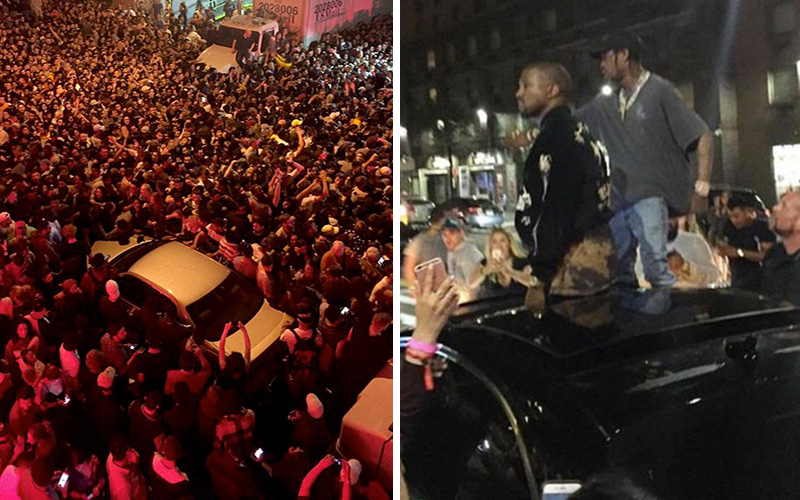 For any haters who may think Kanye West's sense of self-worth is a tad overinflated and possibly undeserved, boy, have we got news for you.
After the singer's headlining performance at the Governor's Ball was cancelled (the three-day lineup was scrapped due to inclement weather), Kanye was rumored to be performing a "secret" show early Monday morning (Jun 6) at Webster Hall in New York City's East Village.
Throngs of people (roughly 4,000) descended upon the venue around 1 a.m., creating what one observer called "near-riot" conditions. No violence was reported, just a lot of enthusiastic music fans flocking the streets, standing on top of cars and chanting "Pablo," "Kanye," "F*ck the Governors Ball," and a few "F*ck Donald Trumps" thrown in for good measure.
The line for the alleged @KanyeWest show at Webster Hall pic.twitter.com/KFygTwlBLW

— petty pablo (@torisneaux) June 6, 2016
Kanye's 2am concert got my street like: pic.twitter.com/S4Z307Yrba

— Andrew Goldstein (@AngeGold) June 6, 2016
The concert appeared to be news to the proprietors of the proposed venue, and revelers hopes were dashed at 1:45 a.m. when the official Webster Hall Twitter account announced there was no concert in the works.
There is no late show at Webster Hall tonight. Please get home safely.

— Webster Hall (@WebsterHall) June 6, 2016
Here is a video of the announcement. pic.twitter.com/lRJxxpXRea

— The FADER (@thefader) June 6, 2016
Just an hour earlier, Kanye tweeted his show was sold out but failed to give details regarding the venue.
https://twitter.com/kanyewest/status/739683751127568384
Fans had no reason to doubt Kanye's promise of a pop-up performance. Kanye thrilled attendees when he made an unscheduled performance along with several artists signed to his G.O.O.D. music label during Hot 97's summer jam.
#GOODMusic definitely in the buidlin!

Watch Kanye and G.O.O.D. Music perform at #SummerJam on ?: fadersnaps pic.twitter.com/lQndbFPqHE

— The FADER (@thefader) June 6, 2016
https://twitter.com/TeamKanyeDaily/status/739678198430994432
Kanye and Kim Kardashian were spotted in the East Village, and Kardashian live-streamed footage of her husband making calls to try and find another venue, according to Billboard Magazine. Kanye also deigned to wave to a few of his loyal subjects from the sunroof of his car.
https://twitter.com/hiEricLiang/status/739703316490407936
No hard feelings Kanye, you gave it a shot.
Be the first to receive breaking news alerts and more stories like this by subscribing to our mailing list.